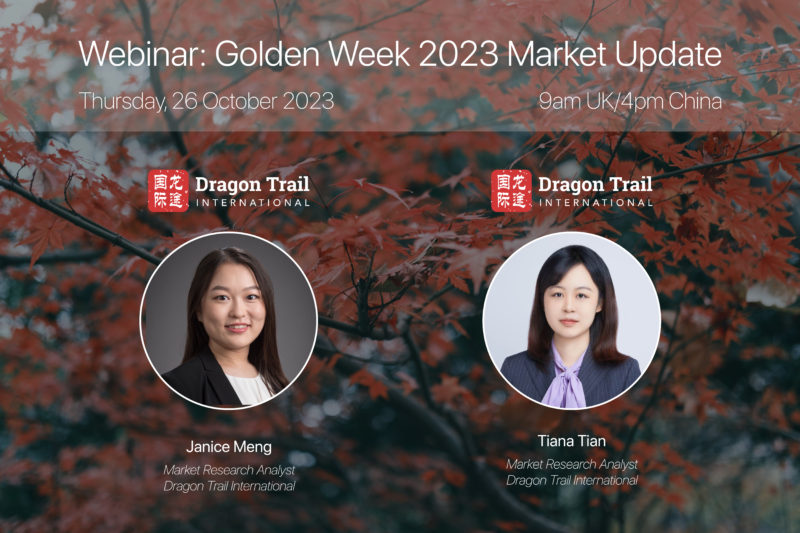 Event details
Date: Thursday, 26 October
Time: 9am UK/4pm China
Type of Event: Webinar
Speaker: Janice Meng, Tiana Tian
Do you want to know how the Chinese outbound tourism market performed during the 8-day Golden Week holiday? In Dragon Trail's October webinar, we will share a summary of the market recovery status, and insights from front line industry professionals. We will cover changes in demographics, preferences, behavior of the Generation Z, popular products and new forms of travel demand that emerged during the National Day holiday.
Speakers
– Janice Meng – Market Research Analyst, Dragon Trail International
– Tiana Tian – Market Research Analyst, Dragon Trail International
Registration
Registration is required to access this free webinar, and a copy of the presentation will be shared with attendees.
Date: Thursday, 26 October
Time: 9am UK/4pm China
Register
About Dragon Trail Research:
Dragon Trail Research empowers decision-making for the travel industry. Founded in 2019, Dragon Trail Research delivers quantitative and qualitative research fueled by statistics to help our clients uncover market trends, evaluate tactics, and engage their target audience. Our services include bespoke surveys of Chinese consumers, focus groups, the China Travel Market Monitor omnibus survey, and travel trade intelligence. Click here to find out more.