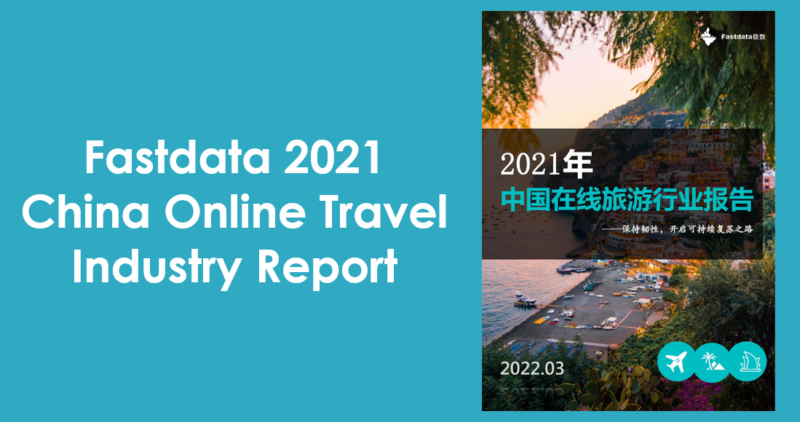 Released on 17 March 2022, Fastdata's 2021 China Online Travel Industry Report tracks trends and changes in online travel consumption and online travel users in China in 2021, with some forecasts for 2022. The report also looks particularly at Generation Z as the fastest growing demographic and key to the future of China's online travel industry.
Click here to read the full original report (in Chinese). The following translation is a summary.
Recovery in 2021
In 2021, there were more than 120m online travel users in China, which is still below pre-pandemic levels. Travel trends that stood out during the year included local area travel, family travel, experiences and activities, and rural and red tourism.
Higher-end hotels have seen a better recovery than lower-end hotels.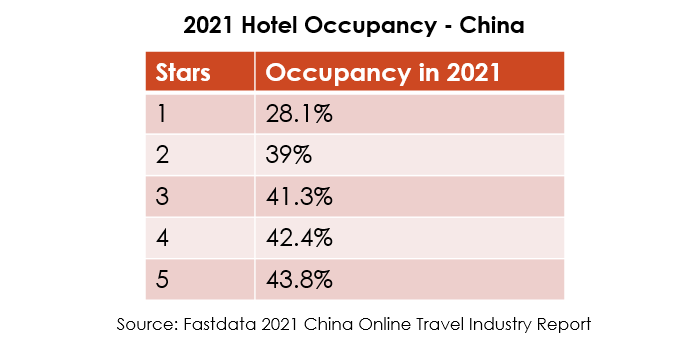 Forecast for 2022
While the report is optimistic about the reopening of China's borders in 2022, it predicts a slow recovery. Growth is more likely for short-distance and local area travel than long-distance domestic trips. The report predicts significant growth in self-driving and rural tourism in 2022, with a decrease in package travel and rushed sightseeing.
City dwellers and men are more likely to have travel plans for 2022 than rural residents and women.

OTAs
In 2020, 67.1% of online travel sales were through OTAs, with 32.9% direct sales. In 2021, OTAs accounted for 66.4% of the total volume of online travel sales, with direct sales increasing to 33.6%.
Ctrip was the most popular Chinese OTA in 2021, followed by rail booking app Tielu 12306.

Ctrip accounted for more than one-third of the total volume of OTA sales in 2021. Ctrip accounted for more than one third. 36.3%, Meituan Travel for 20.6%, Tongcheng for 14.8%, Qunar for 13.9%, Fliggy for 7.3%.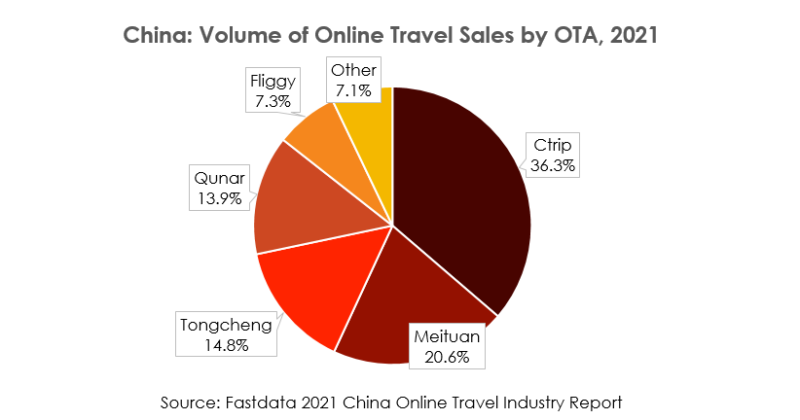 Meituan's sales volume in the first 3 months of 2021 actually surpassed the same period in 2019 – sales were 149.6% of the pre-pandemic volume. Tongcheng also recovered to 104.7%. Meanwhile, Ctrip's sales were just 56.1% of what they were in the first three months of 2019, and Tuniu reached only 19.3%.
Online Travel Users
First-tier and new first-tier city residents are driving the recovery of the online travel market in China. In fact, the pandemic has seen a setback for users from lower tier cities, with top-tier cities now making up a larger portion of online travel sales than even five years ago.

While the gender split between China's online internet users (51.4% male, 48.6% female) reflects the country's gender balance (51.3% vs 48.7%) almost exactly, men accounted for 61.3% of online travel spending in China in 2021.
50.1% of online travel users in China have a bachelor's degree or higher.
Generation Z
There are 261 million Gen-Zs in China, and this generation is going to bring revolutionary changes to travel consumption around the world. Winning them will be winning the next 10 years of online travel growth, states the report.
Online travel users in China are getting younger. In 2021, the proportion of online travel users that are Generation Y (1981-1995) increased, while Gen X (1966-1980) and others decreased. The most significant growth is Gen-Z (1996-2010), which grew from 23.3% of the Chinese online travel market in 2020 to 28.7% in 2021. At 37.8% of the market, Generation Y (aka millennials) still make up the largest generation.

In 2021, the average spend for online travel was RMB900, which represents a growth of 15.8% year on year, but is actually below 2017's average. Younger travelers contributed the most to online travel spending growth in 2021. Generation Z increased average spending by 26.3%, with Gen-Y increasing by 12.3% and Gen-X by 5.8%.

Travelers at the youngest and oldest ends of the age spectrum are the least price conscious, and Gen-Z is most influenced by content.


Short video
Short video is now key to inspiring users and increasing their stickiness and engagement, says the report.
Short video users' average time watching short videos per day increased in 2021. Now, 55.5% of short video users watch at least one hour per day.
In 2021, Douyin saw 2.27 trillion views of travel videos. The platform has more than 112,000 travel content creators, with 182,000 travel check-ins in 2021, and a 341% increase in videos of rural tourism.