Animal conservation is an important part of efforts to promote responsible tourism from China. Together with Dragon Trail, the African Wildlife Foundation is one international organization driving awareness and education in China, with local partnerships, events, and engaging social media coverage.
This is the last of a four-part blog series based on Dragon Trail's report, "Responsible Tourism from China." Please contact us at communications@dragontrail.com to request the full report. Click here to watch our October 2019 webinar on responsible tourism from China.

Highlights from AWF's 2018 "Canines for Conservation" campaign on Weibo. Follower numbers on Weibo increased by 29.1% as a result of the campaign.
The African Wildlife Foundation (AWF) is an international conservation organization that focuses on programs and conservation strategies designed to protect the wildlife and wild lands of Africa. Dragon Trail Interactive works with AWF to help the organization spread the message about the state of African wildlife and raise its profile in China.
In 2017, Dragon Trail launched a series of multimedia campaigns with partnered organizations, including popular bakery chain BreadTalk, Human & Nature magazine, and smartphone manufacturer Gionee.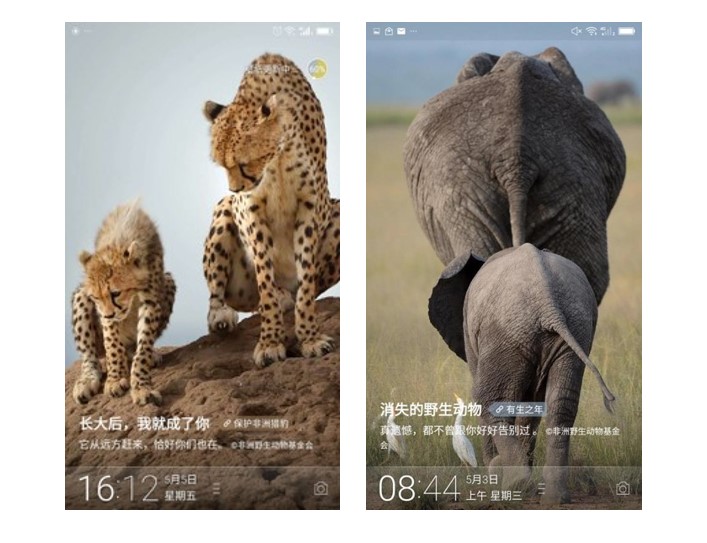 Phone lock screens created for AWF's "Time to save wildlife is running out" campaign in 2017
In connection with BreadTalk's leopard-themed bread, Dragon Trail designed informational leaflets about cheetahs and leopards, encouraging readers to scan and follow AWF's WeChat QR code. The promotion ran in four stores in Shanghai, Shenzhen, and Guangzhou.
Human & Nature, which has a national distribution of 300,000 readers, and focuses on the themes of the environment, nature, and wildlife protection, published a two-page advertorial spread about AWF, in issues spanning 2017 and 2018.
The partnership with Gionee focused on promoting AWF's "Time to save wildlife is running out" (有生之年) campaign, to educate participants about the urgency of saving endangered species. The lock screen of Gionee's users showcased images of endangered animals, with a link to the campaign. The collaboration resulted in nearly 300,000 impressions, and as a result the campaign achieved a 90% increase in the number of Weibo followers, and a 20% increase in WeChat followers.
In 2018, Dragon Trail ran another campaign for AWF, called Canines for Conservation, focusing on the sniffer dogs who help to stop the smuggling of illegally poached animal products. Between August and September 2018, the campaign's landing page received 5,404 unique visitors. Accompanying social media posts promoted AWF's offline events in China, introduced the organization, and gave information about tourism to Africa and environmental conservation.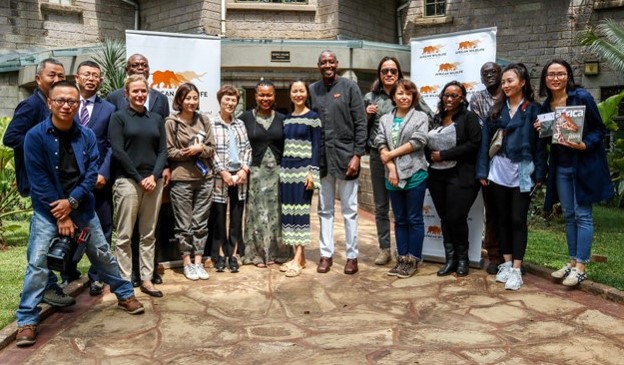 Chinese actress and animal conservation activist Jiang Yiyan (center) visits AWF's head office in Nairobi in 2018. AWF's Weibo post about the visit received 175,000 views.
During the 2018 campaign period, AWF increased their Weibo followers by a further 29.1%, to over 10,000, and increased WeChat followers by 34.6%. The campaign encouraged sharing and offered small prizes. Responses online included queries about buying additional prizes to give as gifts, how to donate money, and how to volunteer. Readers also requested additional information on wildlife and asked AWF to run activities in more Chinese cities.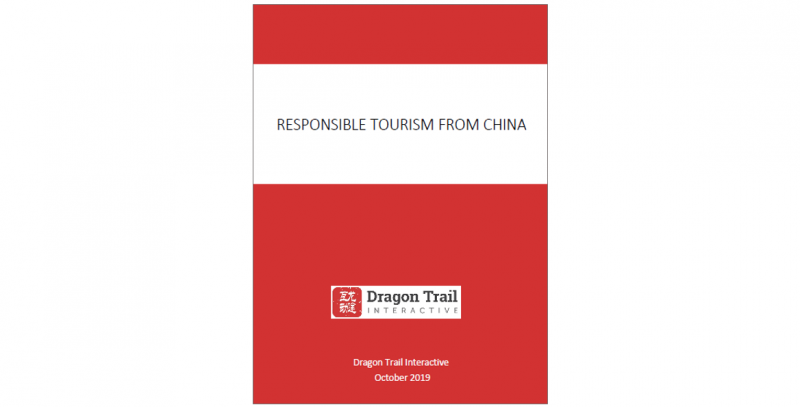 For a free PDF copy of Dragon Trail Interactive's full Responsible Tourism from China 2019 report, please email us at communications@dragontrail.com.