A report published by China's leading search engine and internet giant Baidu in June 2020, analyzes web searches from the start of February through the end of May, revealing trends in consumer demand and travel intent. We've translated and summarized the most relevant travel-related information. Click here to read the full original report (in Chinese).
Travel-related searches on the Baidu search engine grew between February and May, with a 14% increase in tourism-related searches, and a 22% increase in accommodation-related searches. In May 2020, 87% of tourism-related searches were for domestic travel, with 13% related to international travel. Throughout the period analyzed, there has been a notable and sustained growth in demand for local-area travel.
Activities
Between February and May, the following types of activities/travel saw increased search volume:
– Skydiving: +8%
– Diving: +17%
– Cycling tourism: +33%
– Family travel: +61%
– Self-driving tourism: +83%
Family Travel
Growth in searches for family travel has been picking up speed this spring. In terms of searched attractions for family travel, 61% were theme parks (including Disneyland), and the other 39% were scenic and cultural attractions (including Anhui's Yellow Mountain, and Beijing's Forbidden City).
66% of consumers searching for family travel were female, and 60% were between the ages of 25-34. Another 23% were aged 35-44.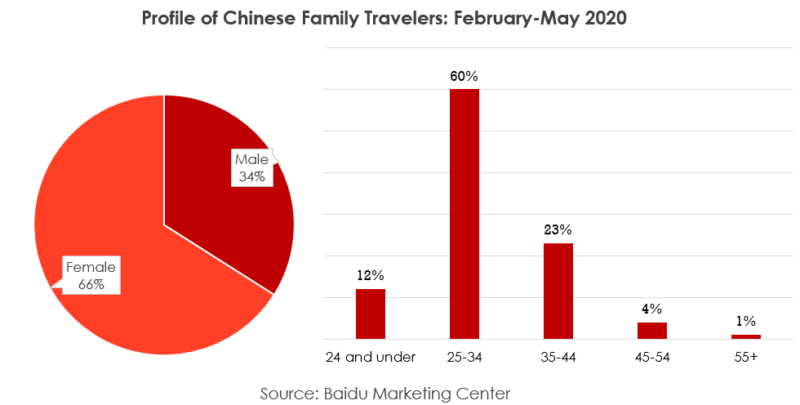 Self-Driving
Following two months of enormous growth (+100% month-on-month), growth in the search volume for self-driving travel stabilized in May, with only a 13% increase over April.
Consumers searching for self-driving travel are 56% male. There is a relatively even age distribution, with 33% aged 25-34; 27% aged 35-44; and 21% aged 45-54.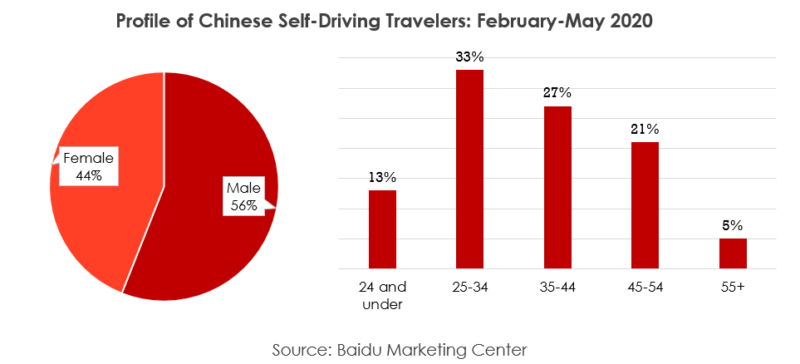 Hotels
Mid-range and high-end hotels are favored in the COVID-19 era, with 75% of search for mid-range to high-end hotels, compared to 25% for budget hotels. Mid-range to high-end hotels have also seen more than double the growth of search volume this spring, compared to budget hotels.
In May 2020, 59% of searches were for luxury hotels. The leading brands were: Marriott (28%), Hilton (27%), Shangri-la (16%), InterContinental (14%), and Sheraton (14%).