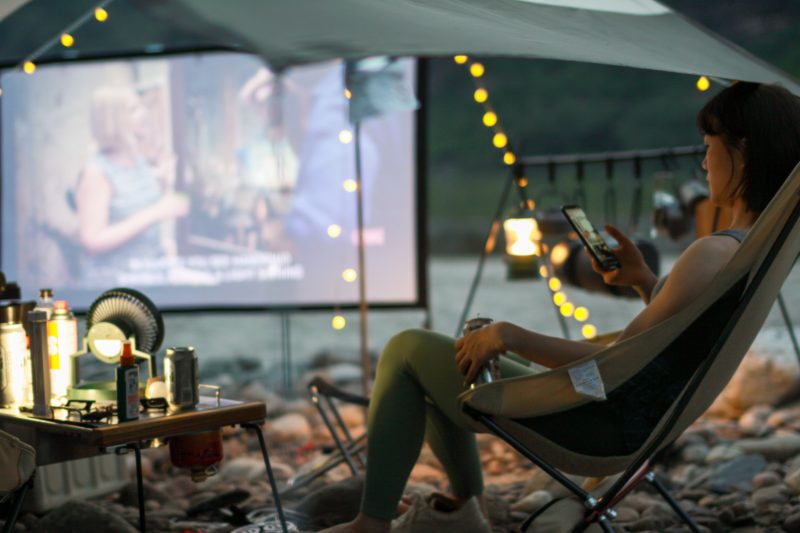 Glamping in Huairou, a suburb outside Beijing. Photo by Li Yang on Unsplash
With travel restricted to the mainland and Macau, and the desire for open spaces without the crowds, Chinese vacationers have been drawn to nature since domestic travel resumed in the spring of 2020. This includes an uptick in road trips to the Tibetan plateau and Inner Mongolian grasslands, hiking in scenic areas, and even fly-fishing, according to industry trend reports. But it's camping – or, more accurately, glamping – that's taken off most dramatically, and caught the eye of investors.
During the 2021 Labor Day holiday in May, searches for "camping" on Chinese social media platform Xiaohongshu were up by 230% compared to the same period in 2020. Through the summer and October National Day holidays, camping continued to lead the travel trends. But if you're imagining a back-to-nature movement that involves hiking boots, granola bars, and hammering in tent stakes, this isn't the picture most Chinese campers have in mind. Among the thousands of camping photos and videos on social media platform Xiaohongshu, it's easy to find images that could feature in a fashion magazine. In one, a lanky young women dressed in a gauzy, strapless gown and Fendi slippers, sits beside her matching Fendi bag at a Hangzhou campground, surrounded by white tents that could double as wedding marquis. In another series of photos, taken outside of Chengdu the set-up looks a little more natural and woodsy, with a campfire and camping stove. The young woman in this one is wearing sportier shoes – with the conspicuous "H" motif of an Hermes blanket draped over her shoulders. Like most things on Xiaohongshu, which is particularly popular with well-off young women, camping provides a good background for a photo shoot, and an opportunity to show off designer logos. Catching on to the trend, Fendi itself held a camping-themed promotion at a Shanghai mall in June.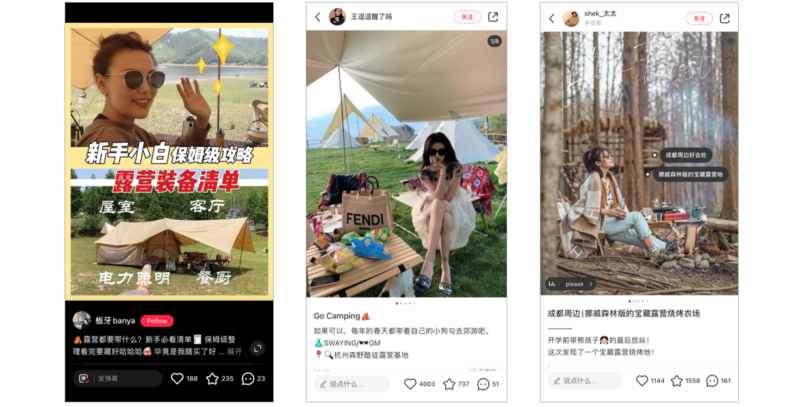 Designer clothes are a camping essential to boost 'likes' on Xiaohongshu
But China's new camping trend isn't just for fashionistas and influencers. The country's largest travel booking platform, Ctrip, reported that reservations for local area family camping were up by 206% in the first half of 2021, compared to the same period in pre-pandemic 2019. With snap travel restrictions shutting down interprovincial travel at a moment's notice, and many schools in China forbidding students and their families from traveling outside the local area during holiday periods this year, heading to a suburban campground can offer a pleasant break from city life and city air.
The Chinese camping boom looks set to continue. Of the approximately 26,000 camping-related companies in China, 60% were founded in 2020 or later. Lifestyle brand Dare Glamping, which was established in October 2020, has already expanded to 20 campsites, signed two 10-year leases on land in the Beijing municipality, and at the start of November 2021 secured close to RMB10 million (US$1.6 million) in angel financing. Rather than expecting guests to bring their own tents, Dare offers a "tent setting-up experience" where campers watch, film, and photograph while staff members show how it's done. With all-inclusive prices that rival luxury hotels in nearby cities, Dare also offers full-scale catering – including afternoon tea, furniture, lanterns, colorful blankets, showers, and toilet facilities. The brand has been featured in numerous Chinese television shows and is very much in line with the Xiaohongshu camping aesthetic – in fact, the social media platform is seen as an essential factor behind Dare's success.
Tourism boards and other travel brands are taking note of the new trends. Destinations from South Australia to Thailand to Dubai, as well as airline AirAsia, have all promoted their own glamping destinations on WeChat in recent months. The question may be, will future Chinese visitors find the facilities up to their standards?