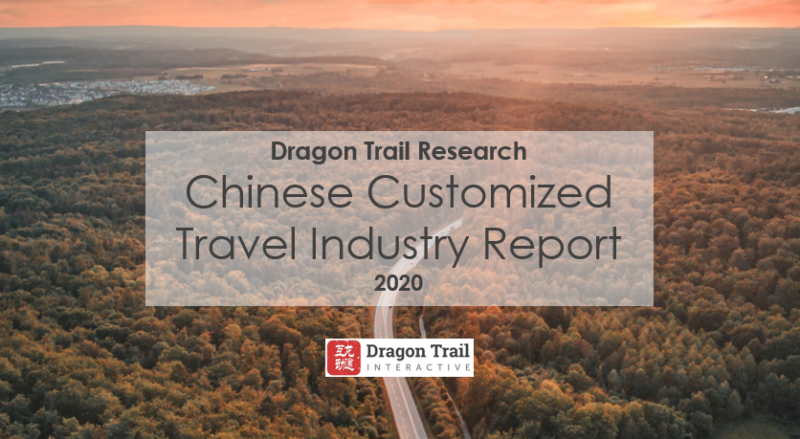 Customized travel is an up-and-coming travel sector in China, catalyzed by the growth and maturation of the market. Initially developed to service China's luxury travel market, as customized travel has grown and developed, it has become more mainstream, and diversified its services and customers.
As China's domestic travel market recovers from the COVID-19 crisis, the tourism industry is seeing more small groups and self-drive trips. Safety was a high priority for Chinese travelers even before COVID-19, but has been redefined in the new normal. On the path towards recovery, customized travel has received wider attention than before, due to its resources, expertise, and capability in offering personalized travel experiences.
The latest Dragon Trail Research report explores this new and elevated role of customized travel. Based on survey responses from 427 consumers of customized travel, and interviews with six top executives in the industry, we have highlighted the key trends, challenges and opportunities for customized travel during COVID-19.
Key Findings
1. The customized travel sector is very new to the overall travel market in China. The sector might be well known in the luxury travel market, but mainstream travelers find it novel and disparate.
– 37% of travelers rely on word-of-mouth and 32% rely on communications with agencies for information on customized trips. 77% of travelers had only heard of customized trips for the first time in the last two years.
– Since the customized travel sector begin to target the mainstream travel market, traditional services and products have diversified for mainstream market segments.
– This diversification sped up the progress of customized travel for the mainstream market, but it also played a role in forming a mixed awareness of the customized travel sector from the market and in some cases even practitioners.
– Additionally, the operational scale of numerous customized travel agencies doesn't allow for industry-wide advertising, further contributing to the status quo of mixed market awareness.
2. While domestic tourism is in recovery, travelers have new priorities, which offer opportunities and pose challenges for the industry.
– 94% of travelers said that safety is now a more important priority for customized travel than before COVID-19.  79% said that assurance is more important, and 66% now want 24-hour service to react to emergencies and changes in a timely manner.
– The impact of COVID-19 will drive many agencies to strengthen connections with partners and suppliers, and stay up-to-date on destination preventative measures.
– In some cases, customized travel is better prepared to meet the needs of travelers in the COVID-19 era, such as the ability to offer assurance during trips. In other cases, there is still room to grow, particularly when flexibility and 24-hour services are called for.
3. Under the conditions of new normal, customized travel faces the same challenges it did before the COVID-19 era. But at the same time, customized travel is placed in a unique position to navigate travelers during COVID-19 in a safe, smart, and impactful way. How each agency shifts priorities and adapts to the new environment will affect market awareness and acceptance in the future.
– 61% of travelers have experience as FITs and 51% have traveled in groups. Travelers seek additional value in customized trips, such as detail-oriented planning, localized itineraries, variety of options, and comfort while traveling. Agencies that offer other partial customization might not tailor their products to the full range of customer needs, but those who do will stand out in the market.
– 56% of travelers consult a travel advisor when planning a customized trip, but only 38% of travelers received 24-hour service from travel advisors. Experienced travelers seek professional service and knowledgeable advisors for customized trips, which could not be accomplished without the presence of travel advisors or service personnel.
– Technological advancement and personal service need to be balanced, as computers cannot replace travel advisors in calculating travelers' real desires and easing their anxieties. However, during the new normal, contactless service and robotic assistance might just provide the peace of mind travelers need.
– 47% of travelers mentioned that unstandardized quotation is an issue with customized travel. Communicating the added value of customized travel and creating transparency and consistency in quotations could help build trust with new customers seeking out customized trips during COVID-19.
Dragon Trail Research's full Chinese Customized Travel Industry Report is available for for free. Please email communications@dragontrail.com to request your copy.