Chinese millennials not only make up nearly a third of the total Chinese population, but they are also estimated to make up at least 35 percent of all Chinese outbound tourists, with some putting them at over two-thirds – these numbers and spending power are vital to the growth of the Chinese outbound tourism market. Moreover, 93% of Chinese millennials say that traveling is an important part of their identity. So understanding this demographic and their travel interests is incredibly important to anyone in the tourism industry who wants to attract Chinese visitors, both now and in the future. We've identified eight defining characteristics about this generation to help understand their motivations, interests and preferences and to create a marketing strategy that will reach and appeal to them.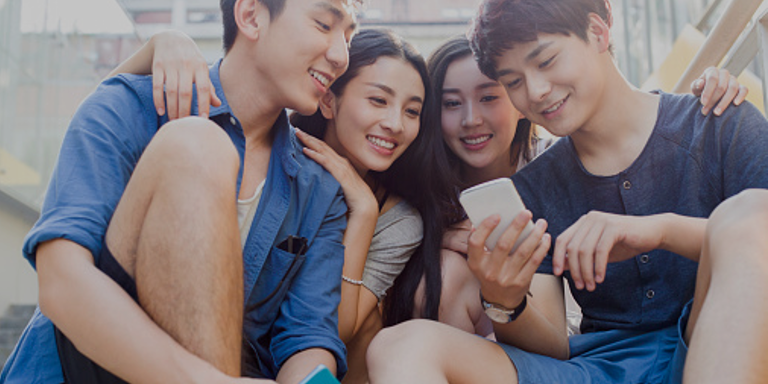 1) They are not like their parents
Born in the 1980s and '90s, during a time of rapid economic growth and modernization, Chinese millennials grew up during wildly different circumstances than their parents, so the generation gap is much more pronounced than in the west. This generation was also born under the One Child Policy, so they are highly likely to be only children and only grandchildren, and to have grown up lavished with personal attention. They are much more international than their parents, and also have far greater spending power at this age than the generations that came before them. Their travel habits, therefore, are very different from an older generation of Chinese tourists. They are much more interested in unique experiences and understanding local life and culture than in ticking must-see countries and sites off a list. They are also more confident travelers than their parents, and clearer about what they want from their travel experience. They eschew large tour groups, and instead tend to travel in small groups of three or four, together with friends or family. Having grown up in more prosperous times than their parents or grandparents means that Chinese millennials are also much pickier when it comes to accommodation and food.
2) They are not the same as Western millennials
While Chinese millennials have more in common with their Western counterparts than their parents' generation might, they do have pronounced differences from other nationalities. For starters, they make up a much higher-growth market than Western millennials. Airbnb's 2016 Millennial Report found that 83 percent of Chinese millennials say that they are spending more on travel than they did a year ago, versus 55% of UK respondents and 56% from the US. Although the average Chinese millennial's annual income, at just under $6,000, is much lower than the average annual income of US millennials ($43,995), Chinese are not saddled with student debt, and the wealthier ones who travel internationally are also likely to have their parents buy them a house or apartment rather than having to save up for real estate and pay off a mortgage themselves. This, of course, frees up disposable income to spend on travel. And 71% of young Chinese say that travel is one of the most important things for them in the next five years, in contrast to 55% in the UK and just 47% in the US. The survey revealed that Chinese respondents also cared more about getting to understand a place by living like a local, and in having unique experiences. That said, they polled very similarly to Western millennials in terms of preferring to stay in a cool local neighborhood rather than one close to tourist sites. Another notable difference between Chinese and Western millennials is that Chinese often travel together with their parents in small family groups, where they are likely to be the main decision maker on things like accommodation.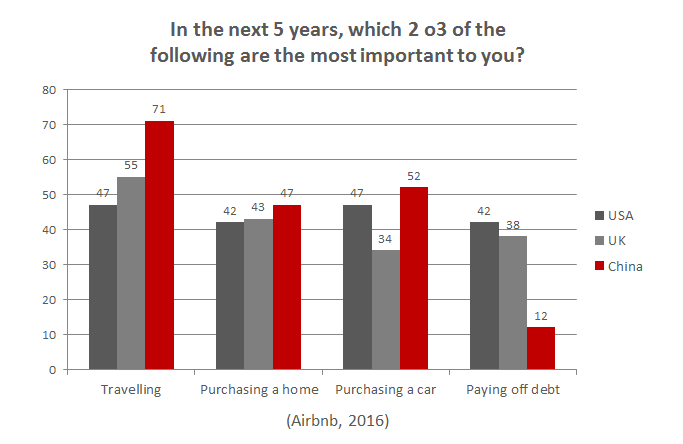 3) Social media and online resources are vital
Chinese millennials research their travel very thoroughly before going, usually online or through social media. They are digital natives, and they make up 60% of China's WeChat users, and 66.8% of Weibo users. The 2016 Hurun Report on luxury travel by Chinese millennials found that 48% of respondents primarily received travel information through WeChat subscription accounts, and 42% from websites, with 35% receiving travel information through WeChat shares by travel advisers. Apps and WeChat accounts from OTAs like Ctrip, Qunar and Tuniu were all very important. With 79% of this HNWI millennials using their phones to access WeChat, it's hard to emphasize enough how crucial the platform is for reaching this demographic. Any destination or company hoping to attract Chinese millennials should absolutely offer a WeChat subscription or service account and have mobile-friendly online resources.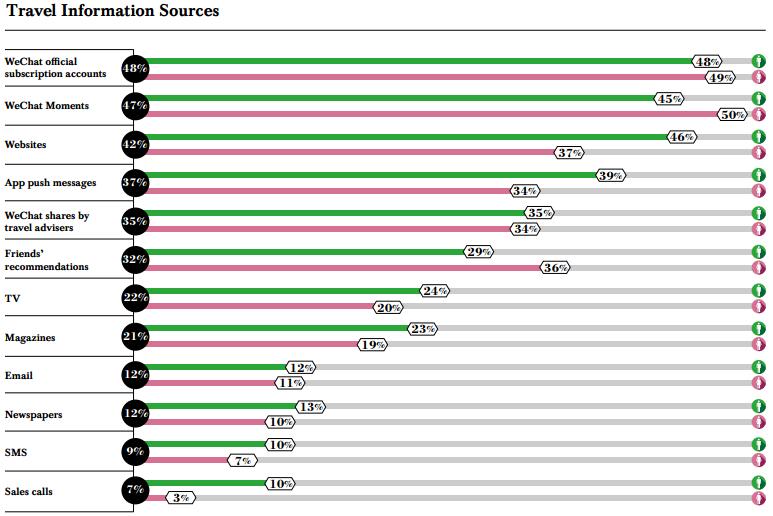 4) Word of mouth is priceless
Chinese millennials are highly motivated by their peers when it comes to making travel decisions. The Hurun Millennial Report showed that, at 40%, friends' encouragement was actually the most common inspiration to travel. WeChat moments shared by friends was almost as important a source of travel information as official subscription accounts, with 47% of young luxury travelers reporting that they got their information this way. Word of mouth was especially influential for female travelers – 50% said they got travel information from their friends' WeChat moments, and 36% from their friends' recommendations. Outside of their own social circles, the millennial generation is also most likely to be influenced by Key Opinion Leaders (KOLs).
5) They need to stay connected
One area in which Chinese and Western millennials are in total agreement is the importance of Wi-Fi access, which they rank as the most desirable amenity while traveling. The Hurun Report survey found that 73% of young Chinese luxury travelers say that Wi-Fi connectivity was important for a hotel. Chinese millennials have other ways to ensure they stay online when traveling, too, and are likely to buy a 3G card when abroad. Making sure that Chinese travelers get the Wi-Fi access they want isn't just important for keeping them happy – it is also one of the best possible ways to leverage the word of mouth that is so influential, as discussed above. In contrast to US millennials, of whom only 28.3% say that they share everything they do online, over half of Chinese millennials report to doing the same. Moreover, a whopping 97% of Chinese millennial travelers say that they share their travel experiences online, and they are liable to post to WeChat Moments about their travels at least once a day while they are abroad. Enabling them to post online while at your destination can therefore bring in enormous rewards.
6) They are foodies, but they won't forgo shopping
While Airbnb's millennial survey found that Chinese are a bit less likely than Westerners to want to try local restaurants while traveling (65% of Chinese, versus 75% of Americans), Chinese millennials are far more familiar with international cuisine than their parents. In the Hurun Report's 2017 study of luxury Chinese travel, they found that 27% of Chinese millennials said that gourmandizing was one of the reasons to travel internationally in the next three years, in contrast to just 14% of respondents overall. This goes along with a general global trend for millennials to care more about their food than older generations and be willing to allocate a higher amount of their budgets to eating well. Moreover, the study also showed that 47% of millennial Chinese travelers go to Japan for the food. At the same time, 68% said they went to Japan for the shopping, so this is still an important activity, though the average Chinese tourists' per capita shopping did actually decrease by 40,000 Yuan from 2015 to 2016. With millennial shoppers, we should see increasing interest in finding unique purchases and niche, local brands rather than must-have status symbol items that have been so important thus far to Chinese luxury shopping abroad. Jing Daily, for instance, reported on Chinese millennial shopping behavior in Paris, and a drift away from big names like Louis Vuitton and to smaller brands that were perceived to have a more authentic, Parisian appeal.
7) They want experiences
While interest in shopping is fairly consistent with Chinese outbound travelers in general, millennials are increasingly interested in experiences. Travel for them is a form of "social currency", and there is a strong desire to find unique destinations and activities, and then, of course, show them off on social media. The Hurun Report's research reveals a spike in millennial interest in traveling to far-flung, exotic destinations – year on year interest in Africa and the Polar regions saw double-digit growth from 2016 to 2017.Of course, the Hurun Report focuses on Chinese with large financial resources, but even those millennials who aren't heirs to family fortunes are committed to traveling and will save up to do so. There is also marked interest in traveling to pristine destinations with blue skies and beautiful nature, in contrast to the large, smoggy cities where this generation of Chinese travelers is likely to live.

8) They are changing quickly
This generation is rapidly developing new interests and tastes. In 2016, Japan and France were the clear favorites for millennial travel, according to the Hurun Report. But just one year later, interest in these countries has been replaced with a surge in popularity for Southeast Asia, with 46.4% of respondents reporting traveling to an island with a beach, and 8.9% saying that Thailand was their most memorable travel destination – putting it in first place, ahead of Antarctica at 7.1%. In some ways, these findings could be viewed with trepidation by the travel industry – it's risky to market to a fickle audience. But at the same time, these changes show that Chinese millennials are very open to trying new destinations and activities and traveling off the beaten track, and this is very good news for those looking to get their slice of the continually expanding pie.