Chinese New Year is a peak season for marketing and social media use in China. This includes holiday greetings, campaigns, giveaways, and digital hongbao or "red packets." Introduced by WeChat in 2014, digital red packets are a modern update on the traditional red envelopes of cash gifted on Chinese New Year and for other special events in China, such as weddings. WeChat made digital red envelopes fully customizable for Chinese New Year 2021, resulting in more than 300 million cover designs. This now offers an annual branding opportunity for companies and organizations, and a new way to connect with Chinese followers on WeChat.
Let's take a look at a few Chinese New Year campaigns and activities from 2022, with design and promotion by Dragon Trail International.
VisitScotland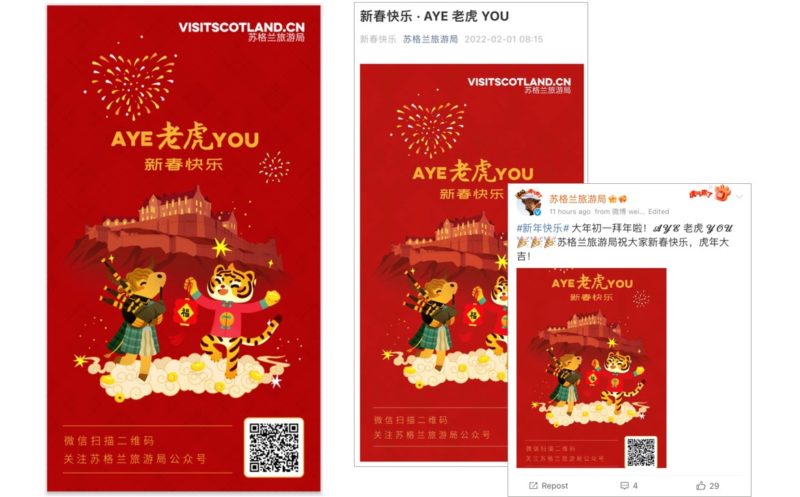 Our Chinese New Year poster design for VisitScotland featured a bagpipe-playing Highland cattle and Chinese tiger, with Edinburgh Castle in the background. The greeting, "Aye 老虎 (laohu, tiger) you" combined Chinese, Scottish, and English for a unique, cross-cultural New Year message that sounds like "I love you." The poster was shared on VisitScotland's WeChat and Weibo accounts on New Year's Eve.
Small Luxury Hotels of the World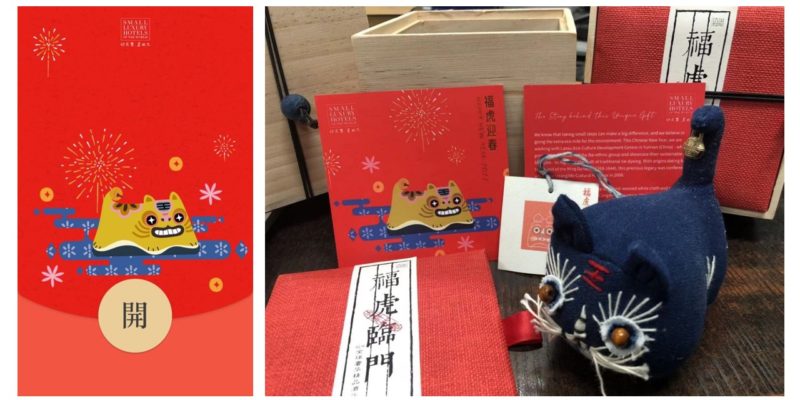 Our digital red packet design for Small Luxury Hotels of the World featured a traditional Chinese tiger pillow design. In addition to digital design, we also helped to design the packaging for physical Chinese New Year gifts given to media and trade partners. Faithful to Small Luxury Hotels of the World's commitment to environmental and cultural preservation and sustainability, the gifts were developed with the Lanxu Eco-Culture Development Centre in Yunnan Province to showcase traditional and environmentally sustainable hand craftsmanship by the local Bai ethnic group – their tie-dying techniques were designated as National Intangible Cultural Heritage in 2006.
Austrian National Tourist Office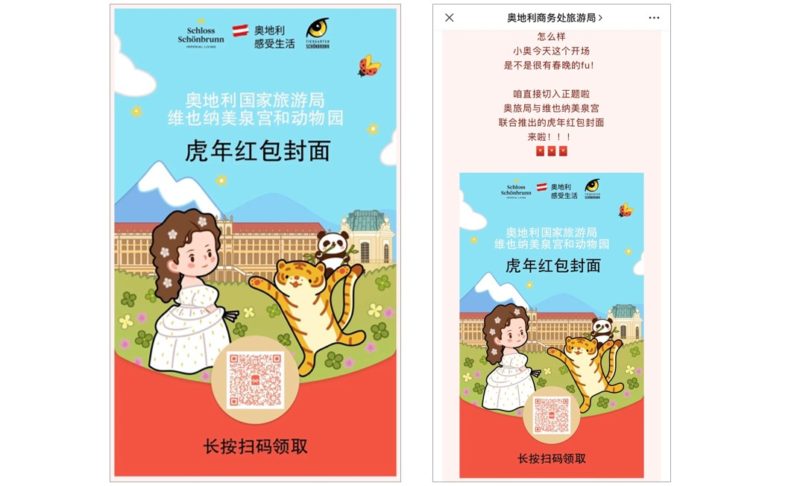 We designed a digital red packet used and shared on WeChat both by the Austrian National Tourist Office and the Schönbrunn Schloss and Schönbrunn Tiergarten (Vienna Zoo). In addition to the tiger, the red packet design includes representative elements from the tourism office and its partners: Schönbrunn Palace and mountains in the background, along with a Giant Panda – the Vienna Zoo is one of only four European zoos that's home to a Chinese panda, and Empress Elisabeth (aka Sisi) of Austria.
Dragon Trail International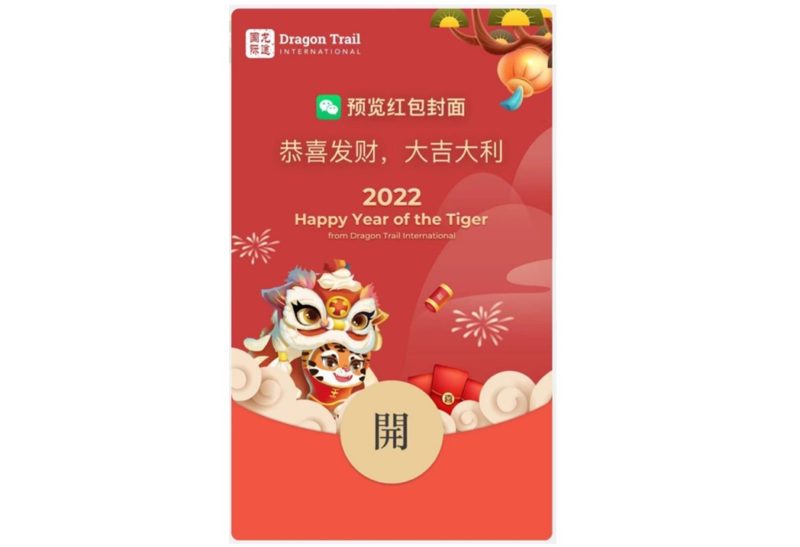 Our own digital red packet features a number of traditional Chinese festive elements: A tiger dressed to perform a lion dance, red envelopes, fireworks, and lanterns.
Looking to launch or enhance your marketing for China? Dragon Trail offers services in social media account creation and management, design, KOL marketing, short video production, website development and more. Contact us to discuss how we can help you reach future visitors from China.