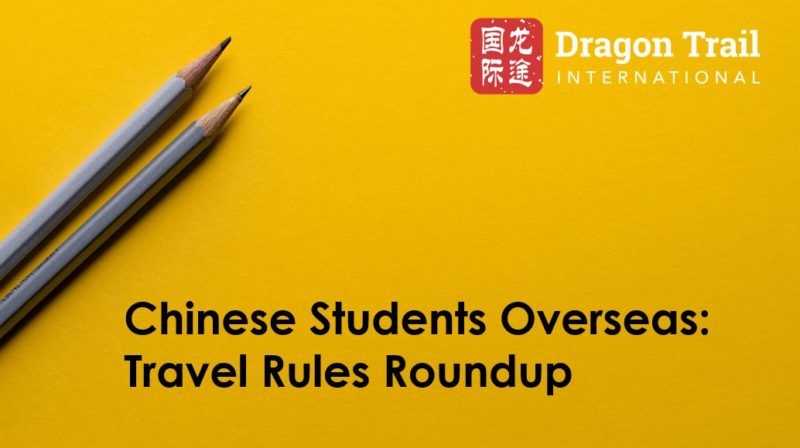 China is the world's largest source market for overseas education, with more than 700,000 Chinese studying overseas in 2019. Last year, we compiled a list of information on travel rules and restrictions facing Chinese students in the top 10 most popular countries and regions for Chinese studying abroad. Much has changed since then, so we've put together an update.
Our updates on rules apply only to the policies of the destination country and do not take into account local lockdowns in China that could delay students in certain areas or cities from accessing consular services or transportation.
Have we missed something? Please feel free to send questions or comments to communications@dragontrail.com
USA
Chinese students can now apply for visas to the US from China as they did pre-pandemic. No testing or quarantine is required, and Chinese vaccines are recognized in the US.
China is the top source country for international students in the US. In 2021, there were 348,992 Chinese studying in the US – an 8.7% decline from 2020. (Source) Chinese students account for 28.2% of international students.
UK
There are no restrictions preventing Chinese students from entering the UK, and visa offices in China remained open during the pandemic. Pre-departure testing and quarantine requirements have all been dropped, but when they were in place, a number of UK universities actually offered to pay for any testing and quarantine requirements for international students, and international students are eligible to receive COVID-19 vaccinations in the UK.
Chinese applications for undergraduate study in the UK have risen steadily during the pandemic, to 28,490 in 2022, up from 25,800 in 2021 and 21,250 in 2020. (Source)
In the 2020/2021 academic year, Chinese students accounted for more than 32% of student visas, with 135,457 visas granted – a 13% increase from the previous year. (Source) Chinese students continued to make up by far the largest group of international students, with 143,820 studying in the UK in 2020-21. Although new enrollments of Chinese students dropped by 4.9% in 2021, these enrollments still represented 37.4% of those from overseas. (Source)
Canada
Travelers to Canada must take a COVID test within 72 hours of departure. Fully vaccinated travelers do not need to take a test on arrival, and Canada started to recognize Chinese vaccines at the end of 2021.
China remains Canada's second-largest educational source market behind India, accounting for 105,265 – or 16.9% – of Canada's international student visas in 2021. However, this number represents a 9.6% year-on-year decline. (Source)
Australia
Although Australia reopened to vaccinated overseas students in early 2022 (including Chinese vaccines), by April, overall international student numbers were still down by 75% compared to pre-pandemic levels. Chinese student commencements in February were 40% behind 2019's numbers. (Source)
As of September 2021, 166,319 – or 29.8% – of Australia's international students were Chinese, making it by far the largest source market. (Source)
Hong Kong
As of May 2022, fully vaccinated arrivals in Hong Kong from mainland China need to quarantine for 7 days and take 3 COVID tests (one pre-departure and two after arrival). All Chinese vaccines are on the approved list. Non-vaccinated arrivals must quarantine for 14 days and take 3 tests. Quarantine can be undertaken at home or in a hotel, but not a Designated Quarantine Hotel. (Source)
During Hong Kong's early 2022 outbreak, when university classes went online, some mainland students left the city to return home. (Source)
In the 2019-2020 academic year, mainland students accounted for 12,912 – or 67.2% – of non-local students at Hong Kong's eight UGC-funded universities, including the University of Hong Kong, Chinese University of Hong Kong, and Hong Kong Polytechnic University.
Germany
International students, including those from China, are permitted to enter Germany for the purposes of studying if their course must be undertaken in person. Travel restrictions for all Chinese arrivals to Germany will be lifted as soon as there is a reciprocal policy in place in China. (Source)
China is the leading source country for international students to Germany. As of winter 2022, there were 40,122 Chinese students at German universities – 9.6% of the total international student body. (Source)
Japan
Japan stopped issuing new student visas at the end of 2020, but started to allow international students to enter the country in limited daily numbers from March 2022. (Source)
As of May 2020, Chinese students accounted for 43.6% of international students in Japan, the largest source country, with 121,845 Chinese students. (Source)
Singapore
Travelers who have received any WHO-approved vaccine can enter Singapore without testing or quarantine. (Source)
Statistics on international student enrollment in Singapore are harder to find than for other countries, but it seems that more than 45% of Singapore's 10,000 international students in 2015 were Chinese. (Source)
France
China is currently classified as an "orange" country, requiring that students arriving in France present a negative PCR test and proof of vaccination. However, as the only vaccines accepted are Pfizer, Moderna, AstraZeneca, and Johnson & Johnson, students fully vaccinated in China will need to provide additional documentation and an extra PCR test. (Source)
For the 2019-2020 academic year, there were 28,436 Chinese studying in France. China is the third largest source country, behind Morocco and Algeria, accounting for close to 8% of international students. (Source)
New Zealand
New Zealand will reopen to international arrivals on 31 July 2022, at which time student visa services will resume. (Source) Vaccinations will be required, and Chinese vaccines will be accepted. (Source)
There were 21,485 fee-paying students from China studying in New Zealand in 2020, making it the largest source country. (Source)