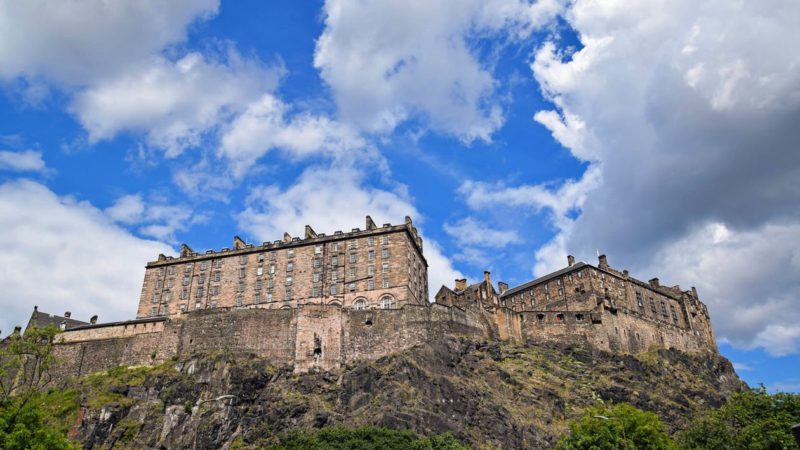 In 2020, Edinburgh has been Europe's leading DMO for readership and engagement on Chinese social media platforms WeChat and Weibo. We spoke to Edinburgh Tourism Action Group's Alice He about their recent Harry Potter-themed live streaming debut at the National Museum of Scotland, content planning during lockdown, and staying connected to Chinese university students.
 When and how did ETAG make the decision to start live streaming for a Chinese audience?
Live streams were part of our recovery strategy from the beginning because we've learned from everything happening in China that live streaming is a powerful tool to stay connected to your audience and keep inspiring the prospective visitors. When my contact at Sina Weibo got in touch in June, introducing the new global live streaming campaign they were launching, we immediately decided to take part.
Why did you choose National Museum of Scotland as the location for the first live stream?

Within the Sina Weibo live stream campaign, there are two options. The first option is static live stream: put your camera to focus on one object/view, and stay there for an hour or two. This is the safer choice – you don't have to have a presenter, and it is also better in terms of connection stability. For the audience, it's like a small window for them to see the outside world when they cannot physically be there. Another option is interactive live stream, which would be more fun and engaging, and of course more challenging.
The National Museum of Scotland is like a treasure box – it has over 20,000 objects on display and is home to diverse collections covering different themes. So I knew it would be easy to find highlights and interesting points to introduce to our audience. The National Museum of Scotland is also one of the founding partners of Edinburgh's Chinese Social Media Campaign, and I've worked with them before for a couple of different China Ready projects. They've always been highly supportive of our campaign activities.
What kind of research and preparation did you do before the live broadcast?

We had a brainstorm session in June and initially confirmed that we will focus on three key objects. Although it's an interactive live stream, we didn't want to keep moving. The plan is to have three fixed points that we can stand still to talk about the Museum USPs with the curators, to make sure we have a stable connection. We confirmed a few objects like Dolly the Sheep, the biggest star in the museum. We also agreed that we would end the live stream on the rooftop of the museum because that is a hidden gem. Lots of people didn't know that there's a rooftop, where you can see the 360-degree view of Edinburgh, and it's really beautiful there.
Initially, we didn't set the theme of the live stream on Harry Potter. When we were doing the brainstorm, the Lewis Chessmen have also come to our mind. They are one of the most important collections in the museum, with a direct connection to Harry Potter. Initially, we were only planning to talk about one object connected with Harry Potter. And then in July, I saw the news that the first movie, Harry Potter and the Philosopher's Stone, was relaunching in cinemas in China on the 14th of August, so I knew that Harry Potter would be the most attractive topic to the audience. Once we've agreed to set the theme on Harry Potter, we found another three objects that have connections with the Harry Potter movie.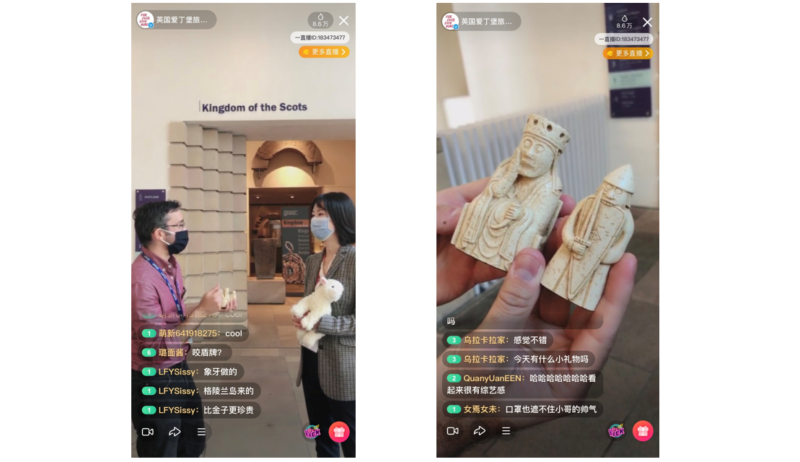 The Lewis Chessman were one of the objects with a link to Harry Potter chosen for Edinburgh's Weibo live stream
We did a signal test in the museum at the end of August, and a very detailed walking route was planned during the test. My contact at the museum managed to get three curators on board to talk about different objects, so we agreed a route to move between each curator. We also agreed to have the curators presenting some lovely gifts from the museum shop to give away to the audience during the live stream.
Before the live stream, as the presenter, I did lots of research about the objects and the Harry Potter movies to make sure I'm familiar with the facts and the connections.  My contact at the museum and the curators have sent me key information of the objects as well as the museum itself. I've also rehearsed the whole process in my mind before the live stream, and I'm glad everything worked perfectly.
What kinds of comments and questions did the viewers have? Was there anything surprising?
We had a highly engaged audience. Although the timing wasn't perfect – we had to do it before the museum opened to the public, from 9:30-10:30am BST, which is 4:30-5:30pm in China. But because we did some promotions across our channels, we had all kinds of audience – some of them are still based in Edinburgh, and some are prospective students who are planning to come to Edinburgh. One said, "I went to the museum yesterday."
When we filmed Dolly the Sheep, lots of people were saying, "So cute! Adorable." When the curator said Dolly was too fat – because Dolly had arthritis, he explained, the researchers initially thought she might have some genetic problem, but it turned out she was fed with too many foods. And the audience said, "Aw, she's not fat, she's just fluffy." Lots of interactive comments like that, it was great fun.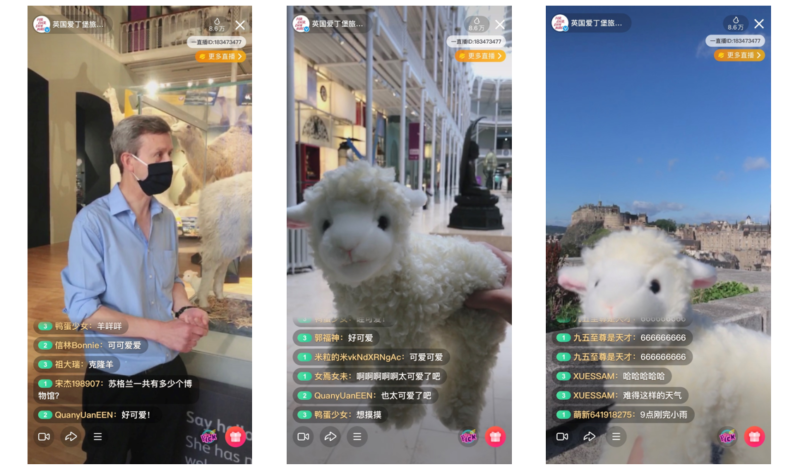 Dolly the Sheep is a highlight of the National Museum of Scotland's collection, and she was a also star of Edinburgh's September 2020 live stream on Weibo
When we were talking about Harry Potter-connected objects, they were all making comments like "I remember that one!" and they were recalling those stories from the movie. I would be facing the camera when I was talking to the curator, but I made sure when we were walking or filming the object close up, I would look at the screen to see their comments and interact with them. They might ask, "Is the museum reopened yet?" or "Do I need to book tickets in advance?"
How did you promote the live broadcast?
We've promoted the live stream on our Weibo account, and Sina Weibo has also promoted our live stream on their channels and campaign page. Besides, we have dedicated student WeChat groups created after each Chinese Student Welcome Event we've delivered in the last three years. The live stream information was circulated into a few different student WeChat groups we had. So that's why we were able to reach the audience who have been to Edinburgh as well as those who are coming to Edinburgh.
How many people joined?
There were 43,000 viewers who watched the broadcast live, and now the viewing number has doubled.
What were your biggest learnings from the first live stream?
First, it's always good to set a theme. In our case, once we confirmed to have a focus on Harry Potter, it was much easier to select the objects and to plan the walking route. It also makes sense that the museum is only two minutes away from the Elephant House, the café where JK Rowling was writing the first Harry Potter book, so it's convincing to the audience that JK Rowling herself and/or the film crew went to the museum to search for inspiration.
The second learning is to keep the audience engaged and entertained. It's not about me and the curator talking about everything we've planned – I'd read the live comments from the audience and interact with them. There will always be some spontaneous part, and I think that's the charm of the live stream. Because our audience is young, when they join the live stream, they'd expect to learn something, but at the same time, they'd love to have some fun.
The curators were essential as well because the audience can see their personalities and they'll listen carefully to everything they say. The three curators at the National Museum are all very professional, informative and enthusiastic. They've all greeted the audience in Mandarin during the live stream, which was a lovely gesture well-received by the audience.
Connecting with Chinese university students is something ETAG does very well, from orientation week onwards. How has COVID-19 affected these activities in 2020?
This year, instead of hosting offline events in China, the University of Edinburgh hosted the pre-departure event online. I joined two of their online pre-departure briefing events, introduced Edinburgh and answered some questions from prospective students. We're planning to host an online welcome event as well, but we are likely to do it later this year. The university is offering a relatively flexible policy to students, which would allow them to start the academic year by taking online courses at home and they could arrive later this year.
We imagine that some Chinese university students may have stayed in Edinburgh throughout the lockdown period and summer – have you done any activities or published content especially to connect to this group?
Yes, we adjusted our content strategy immediately, even before the lockdown. We were posting content about open green spaces, recommending films and books that you can watch or read at home, recipes that you could try to cook at home etc. We stayed connected with students who were in Edinburgh via our student WeChat group and by publishing photos they took around the city.

From the spring of 2020, Edinburgh shifted its Chinese social media content strategy to focus on green spaces and outdoor attractions and events, as well as positive stories about the city
We were also pushing out reassuring information about positive stories in Edinburgh, for example, how people were helping each other in all possible ways. I imagine those students will get lots of questions and concerns from their parents and friends back in China. So I hope they could forward this kind of article to their family and friends to let them know it is not that bad at all.
When Scotland began to ease out of lockdown, we posted reopening information and event suggestions across the city, so the students could go out and about again with safety measure and social distancing in place. The first reopening attractions in Edinburgh were the zoo and the Royal Botanic Garden, as they are both outdoor attractions. Soon after we sent the reopening post on our Weibo, we received photos from followers who had just been there. We also promoted the Edinburgh International Festival's special program, My Light Shines On – a series of video works and light installations in Edinburgh in August. I believe these experiences will be an important part of their memories of Edinburgh. It is a challenging time we're living, but there are always silver linings.
Students are so important to us. They all love the city, and they become our ambassadors when they go back. I was a student myself, so I want to help them whenever I can.