On 28 May, 2021 PROMPERÚ partnered with WeChat to run the first ever WeChat Channels destination live stream in the Americas. Dragon Trail is proud to have produced this broadcast, including content and creative, video and streaming production, KOL guest appearances, promotion, and organization with Tencent.
The live stream's results include:
– 220,000+ viewers across three channels: PROMPERÚ's WeChat Channels account, Tencent's WeChat Channels Account, and Zhejiang OTV mobile app.
– 164,000+ engagements
– 600+ new followers of PROMPERÚ's WeChat Channels account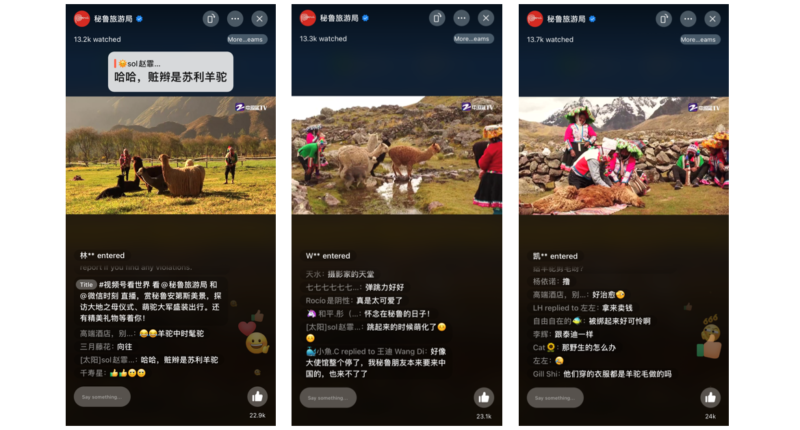 Viewers got to see llamas and alpacas in the wild, and a wool-shearing demonstration
In-depth Experience

Over four hours, we showcased a different side of Peru, giving Chinese travelers new ideas for extending their visit in and around the Sacred Valley to experience local communities, hiking and animals in the wild. The broadcast began with the sunrise over Ausangate, revealing fertile valleys and Andean peaks as dawn broke in Peru. Other parts of the live stream's program included a blessing ceremony with yachaqs (Andean sages), an introduction to Peruvian superfoods, demonstrations and explanations of weaving with alpaca wool by local craftswomen, scenes of an alpaca caravan in the mountains, and more. Throughout, Chinese viewers saw stunning Andean landscapes in Pacchanta and the Sacred Valley, with alpacas and llamas in their natural habitat against the backdrop of Ausangate peak.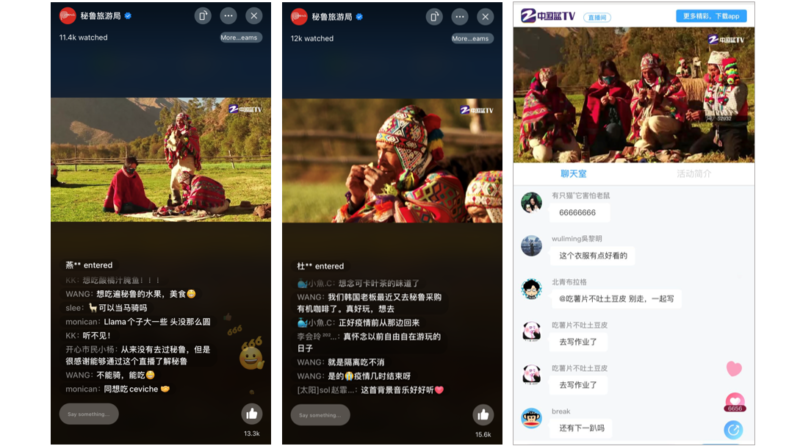 "Payment to the Earth" blessing ceremony with local yachaqs
"We wanted to create an immersive experience of Peru's amazing highland regions around Cusco and the Sacred Valley, to show Chinese travelers that it is the perfect place to escape it all and reconnect with nature after the pandemic. And by showing the up-close experiences with alpacas, yachaqs, weaving and superfoods, we not only inspire but also educate Chinese travelers on the richness of our culture and the products they can buy to get a piece of Peru," said Maria del Sol Velásquez, Director of Tourism at PROMPERÚ.

The live streaming started with the sunrise over Ausangate, and also included guest KOL J-Fever, an introduction to Peruvian superfoods, and more
Viewers were guided by three Chinese hosts. On location, a senior Chinese tour operator and guide in Peru took part in the activities with local people, asking questions and interpreting from Spanish to Mandarin to provide a wealth of information on Peruvian culture and products. From the Zhejiang OTV studio in Hangzhou, famous producer and travel show host, Kan Xu engaged with viewers by responding to comments and questions throughout the live stream while sharing additional insights about Peru. Chinese rapper and travel KOL J-Fever (aka MC Little Tiger) joined the live stream as a guest, phoning in to talk about his experience traveling to the country and favorite destinations there. He shared his dining discoveries, including local corn and potatoes, and discussed the best places to find South American food in Shanghai and Beijing with host Kan Xu. J-Fever also talked about how his travels inspired the album Is There Any TIGERs in Peru? and played several tracks.
Pioneering Broadcast
As a member of the Welcome with WeChat Alliance, PROMPERÚ joins Australia, Germany, New Zealand, Sweden and Norway as one of the first destinations to launch a destination live stream on WeChat Channels – and the first ever from the Americas.
"When WeChat evolves, we evolve with it. That's meant working with Dragon Trail International to support us in opening a WeChat Channels account to push inspirational short videos, and now joining the Welcome with WeChat Alliance to cooperate more closely with WeChat on video marketing and live streaming," said Velásquez. "With travel still some time away, this is a great opportunity to bring Peru to China in an immersive, interactive way."


Behind the scenes in Peru and China
Peru's live stream stands out for its sheer difficulty and ambition. Shooting from the Andes, the live stream required setting up a special satellite internet connection, and we also needed to transport animals, baby animals, wool, weavers, and yachaqs between mountain locations for the filming.
Instead of simply introducing viewers to famous tourist attractions, the live stream gave them an intimate look at the indigenous people of Peru, their beliefs, livelihoods, customs, landscapes, and resources. This provided a unique window connecting places 13 time zones apart, using technology to build real emotional connections and take viewers on an inspiring journey. As the yachaq carried out his blessing ceremony, dozens and dozens of viewers in China joined in with the message "give thanks to Mother Earth." In a world that has been so physically separated by the effects of the pandemic, Peru's live stream accomplished an extraordinary feat of bringing people together around the globe.
Want to run your own live stream with WeChat? Contact us for more information about how we can help you.