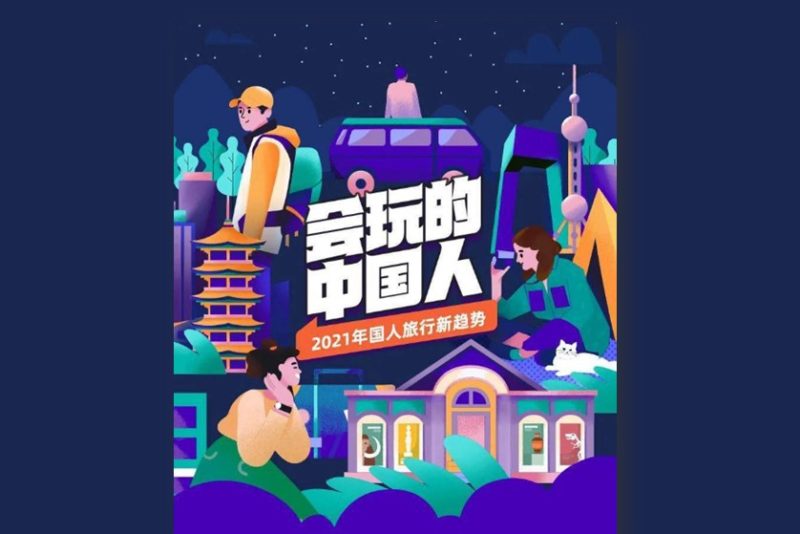 Online travel platform Qyer released a new report about 2021 Chinese travel trends on 28 January 2022. The report includes consumer sentiment around outbound travel, as well as comparisons of Gen-Z with older Qyer users. The following is a translated summary. Click here for the full report (in Chinese).
What did Qyer users like most in 2021?
1) Local travel
2) Local food
3) Culture and arts
4) The outdoors
5) Special hotels
For Gen-Z travelers, the top 4 are the same, but their no. 5 top travel interest in 2021 was theme parks.
Outdoor activities
In 2021, the top 3 outdoor activities for Qyer users were: Hiking, camping, and skiing, with a growing interest in winter sports.
Qyer users' motivations to travel in 2021:
1) Natural scenery
2) Local food
3) Personal interests
4) Discounts on flights and hotels
5) Recommendations from influencers
For Gen-Z travelers, their top 3 reasons to travel were:
1) Personal interests; 2) Film & TV; 3) Discounts
Nature appreciation
More than half of Qyer users have been to at least one national park in China, with 83.6% planning a future trip to a national park. The top reasons for nature travel are: Flora/fauna appreciation, study, scenery, and photography.
Nature protection
Awareness about responsible travel and environmental protection are growing. 92.3% of Qyer users said they were willing to change the way they travel to protect the environment.
56.4% said they wanted to visit animal protection centers, and 67.8% said they would not go to tourist attractions where animals are trained to perform for entertainment, such as circuses or sea animal shows.
Spending: generational differences
Compared to the average for Qyer users, Gen-Z travelers spend less of their travel budgets on accommodation and airfare, but more on food, shopping, and entertainment.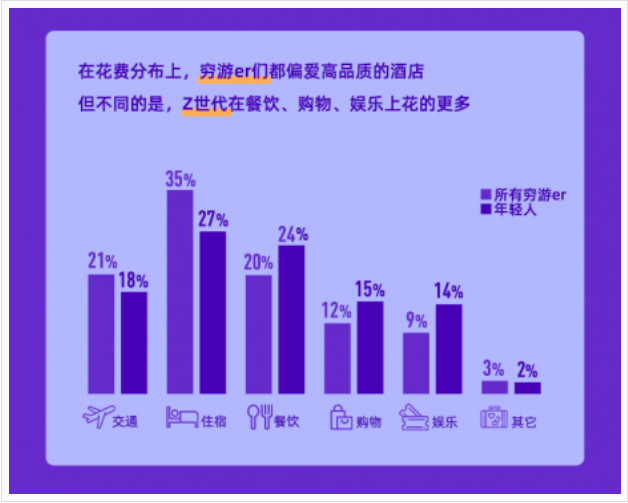 Travel booking
Travel is fairly spur-of-the-moment now, with 60.5% of Qyer users booking 3-4 days before their trip. 15.3% say they don't make a plan before they travel.
Outbound travel

68.32% of Qyer users checked out information about outbound travel in 2021, an increase of more than 40% compared to 2020.
94.51% say that after the pandemic situation has stabilized, they want to travel abroad. 83.52% say they would do so within one year of China reopening for international travel.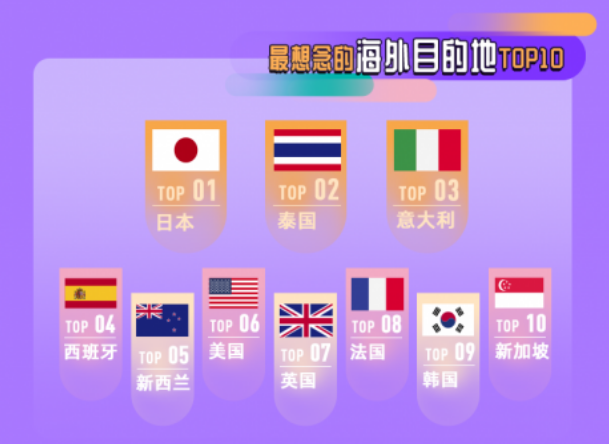 The top reasons for traveling internationally are:
1) Scenery; 2) Cities and culture; 3) Food and shopping; 4) History and culture; 5) Art exhibitions.
The top 10 international destinations for Qyer users are:
1) Japan
2) Thailand
3) Italy
4) Spain
5) Australia
6) USA
7) UK
8) France
9) South Korea
10) Singapore
Want more information on Chinese travel sentiment and plans for outbound travel? Check out Dragon Trail's monthly China Travel Market Monitor survey of Chinese with recent international travel experience.