When it comes to reaching the Chinese outbound tourism market, a B2B strategy is essential, especially for niche and up-and-coming destinations. Beyond traditional offline B2B marketing such as exhibitions and road shows, Dragon Trail Interactive has developed innovative digital solutions through its WeChat-based China Travel Academy (CTA) to help destinations and companies effectively connect with and train travel agents across China. CTA's newest feature, CTA Live, is a WeChat mini-program that allows travel brands to connect to a database of more than 30,000 travel agents.
China Travel Academy Goes Live
China Travel Academy was originally developed as a series of WeChat-based educational programs for Chinese travel agents. These programs included modules on destinations, itineraries, travel arrangements, visa policies and more, complemented by quizzes and incentives, including official certification at the end of the course. With WeChat used by 90% of its 1 billion monthly active users as an important work tool, this format makes it easy for busy travel agents to receive training on the go, at their own pace and on a mobile-optimized platform. After creating nearly 30 CTA courses, Dragon Trail Interactive has now added a new feature to CTA: live, digital roadshows, run through CTA's WeChat mini-program.
CTA Live's webinars are a valuable complement to the established CTA platform, allowing hosts to present and answer travel agents' questions in real time, and show video content as well as slides. These online roadshows are an ideal way to update the Chinese travel industry about destination news, as well as to give in-depth information about tourism products. Moreover, they enable destinations to reach a sizeable number of travel agents, without having to worry about venue capacity, or the logistics of physically bringing together agents from all over China.
Webinar presentations last around 45 minutes and are followed by a 15-minute live Q&A session, which allows for immediate feedback and direct contact between tour operators and the destination. The sessions are also recorded for agents that cannot attend the live presentation, as well as those who want to review the content.
The German National Tourism Board, which has so far had 4,000 agents complete their CTA course, hosted a CTA Live webinar on visa policy updates in February, 2018. The webinar had 400 participants, and 2,000 playbacks of the recorded version. "This is an innovative approach to visa training that no one has ever done before," said Zhaohui Li, a representative for the German National Tourism Board, in response to the training's popularity. The training session was also featured in a travel news piece in the March 2018 issue of Lonely Planet China.
Dragon Trail assists destinations with presentation formatting and uploading materials onto the platform, and sends out invitations and promotes the webinar to our database of over 28,000 verified travel agents through WeChat, EDMs and SMS, along with reminders to registered participants. We also provide platform training and a user guide to CTA Live hosts.
From the destination's point of view, CTA Live offers excellent insights into the Chinese travel trade, which can be used to guide future strategies. CTA Live hosts are provided with a list of registered attendees, their company, job title and contact information. The host will also get to see who attends the webinar, a record of their log-in and log-out times, and a list of the agents who have accessed the recorded presentation after the session. Through these reports, CTA Live users can track travel agency and agent participation to identify their strongest business partners and to build a CRM database for ongoing communications.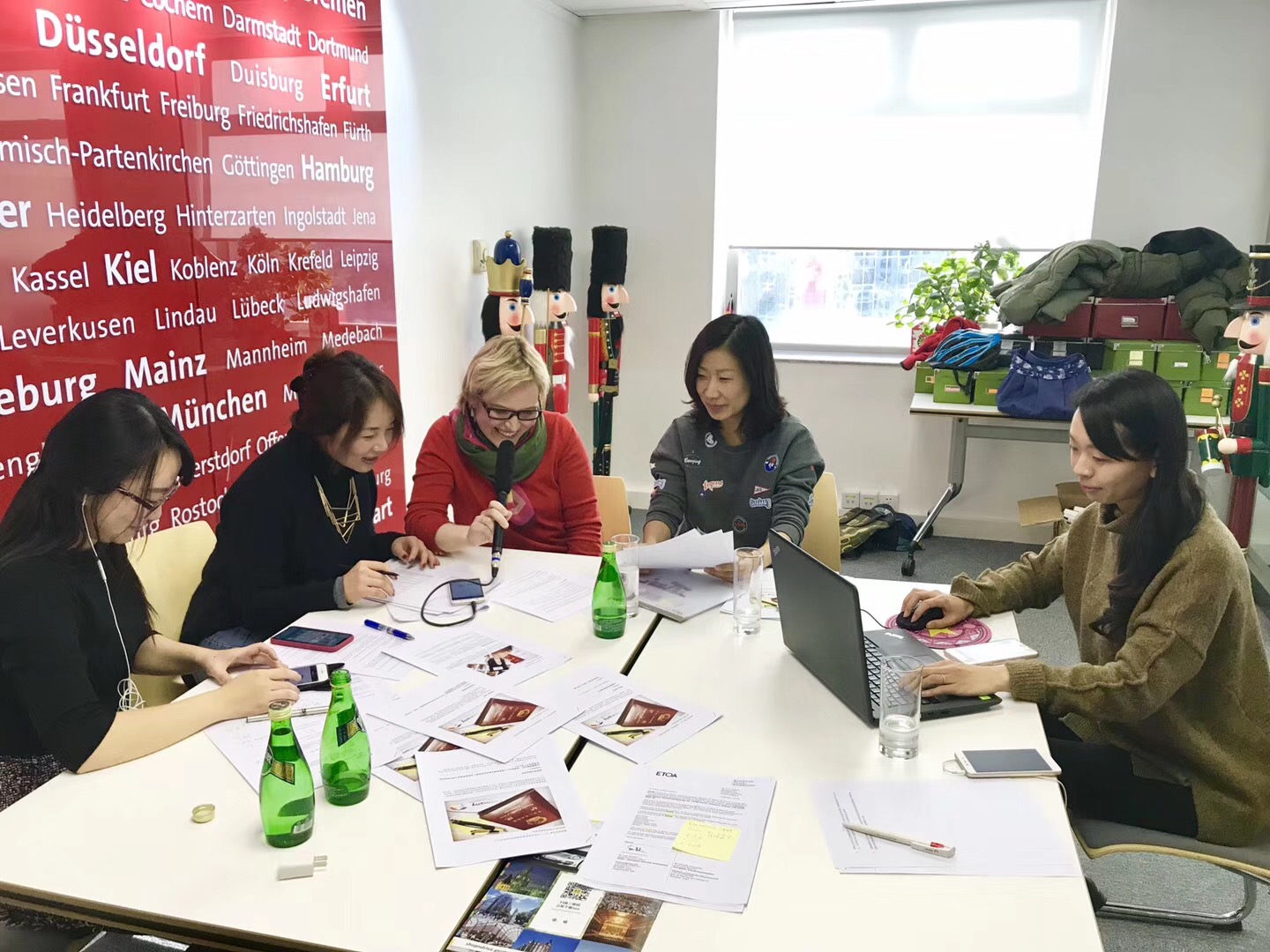 German National Tourist Board's team presenting during the live webinar
Case Study: Switzerland
Switzerland Tourism will host a series of 15 CTA Live sessions from March 2018 to February 2019, focusing on Switzerland Tourism's partners and MICE. Partners' courses will cover outdoor summer activities, skiing in the winter, and Swiss cities. The first webinar of the series, held on March 15, introduced Switzerland Tourism's themed itineraries, 2018's travel trade promotion plan, as well as the Swiss public transportation system.
"The first live broadcast went very smoothly. We delivered the webinar through a PPT, a live video and an interactive Q&A session aimed at those agents with an interest in Switzerland. We believe that with Dragon Trail's support, we can really scale our industry training, ensuring that the China market can learn more about the Swiss-themed itineraries, resources and products," said Grace Gao, Switzerland Tourism's Deputy Director for China.
In future broadcasts, Switzerland Tourism will offer lucky draws as an incentive for agents to attend and complete the webinar, similar to the incentive gifts and competitions available to agents on the original CTA platform.
Images from left to right: Switzerland Tourism's webinar invitation,
webinar access from Switzerland Tourism's WeChat official account, live webinar and Q&A
A New Way to Engage the Industry
Rather than replacing offline promotional activities such as exhibitions and FAM tours, CTA Live's online roadshows provide a valuable complement, and also help destinations to focus their supplementary marketing efforts on the agents, agencies and geographical areas that are most engaged.
Building upon the success of the WeChat-based CTA program, CTA Live offers a fresh solution for destinations to maximize their exposure and optimize their B2B strategy for the Chinese tourism industry.
(To watch the video, turn on your VPN on or click here, if you are located in China)
For more information about CTA Live and how you can use it for your destination, please contact Saxon Booth, Director of Business Development at saxon.booth@dragontrail.com or call us on +86 (0)21 6083 1155.