TravelDaily China's report on consumer attitudes and understanding of digital tools in travel includes three sections: How Chinese consumers use digital tools before traveling, how they use digital tools during travel, and how the travel industry assesses its own progress with digitization. We've translated selections of the report focused on the consumer survey here. You can access the full original report (in Chinese) here.
Amount of Travel by Age
In terms of the average number of overnight trips taken per year, consumers below the age of 20 travel the least, with those aged 20-50 traveling the most. Between 36-40% of those aged 20-50 say they go on 2-3 overnight trips per year. Roughly 17% of consumers aged 30-40 said they went on 5-10 overnight trips per year. While 41% of consumers over the age of 50 travel once or less every year, this age group had a significantly higher proportion than younger groups that travel more than 10 times each year – a sign that some retirees are eager to hit the road as much as possible.

Sources of Travel Inspiration
Digital platforms are the leading source of travel inspiration for Chinese consumers, though recommendations from friends and family continue to be very important as well. The survey findings reveal the significantly diminished impact of print media on travel inspiration.

Sources of Travel Information
When it comes to sources of travel information, post-80s and post-90s consumers (aged 25-40) prefer UGC platforms like Mafengwo and Qyer. Older travelers tend to rely more than younger ones on friends and family recommendations, and the 30-40 age group was the most likely to use a travel agency to find information.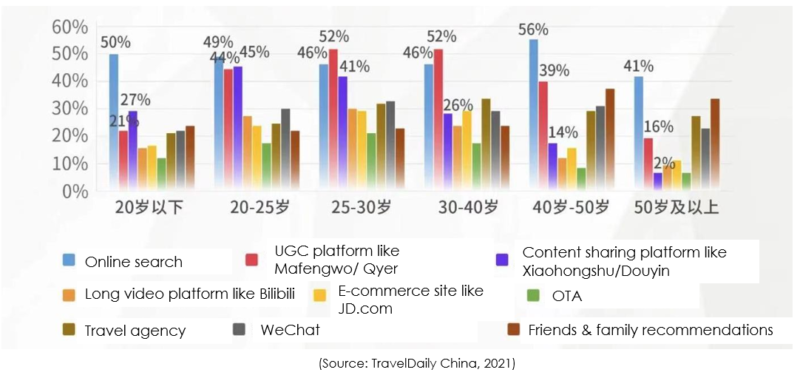 Technology in Hotels
Close to half of Chinese travelers have already used contactless check-in/check-out services in hotels, with more than half using mobile payments.
Technology at Attractions
Technology is most commonly used for ticketing at attractions in China.

Technology During Air Travel
The Value of Technology
Survey respondents widely saw technological tools as providing such a significant improvement to the travel experience that they were willing to pay more for them.
– 84% said they were willing to pay more for technological tools at a hotel (27% would pay RMB200 or less, with 31% willing to pay RMB200-500).
– 85% said they were willing to pay more for tech at attractions (21% would pay RMB50 or less, and 28% would pay RMB50-100 extra).
– 80% said they would pay extra at the airport (23% would pay RMB100 or less, and 27% would pay RMB100-200).