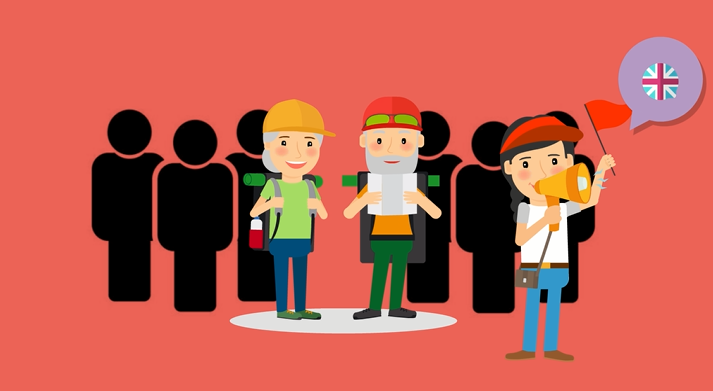 How easy is it for Chinese tourists to communicate abroad? While 10 million Chinese speak English, there can still be plenty of language barriers. Find out how Chinese outbound travelers get around communication issues and where they think Chinese-language resources need to improve.
Click here to view the video.
Professor Outbound
10 million out of 1.3 billion Chinese speak English. While affluent and younger Chinese travelers are more likely to speak English, not every outbound traveler from China can communicate in a foreign language. How do Chinese travelers get around when abroad?
Interviews with Chinese travelers
Do you have any language problems communicating when abroad?
In some places in Germany and France, some locals cannot speak English, particularly old people, or some only want to speak their local language. But generally, you can get by quite fine by speaking English.
I speak English, but I still have problems. Different people have different English accents, so sometimes I do not understand.
I can have basic conversations in English.
There are definitely some language barriers.
For basic conversations, it's not that hard. People overseas are pretty nice and when they see you with a map, they offer to help.
Language is definitely one of the biggest hurdles when I travel overseas.
How do you overcome language barriers?
[To avoid problems at destinations], in China before traveling, I research recommendations and guides in Chinese.
Once I wanted to order a dish with beef, as I am allergic to seafood. So I said: [mimics cow] "Okay", [mimics fish] "no".
I use my mobile to translate online.
Google Translate.
Baidu Translate.
Youdao Dictionary.
Do people speak Chinese overseas? Are there any Chinese language translations?
Many people in Bali speak Chinese. Almost everyone can at least say hello in Chinese.
Some large shopping malls and outlets overseas have Chinese speaking staff. Shops in France are probably best at it.
Except when shopping, it's not very easy. There are very few [translations in Chinese] at tourist attractions. I went to the Isle of Skye, a famous island in the UK. There were no explanations in Chinese, nor anyone to ask, because it's all free. So my understanding is very superficial; I don't know anything about its history etc. I feel like there is a lack of Chinese language translation, particularly for people self-driving.
Animation
Learning English in China
Most parents in China think learning English is key to their children's education and career success and will enrol their kids in English classes from a very early age. However, often the emphasis is on acing exams rather than on achieving good communication skills, so many Chinese outbound travelers might not speak fluent English, but have no trouble understanding written English.
Speaking English when traveling
First-time travelers abroad or older Chinese are more likely to travel as part of a package tour group, so that they can enjoy foreign destinations while speaking Chinese.
Not being able to communicate when abroad is something many Chinese fret about on travel review website Qyer and Quora style platform Zhihu.
Not all Chinese tourists are concerned, and many still decide to travel independently, perhaps opting for Chinese-friendly destinations. The widespread use of Chinese-language signage in tourist areas in Southeast Asia makes Chinese outbound tourists feel more comfortable. In Japan, Chinese outbound travelers can get by recognizing some of the Japanese characters.
Even those travelers who speak English fluently might have trouble communicating in countries where locals have strong accents in English or in destinations where not many people speak English.
In many cases, miscommunication can make for funny stories, with some of the travelers resorting to hand gestures, but language barriers can also prevent travelers from a more meaningful travel experience. According to Ctrip, 10% of overseas travel emergencies reported to their Global Travel SOS platform were down to travelers not being able to communicate with a local doctor.
How do they get around if they don't speak English?
To get around language barriers, tech-savvy Chinese travelers are turning to the latest translation tools on the market. Users can look up words online or upload screenshots of the text to translate on an app. Translation devices by Youdao, Baidu or Sougou can help translate full conversations across multiple languages. Still too pricey to buy, such devices can be easily rented from OTAs like Ctrip and Tuniu.
Professor Outbound
Even for the most fluent English speakers, hearing and reading Chinese when abroad still goes a long way among Chinese travelers, who see this is as a sign of respect.