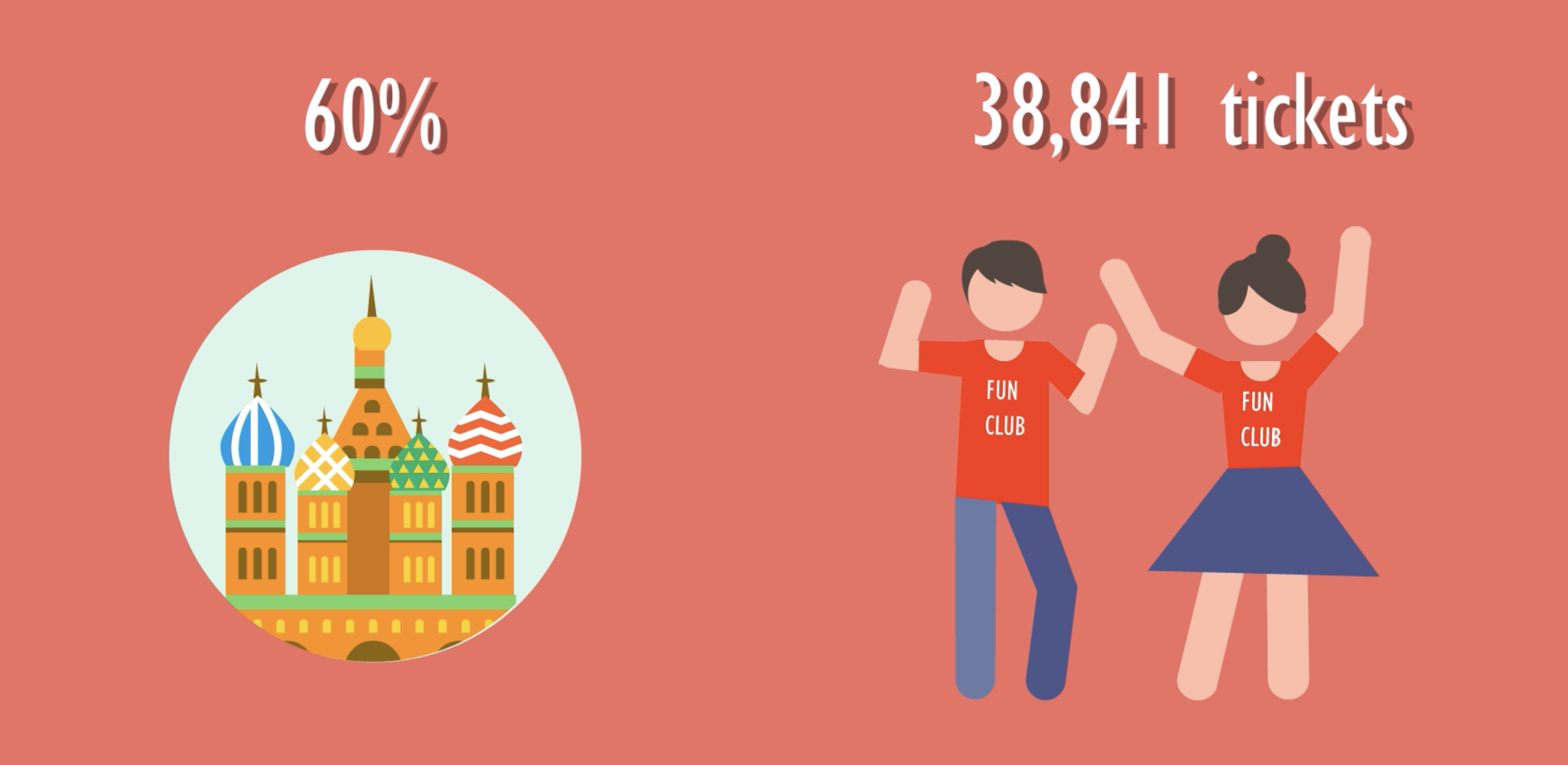 Sports tourism is becoming popular among Chinese young professionals, who are increasingly going overseas to watch or participate in sporting events. Find out how many Chinese are traveling to Russia this month, and why this year's World Cup is so popular for Chinese sports fans.
Click here to view the video.
Video Transcript
Prof Outbound
Sports tourism is more and more popular among Chinese young professionals, who are increasingly going overseas to watch sporting events, like the Olympics or the World Cup, but also to take part in marathons, to join summer soccer camps in Madrid, or go skiing in Switzerland.
Interviews with Chinese Travelers
I am a football fan. When traveling overseas, to Italy and Spain, I normally go to watch a local football match. In the past, I have watched the Derby in Milan, and I went to a Spanish La Liga game with Real Madrid. In 2016 I went to France just to watch the UEFA Euro, so I have always been planning for the World Cup.
Who are you supporting this year?
My favorite team is Italy, but I cannot do anything about [Italy not qualifying]. My second favorite, Holland, is not in either. So now I go for Cristiano Ronaldo [and Portugal].
Will you travel around Russia?
I will visit around. I am going from the 7-16 July. I am spending three days in St. Petersburg, and then I will watch a semi-final game there. And then I will go to Moscow by train. It's free if you have a Moscow 2018 FAN ID card, and once I'm there I will watch another semi-final. I will visit Moscow for a few days and then I will come back. I am planning to watch the ballet – it's world class in Russia!
How did you buy the tickets?
For these world scale games, organizations like FIFA announce on their sites when people can start applying for the lottery tickets. Like you do [in China] when buying a house or a car. I signed up last year in September. It's much cheaper than buying a ticket through a travel agency. Tickets can cost 10,000 to 20,000 RMB.
Who are you traveling with?
I am going by myself, but I have friends who are going there for work or other reasons, so we will meet there.
Are there many Chinese football fans who travel overseas to watch a game?
I watched two games in Milan, the Derby and AC Milan vs Rome. The second time I went, four years after in 2016, I really noticed there were more Chinese spectators. People like me who travel specifically to watch a game are not that many. Most people go traveling and then catch a game [during their trips], particularly young people.
Animation
Who Chooses Sports Tourism?
Professionals from 1st tier cities account of 50% of all outbound sports tourists, and dedicated sports tourism trips typically last 4-6 days.  Most often, sports tourism is embraced by leisure and business travelers who chose to watch a game as an add on to their trips.
According to ForwardKeys, bookings for flights from China to Russia are forecasted at over 60% ahead of the bookings for June of last year, with Chinese arrivals starting to peak on June 12th. As of early April, Chinese soccer fans had bought nearly 39,000 tickets to the World Cup.
A 6 to 8 day trip to Moscow and St. Petersburg with tickets to the games can cost between US$4,000-10,000. Ten travelers from Xiamen, Fujian Province, bought Ctrip's most expensive World Cup package, at US$133,000.
According to Ctrip, 57% of Chinese travelers buying this year's World Cup tickets are female. The "die-hard" fans are mainly born in the 1980s, and are middle to upper middle-class. Shanghai fans have bought the most tickets, followed by fans from Beijing, Chengdu, Guangzhou, Chongqing, Kunming, and Shenzhen.
This year more Chinese fans are going to the World Cup in Russia because:
—Ticket holders with an official FAN ID do not need to apply for a visa.
—Russia is relatively close to China and therefore more accessible than Brazil.
—The ruble depreciation has made traveling to Russia much cheaper for Chinese travelers.
Prof Outbound
The global sports tourism market is now growing at a rate of 14% per year, and is expected to exceed US$400 billion by 2020. The Chinese sports tourism market currently only accounts for 5% of the total tourism market revenue in China, but has the potential to grow considerably.