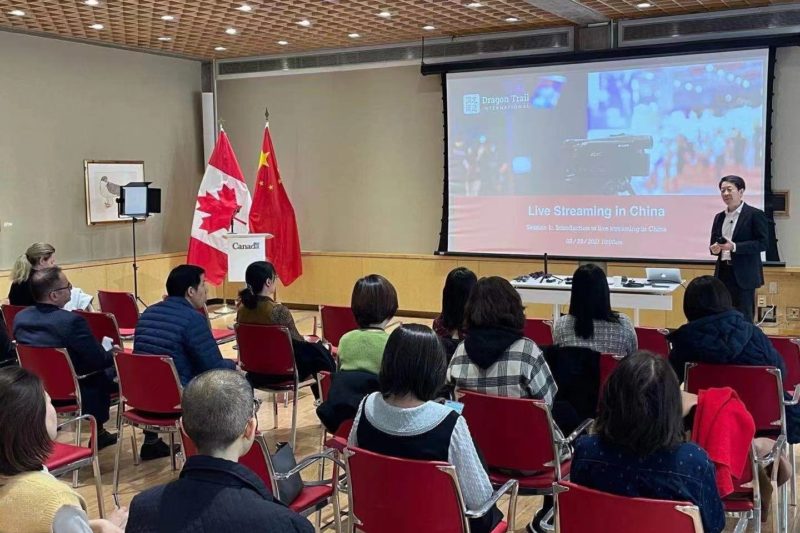 On 23 March, 2021, Dragon Trail International delivered a one-day live streaming training workshop for the Embassy of Canada to China in Beijing, run by Dragon Trail's CEO and co-founder, George Cao. The training was attended by around 60 participants in total, including the live audience in Beijing, as well as Canadian government staff in Shanghai, Chongqing, and Guangzhou, who attended virtually through Dragon Trail's CTA Live webinar platform.
By March 2020, 62% of China's internet users – or 560 million – were consuming live streaming content. Live streaming was the trend that defined digital sales and marketing for Chinese tourism in 2020, and it's been a driving force behind Chinese e-commerce for many years already. It's now essential for brands inside and outside of China to understand how to leverage this medium to connect to the Chinese market.
The purpose of the training was to teach attendees how to deliver live streams, and how to help Canadian businesses to deliver live streams for educational, sales, and marketing purposes. While tourism is one area that can benefit from live stream marketing, it can also play a big role for other sectors, and the training was attended by trade commissioner services, as well as other embassy units.
The training included four presentation sessions, providing an introduction to the live streaming landscape in China, and an overview of the basics of live streaming. The sessions also included a deep dive into the techniques required in planning and conducting live streams, how to use the necessary equipment for live streaming, as well as best practices in planning and delivery – from makeup to data capture.
The day ended with a hands-on session for Beijing participants at the embassy, designed for those interested in conducting a live streaming session on a platform of choice, with a small group of colleagues. Dragon Trail guided each group through the entire process of live streaming, giving them practical experience of using the equipment, and the chance to see how their presentation would look on camera.
Learn more about live streaming for Chinese tourism marketing from the following articles, and join Dragon Trail's 28 April webinar for all the essentials of video marketing for China, including live streaming. Please get in touch if you are interested in arranging live streaming training for your organization or business.
Guide to Live Streaming for Chinese Tourism Marketing