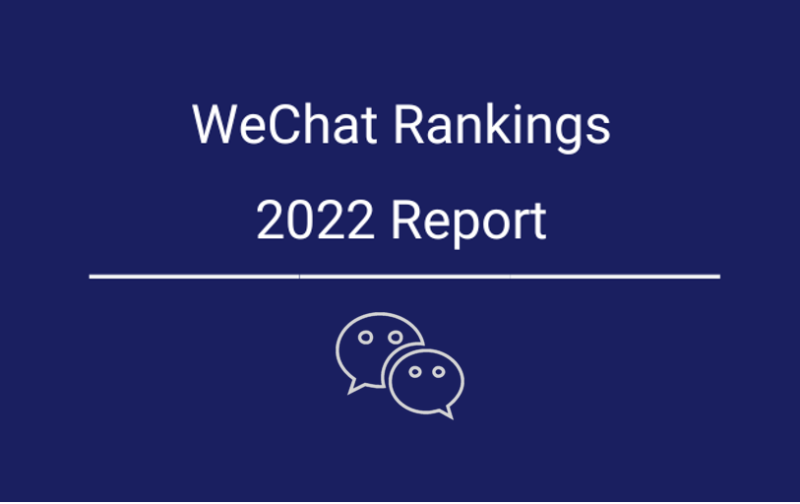 Dragon Trail's WeChat Rankings Report for 2022 examines and analyzes the performance of six categories of travel brands on WeChat: national tourism organizations (NTOs), destination marketing organizations (DMOs, referring to regional and municipal tourism boards), airlines, cruise lines, museums and attractions, and hotels.
It was a tough year for WeChat marketing for international tourism brands, with most categories seeing continued decline in average reading rates. 2022's data will serve as a valuable benchmark to see how WeChat marketing content and the audience for this content develops and recovers now that Chinese outbound tourism has resumed.

Reading Rates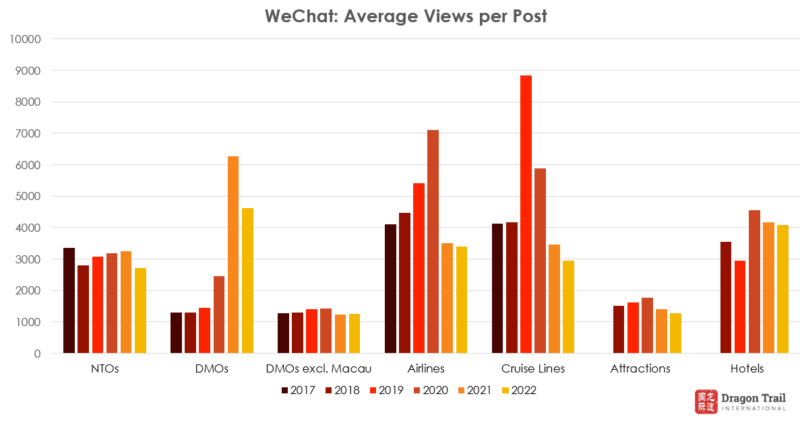 Compared to 2021, reading rates were down for nearly every category. For NTOs, airlines, cruise lines, and attractions, they were at their lowest point for any year tracked, starting from 2017. The only category that saw growth in average views per post was DMOs (excluding Macau), with a tiny increase of less than 1%.

NTOs
The top-ranked NTOs are similar to 2021's list. However, New Zealand rose from 9th place to 7th, posting exactly the same amount but increasing average views per post by around 2,000. The NTO's most popular post, with 17,469 views, was an announcement of the country's reopening in July.
The most-viewed NTO posts for 2022 can be found on this list. For destinations that reopened to international tourists in 2022, such as Indonesia's Bali, the Philippines, and New Zealand, those announcements were often the most-viewed WeChat post of the year.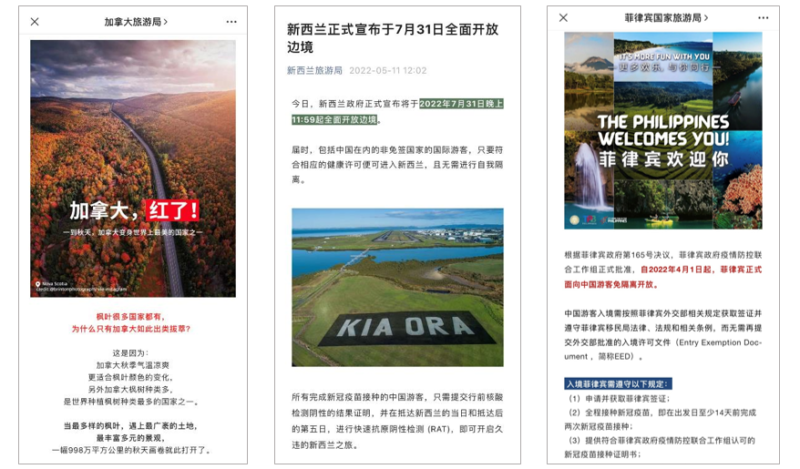 WeChat posts from Canada, New Zealand, and the Philippines
Looking specifically at the last quarter of the year, we have an article on autumn in Canada, and posts from the Tourism Authority of Thailand on Thai product recommendations, a Hua Hin hotel called The Standard, information on getting a Thai visa (shared after China's reopening announcement), and New Year's Eve.
DMOs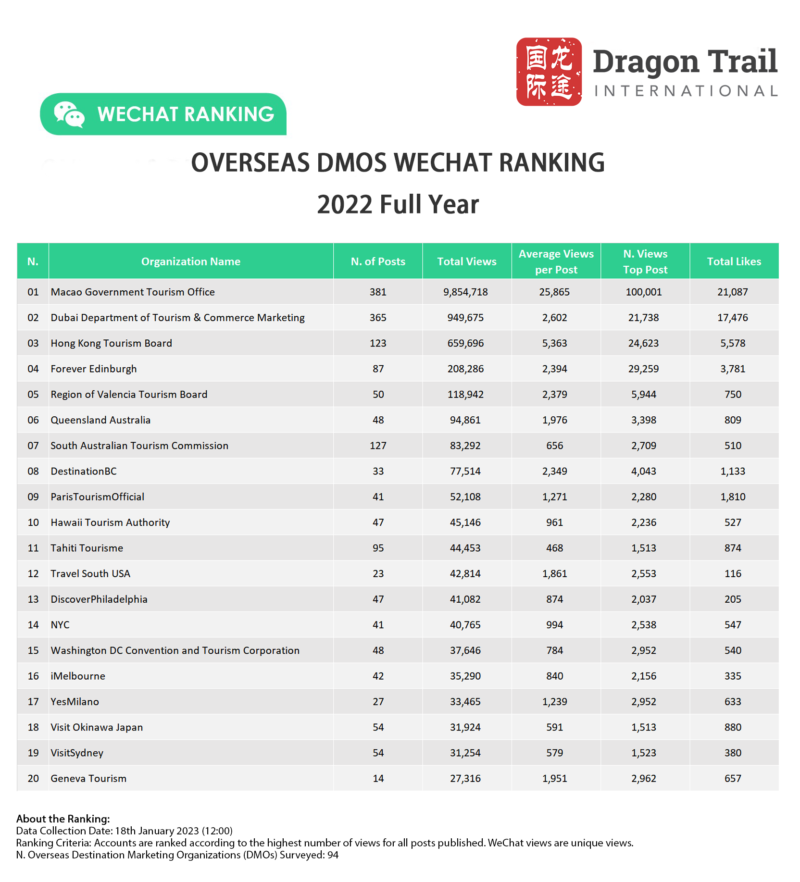 Macau continued to be an outlier in the DMO category, as the only outbound destination to which mainland travelers could go without quarantine on return in 2022. The DMO published the 42 most-read posts this year. However, while Macau still accounted for 76.8% of all content views in the DMO category in 2022, this was down from 83.2% the year before. Without Macau in the picture, average views per post for the DMO category are much lower, but they did not fall compared to 2021 as with other categories.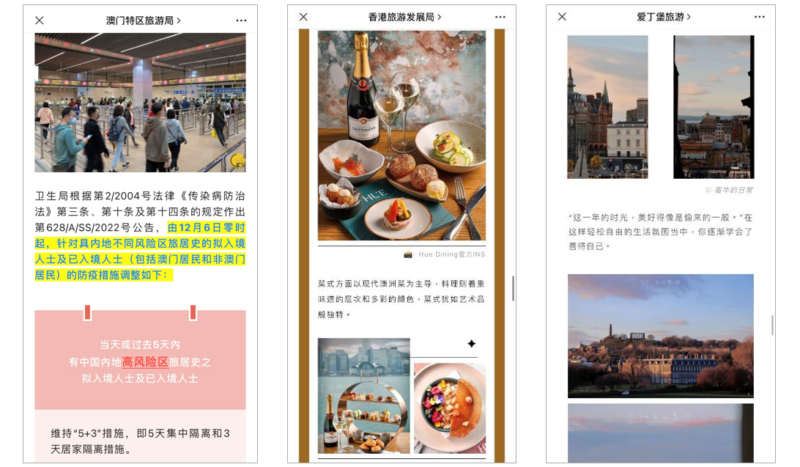 WeChat posts by Macau, Hong Kong, and Edinburgh
While the top-ranked accounts are similar to 2021 with some small changes in the order, one account with much higher activity is the Hawaii Tourism Authority, which jumped from 41st place for total views in 2021, to 10th in 2022. The island state posted 47 articles in 2022, up from just six, although average views per post did fall by 14.5%.
Top content by DMOs in Q4 2022 included Edinburgh's "Happy graduation – our story with Edinburgh will continue" article and photography contest; posts by Hong Kong on a travel blogger in West Kowloon, dining recommendations, and New Year's Eve celebrations; and an update on entry rules for Dubai.
Airlines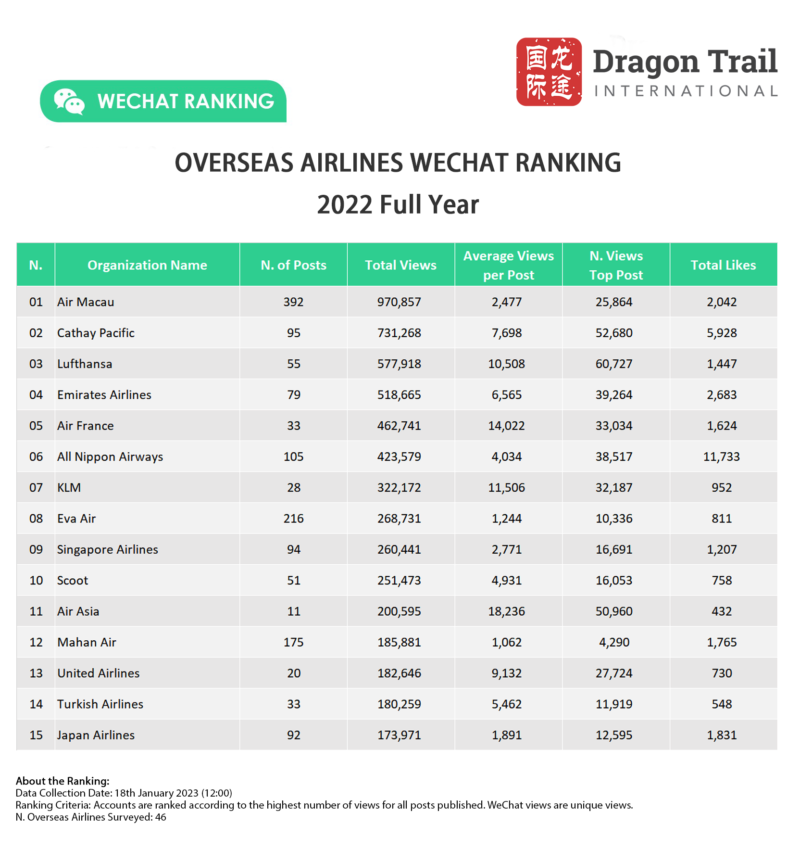 Average views per post in the airline category only declined by 3.2% in 2022. The top posts were mostly practical information and announcements, with a few key exceptions. AirAsia's most-read posts, all published at the start of 2022, were in the style of travel guides, highlighting attractions and dining in Southeast Asia. All Nippon Airways received more than 38,500 views for a post featuring figure skater Yuzuru Hanyu.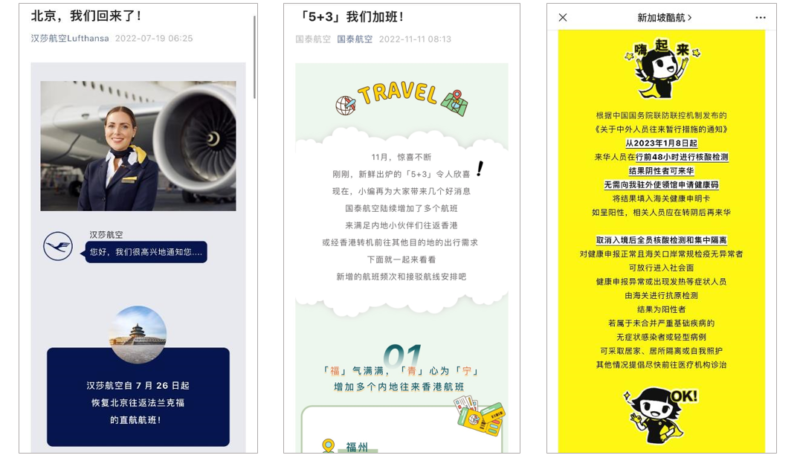 WeChat posts by Lufthansa, Cathay Pacific, and Scoot
In more practical content, the most-read airline post of 2022 was Lufthansa's July announcement that it was resuming flights to and from Beijing. Next, was Cathay Pacific's response to the shortening of quarantine on arrival to 5+3 in November. Emirates also posted about the early November changes to rules for travel into mainland China, and updated travelers on entry rules to Dubai in March. The top articles also include many announcements about flight cancellations as a result of China's circuit breaker aviation controls.
Airlines generally didn't have time to respond to the end-of-2022 announcement about China's changing flight policies – only Scoot and Emirates Airline posted about this topic in the last week of the year.
Cruise Lines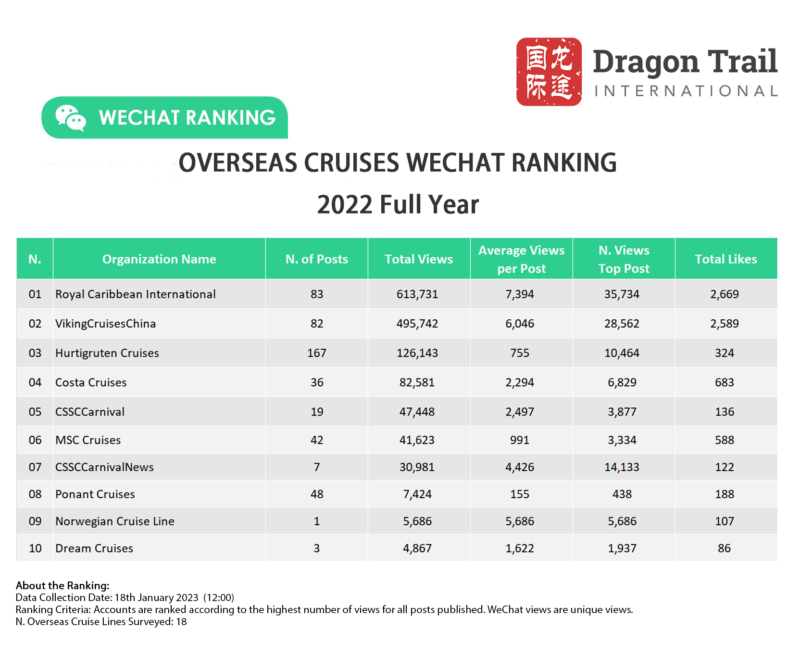 Views of cruise line posts had already declined precipitously in 2021, and this continued in 2022. However, unlike on Weibo, at least the most popular WeChat content published by cruise lines actually related to cruise products. The most-viewed articles were Royal Caribbean International's "How much does it cost to cruise for one year?", their announcement about the new Icon of the Seas ship, and a video tour of the captain's cabin. Viking Cruises' most-read article came out in January, promoting new cruises set to launch from Shanghai and Shenzhen in April.
Museums & Attractions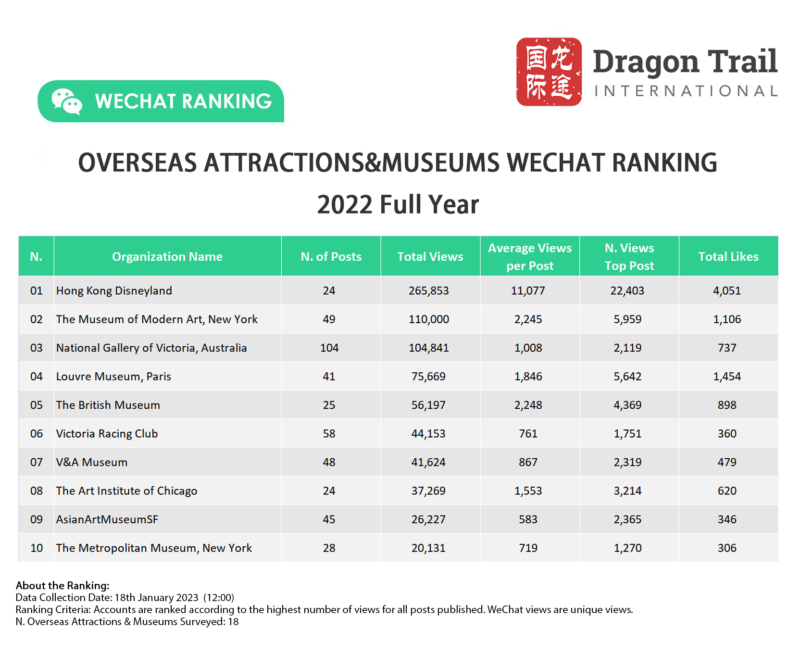 Average views were also down in the museums and attractions category, despite the popularity of Hong Kong Disneyland's account, which published the 22 most-read articles in this category. The most-read posts were an announcement about reopening in April, downloadable phone wallpapers in January, the park's 17th anniversary in September, 5/20 ("Chinese Valentine's Day"), and the debut of character LinaBell in August.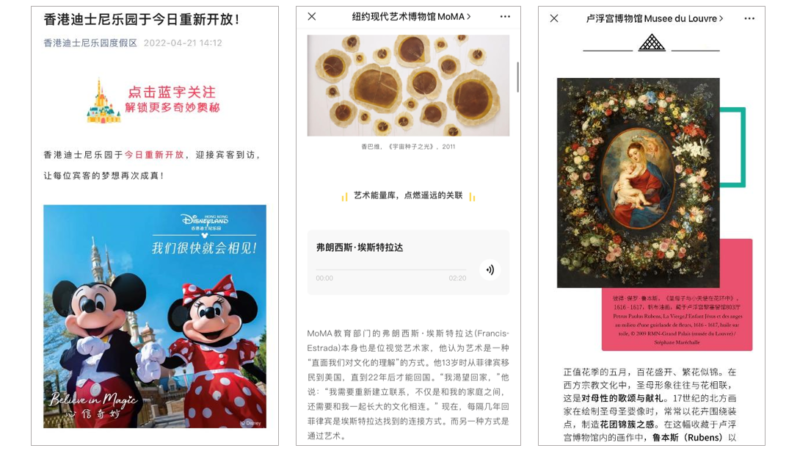 WeChat posts by Hong Kong Disneyland, MoMA, and the Louvre
For museums, the most popular content included MoMA's Shifting Perspectives audio series, Year of the Tiger WeChat stickers, and an article about Matisse's Red Studio. The Louvre's top article was a post about flowers at the museum for Mother's Day. The most popular post by the British Museum introduced the "Feminine Power" exhibition.
Hotels
The hotel category differs from the others in that, while the brands are international, most have properties in mainland China. Average views in this category were only down 2.2% year on year, and still above pre-pandemic levels. Considering how strict domestic travel restrictions were in 2022 because of China's zero-COVID policy, this is quite impressive, and shows continued high demand for travel in China.
Hilton's September "Stay right, all right!" post about new developments in hotel service (like phone-activated room keys, and pet-friendly accommodation) got the most views in 2022. Marriott's top posts were a series of videos starring actor Wang Yaoqing for Chinese New Year, and their springtime promotion of the King Power League e-sports competition. Hilton's digital red envelopes for Chinese New Year were also popular, and the end of 2022 saw Hilton open its 500th hotel in China, which received more than 43,600 views on WeChat.