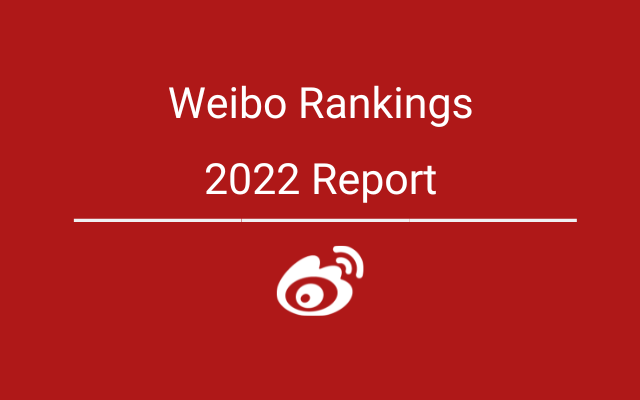 Dragon Trail International's Weibo Rankings Report tracks and analyzes performance for national tourism organizations (NTOs), destination marketing organizations (DMOs), airlines, cruise lines, museums & attractions, and hotels. The annual Weibo report builds industry benchmarks and uncovers best practices in digital marketing in the travel sector.
Celebrities – particularly pop stars – drove the highest engagement for travel brands on Weibo in 2022. Although posting frequency and engagement rate declined year-on-year for most categories, it's most important to look to the very end of 2022 for clues about what 2023 might bring. As China loosened COVID-related restrictions and finally announced the reopening of international travel, destinations around the world began to welcome back Chinese visitors. In the last week of the year, travel accounts on Weibo and their followers became more active.
Dragon Trail's Weibo Rankings for Travel were launched at the end of 2019, so most of our data on this social platform has been from the pandemic years. We expect much more interesting campaigns, trends, and results in 2023, as well as healthy recovery of traveler interest and Weibo engagement rates.
Weibo Engagement
We calculate engagement rate on a weekly basis, by dividing the total number of engagements (likes, reposts, and comments) an account receives for its content posted that week, by the number of followers the account has that week.

Apart from the airline category, the total number of engagements and the engagement rate declined for all types of travel brands compared to 2021. Average engagement rates for all categories were also lower than in 2020, with the exception of Museums & Attractions. This category had a sharp rise in engagement rate in 2021 because Hong Kong Disneyland joined Weibo towards the end of the year – with low follower numbers but a large number of engagements, this account skewed the average for the year.

NTOs
Singapore increased total number of engagements by 16.25% in 2022, rising to the top-ranked NTO by engagements, up from 5th place in 2021, and 16th in 2020. Each year, the Singapore Tourism Board has also increased its own engagement with Weibo, posting 13.86% more in 2022 compared to the year before. The key to Singapore's success is pop star Jackson Wang. He partnered with the tourism board this year, with music and fashion events in the summer, and a vlog series launched in December.
Apart from Singapore Tourism Board's December Jackson Wang-related content, the NTO Weibo posts with the most likes in 2022 include Thailand's 5/20 live streaming and giveaway, New Zealand's poll to name a baby kiwi bird, and the announcement of a tourism video series with pop group Boy Story for Korea. Top content from Europe included March videos for the Scotland Is Calling campaign, Finland's posts about the Northern lights and the Finnish Olympic Team, Norway's announcement about the opening of its new National Museum, and a short video of Trevi Fountain shared by the Italian tourism board.

"Welcome back" posts on 27 December 2022 from Thailand, Australia, and France
Looking at the last week of the year – when China's reopening plan was announced – the NTO account category was fastest to respond to the news. The "welcome back" posts with the highest engagements came from the Tourism Authority of Thailand and the French Embassy in China (reposted by Atout France). Other NTOs celebrating the news included Spain, Serbia, Norway, Canada, Australia, and New Zealand.
Tourism destination accounts – both NTOs and DMOs – posted 15.3% more content in the last week of 2022, compared to the weekly average for the rest of the year, and engagement with this content was 32% higher than the annual average.
DMOs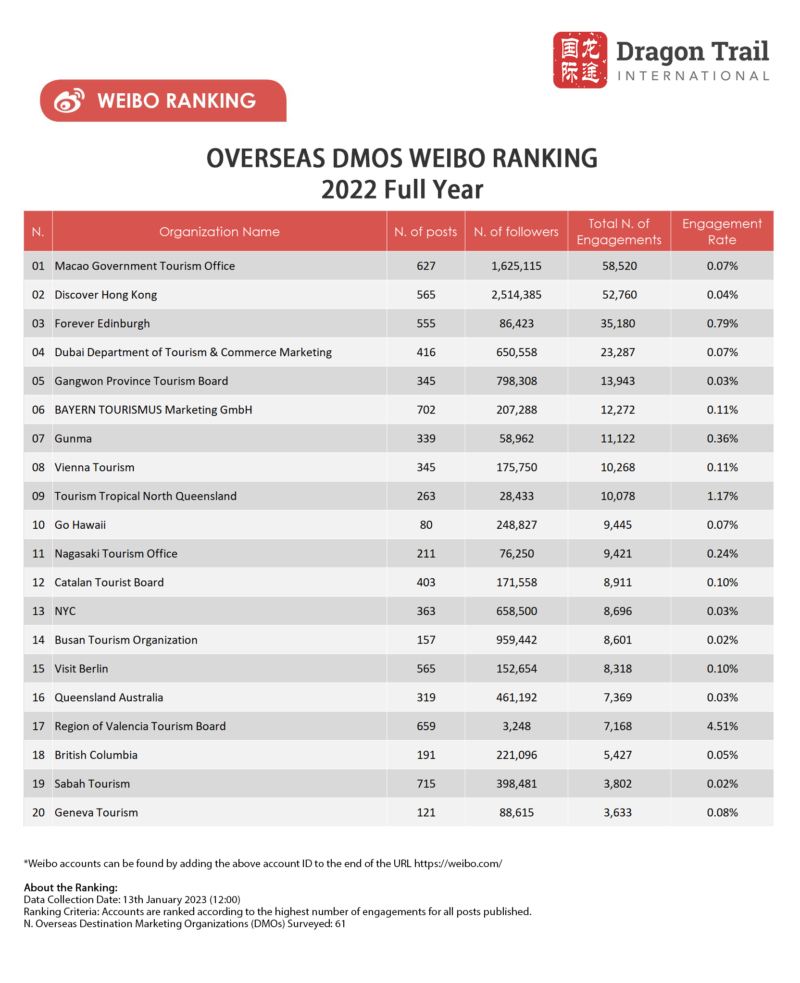 Exactly like the NTO category, the DMO Weibo post with the most engagement in 2022 was about pop singer Jackson Wang. In this case, it was a video shared by Visit Dubai to announce his 2023 concert. Other top DMO posts for the year included photos celebrating boy band singer Mika Hashizume from Hawaii, videos promoting street dancing and celebrity dining TV shows from Macau, singing performances shared by Hong Kong and Dubai, and a poll about Korean TV shows from Visit Busan.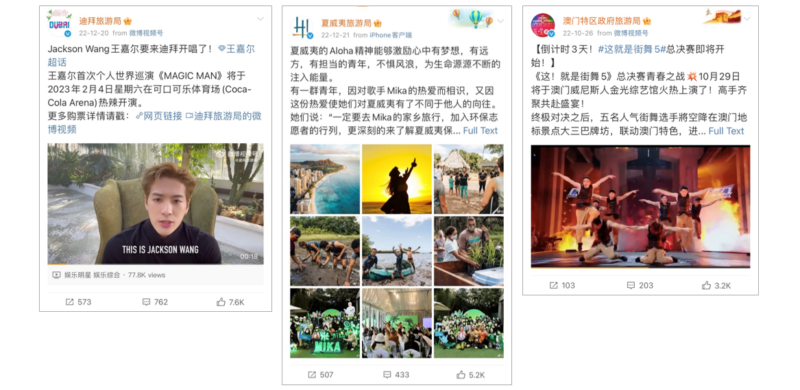 Top DMO posts from Dubai, Hawaii, and Macau
Airlines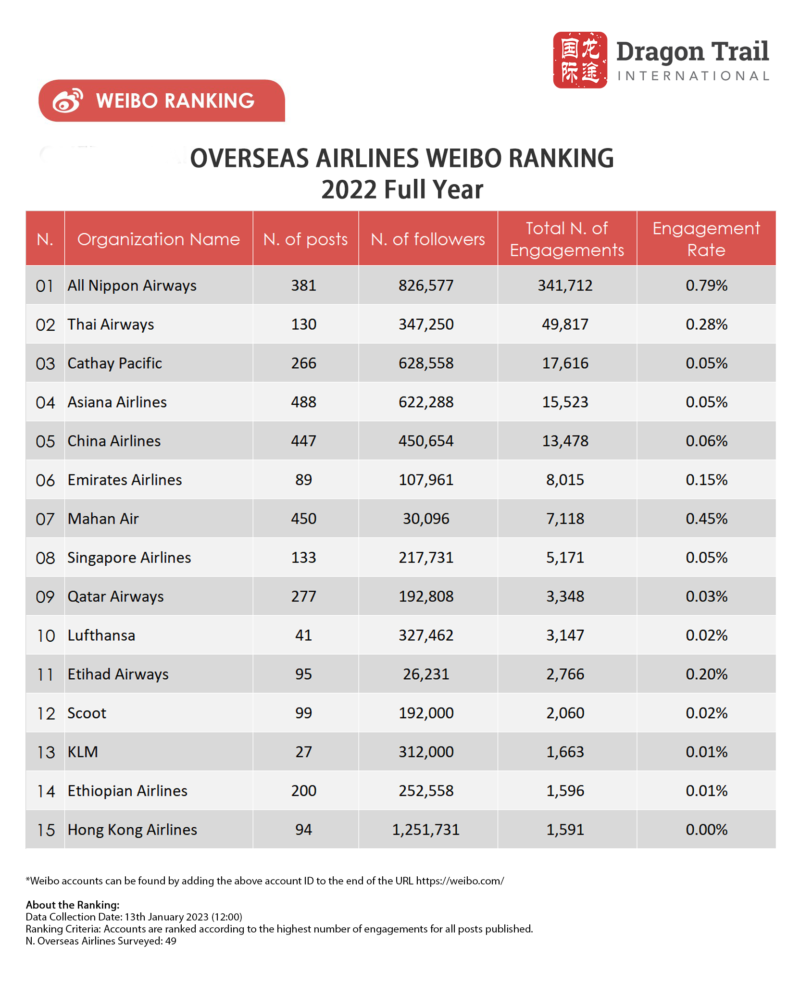 The only category of accounts to see an increase of Weibo engagement in 2022, airlines still didn't reach their 2020 level of engagements or engagement rate. However, since engagements in 2020 were largely driven by posts about cancellations and refunds, this isn't necessarily a bad development. 2022 aviation news included both frequent cancellations (due to China's circuit breaker flight policy) and flight resumptions. But this kind of content is not what drove the most engagements.
For All Nippon Airways, the key to high Weibo engagement is the airline's partnership with figure skater Yuzuru Hanya, who is wildly popular in China. Posts around the Winter Olympics, announcing his retirement from competitive skating, and celebrating his birthday all received thousands of engagements.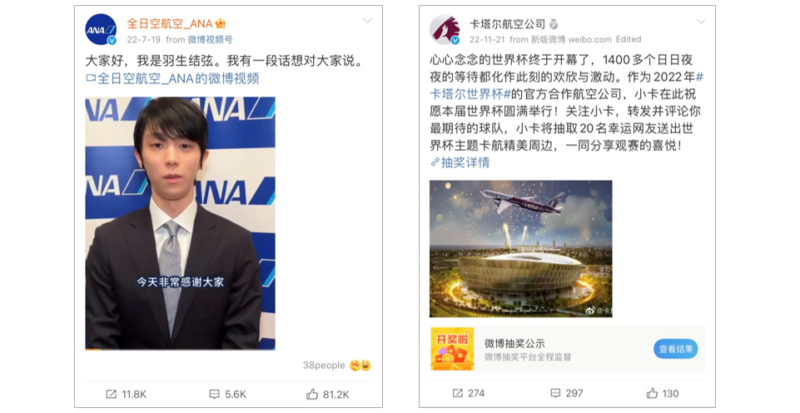 Sports x aviation in 2022: Ice skater Yuzuru Hanyu's retirement speech via All Nippon Airways, and a celebration of the World Cup from Qatar Airways
In Q4, the other airlines with the most-liked content were KLM, which shared a global advertisement about a couple flying the airline throughout their lives; Lufthansa's flight ticket giveaway; Emirates' Christmas greeting; Mahan Airline's post about the Iran vs. USA World Cup match and a giveaway; and Qatar Airways' celebration of the opening of the World Cup in November.
Cruise Lines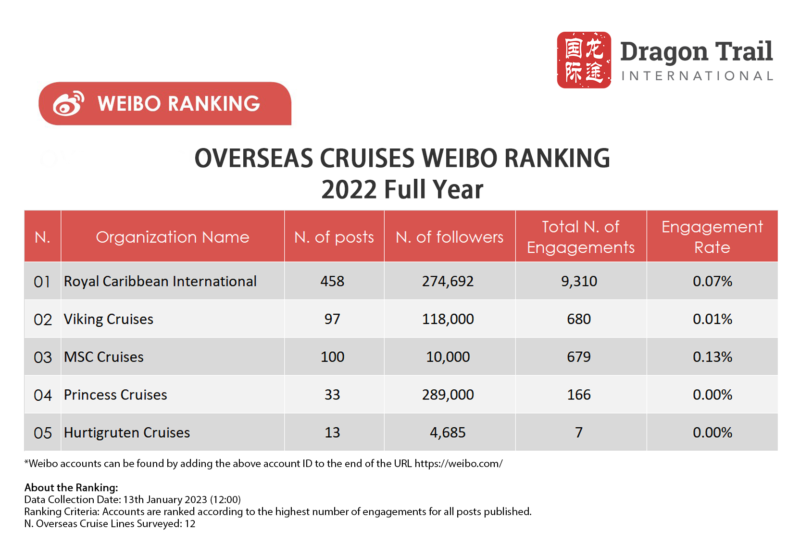 Engagements continued to drop in 2022 for the cruise line category. In fact, only three posts by cruise lines received 100 or more likes during the whole year. All of these were posted by Royal Caribbean International, and none of them related to any cruise product. The first was an ad for washing machines and a giveaway with JD.com, the second was a giveaway of Philips headphones, and the third was a guide to maritime uniforms for viewers of the TV series "One Boat One World."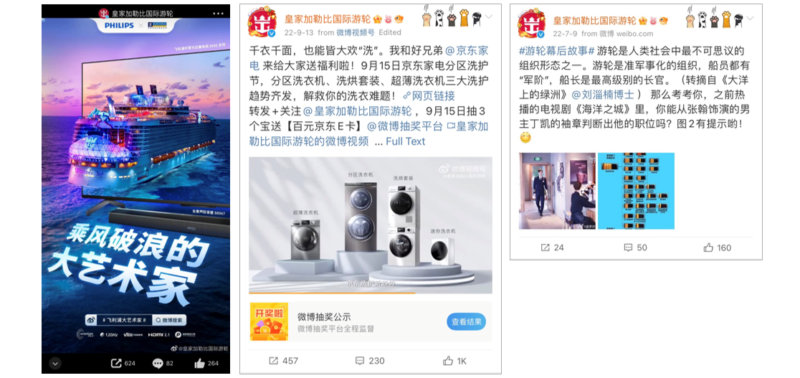 Weibo's top three cruise line posts in 2022
Museums & Attractions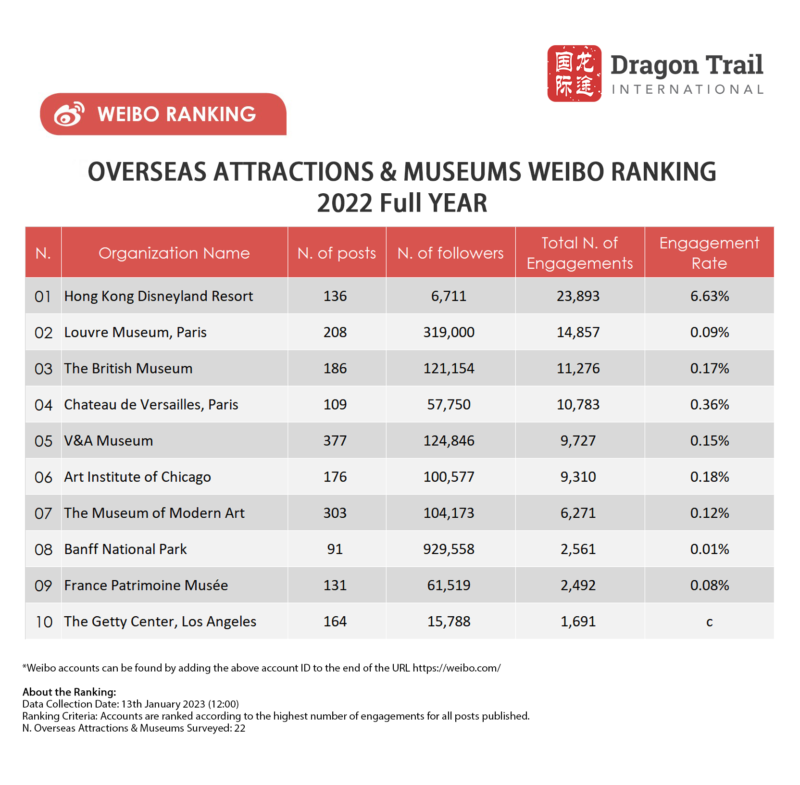 Though the account still only has around 6,700 followers, Hong Kong Disneyland far outstripped any other attraction for engagement. All four of the top attractions posts of the year (based on likes) featured LinaBell, the pink fox character that was first launched at Shanghai Disneyland and is hugely popular in China. She made her Hong Kong debut in September and is now driving engagements for that Disneyland. LinaBell can also be found at Tokyo DisneySea.
After LinaBell, the Weibo post with the most likes in the category came from the British Museum, with a list of reasons for skipping work according to an Ancient Egyptian stone tablet. The other top post from the British Museum introduced an exhibition of Chinese women's art.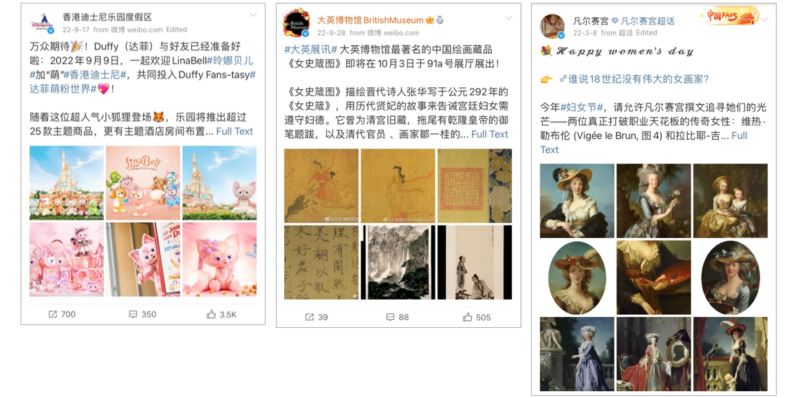 LinaBell comes to Hong Kong Disneyland, and women's art at the British Museum and Chateau de Versailles
Women's art was also the theme of one of Chateau de Versailles most-liked 2022 posts, shared for International Women's Day. Other popular Weibo posts from Versailles included a video of baby swans, an announcement about the Gigapixel digital image collection, and a November post about Marie Antoinette.
Hotels
Remember Jackson Wang from the NTO and DMO categories? He's also the subject of the hotel Weibo post with the most likes in 2022 – in this case, his Human Remix party hosted at Marina Bay Sands, Singapore, in August.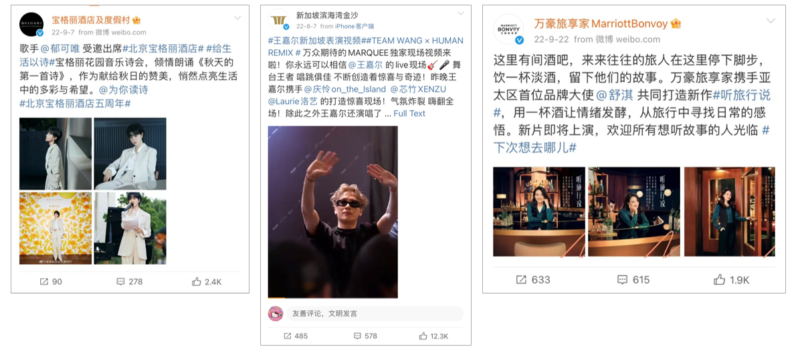 Celebrities x hotels: Bulgari, Marina Bay Sands, and Marriott
Celebrities also featured in Bulgari's top post of the year, and several of Marriott's most-liked promotions. Marriott's most popular promotion was a partnership with Alipay to promote summer travel. Hilton received a lot of attention for a live streamed stand-up comedy event in January, while a family travel promotional video from Shangri-la that same month also got more than 6,000 likes. Without the risk of city-specific travel restrictions or lockdowns, international hotel chains will be able to offer more to Chinese consumers in 2023.