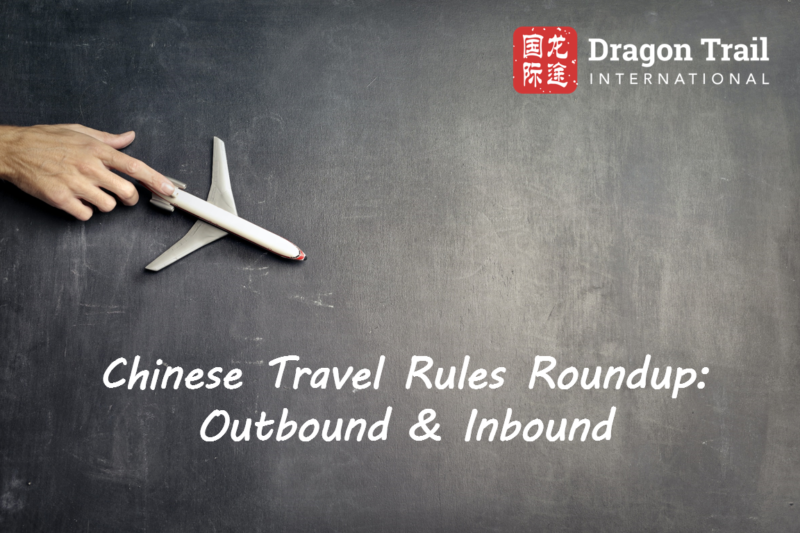 First published: 22 March, 2021
Last updated: 25 April, 2023
To help keep the travel industry up to date and informed, we're tracking all the latest developments and regulations regarding travel into and out of mainland China. This post will be regularly updated with any new or changing policies.
Have we missed something? Please feel free to send questions or comments to communications@dragontrail.com
For more updates, sign up for Dragon Trail's monthly newsletter, and follow us on social media:
– LinkedIn
– Twitter
– Facebook
All Dragon Trail clients receive an extensive Market Intelligence Report on China travel and digital news at the start of each month. Click here to learn more about the services we provide to help you effectively reach and engage with the Chinese consumer market and trade.
Inbound
– From 8 January 2023, China no longer requires any quarantine for international arrivals. Passengers must have a negative COVID test result from within 48 hours of departure, and complete a China Customs health self-declaration online, via website, WeChat mini-program, or app. Inbound travelers to China will no longer need to apply for a green health code from the Chinese embassy in the country of departure.
– From 29 April 2023, all travelers to China from any point of departure will be able to take an antigen test, rather than a PCR test. Tests should be taken within 48 hours of departure, but airlines will no longer be required to check test results before allowing passengers to check in or board.
– From 15 March 2023: Foreigners can apply for any kind of visa – including tourism visas – to China. Visas to enter China which were issued before 28 March 2020 and have not yet expired, will become valid once again.
– From 31 March 2023: Foreigners can now travel to China as part of group tours, and buy travel packages (minimum flight + hotel) to travel to/in China.
Outbound

– China's National Immigration Administration resumed normal passport application processing on 8 January 2023, including passports needed for the purpose of tourism and VFR travel. Previously, new passports and passport renewals were for "essential" reasons (including business travel and study) only.
– On 20 January, it was announced that sale of outbound group and package travel (from a minimum of a flight + hotel package) could resume, for travel on or after 6 February 2023. To begin with, this policy is only for travel to 20 countries: Thailand, Indonesia, Cambodia, Maldives, Sri Lanka, Philippines, Malaysia, Singapore, Laos, UAE, Egypt, Kenya, South Africa, Russia, Switzerland, Hungary, New Zealand, Fiji, Cuba, and Argentina. Previously, the sale of outbound group and package travel was banned by China's Ministry of Culture and Tourism, starting from 27 January, 2020.
– The Ministry of Culture and Tourism released a second list of countries for group and package travel on 10 March, with travel permitted from 15 March. The countries are: Nepal, Brunei, Vietnam, Mongolia, Iran, Jordan, Tanzania, Namibia, Mauritius, Zimbabwe, Uganda, Zambia, Senegal, Kazakhstan, Uzbekistan, Georgia, Azerbaijan, Armenia, Serbia, Croatia, France, Greece, Spain, Iceland, Albania, Italy, Denmark, Portugal, Slovenia, Vanuatu, Tonga, Samoa, Brazil, Chile, Uruguay, Panama, Dominica, El Salvador, Dominican Republic, and the Bahamas.
–  Mainland China's border with Hong Kong reopened on 8 January 2023, with high-speed train services resuming on 15 January. As of 6 February, the mainland-Hong Kong-Macau border has been reopened completely, back to how it was before the pandemic.
– With China reopening for outbound travel, a number of countries around the world decided to impose restrictions on travelers from China as of January 2023. Countries requiring negative COVID tests from within 48 hours of departure for visitors from China included: Australia, EU countries, India, Israel, Japan, Qatar, South Korea, UK, and USA. Japan and South Korea limited the airports into which flights from mainland China could land. Morocco banned travelers from China altogether.
– As of March 2023, most of this additional requirements for travelers from China have ended:
– India dropped its pre-departure testing requirement for travelers from China on 13 February 2023.
– From mid-February 2023, South Korea and China are now both issuing visas to each other's citizens. Earlier in the year, South Korea had suspended issuing short-term visas to Chinese citizens, and in response, China stopped issuing short-term visas to Korean citizens. Searches for Korean visas on OTA Fliggy increased 1,179% within a few days of the change. COVID testing on arrival to South Korea ended 1 March, with pre-departure COVID testing scrapped from 11 March.
– On 17 February 2023, the EU announced it would phase out COVID testing for passengers from China, starting by ending pre-departure testing from the end of February, and ending random screenings in March.
– Israel ended pre-departure testing requirements for travelers from China on 28 February.
– Japanese canceled pre-departure testing requirements for travelers from China from 1 March.
– The US dropped its COVID testing requirements for travelers from China from 10 March.
– Australia ended its testing requirements for travelers from China from 11 March.
– Canada ended testing requirements for travelers from China from 17 March.
– The UK will end testing requirements for travelers from China from 5 April.
Vaccinations and China's Zero COVID Policy

From the end of November 2022, China's State Council has made a number of announcements that signal an end to China's Zero COVID policy, with a move towards mitigation rather than containment. On 7 December, new rules were announced, whereby PCR test results and health codes would no longer be checked at cross-provincial border crossings, or upon arrival after cross-provincial travel. On 9 December, the Ministry of Culture and Tourism announced that health codes no longer needed to be checked at tourist attractions, travel agencies, and entertainment venues such as theaters.
The State Council and National Health Commission have also announced an accelerated vaccine campaign, targeting China's elderly. As of the start of December 2022, 90.28% of China's population (1.27 billion) is fully vaccinated, with 811 million having received booster shots. 86.4% of citizens aged 60+ have been fully vaccinated, but only 65.8% of those aged 80+. The latest, vaccine campaign is expected to be completed in three months, especially targeting nursing homes, places frequented by the elderly, and tour groups with a large proportion of elderly travelers.
Flights
On 11 November 2022, China's circuit breaker policy, which had suspended flights as a consequence for having positive cases on board a previous flight, was lifted entirely. International flights to and from China have more than doubled for the winter 2022-2023 season compared to the same period the year before, though flight numbers are still far behind pre-pandemic numbers and prices are therefore higher than usual.
According to Ctrip data, international flights still had not reached 20% of 2019's level by February 2023. But new international routes are being added constantly, so flight capacity to both short- and long-haul destinations will grow gradually through the spring and summer.