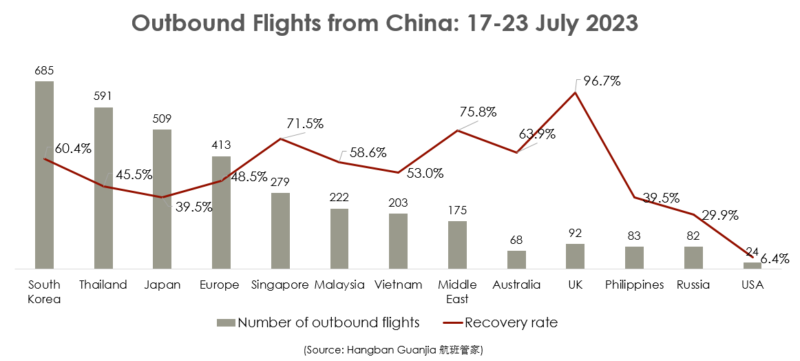 According to the newest data released by travel booking and data platform Flightmaster (Hangban Guanjia, 航班管家), the number of international flights from mainland China from 17-23 July was 7,361, showing a 1.5% increase compared to the previous week. There has been a recovery to 46.9% of international flight volume during the same period in 2019. All destinations on this list except for the US now have more flights connecting them to China than they did during the week of 5-11 June, the data for which we shared last month. The most recovered country is still the UK, where flights are back to 96.7% of what they were at this time in 2019. The Middle East region ranks second highest in terms of flight recovery, reaching 75.8% of 2019's levels. Europe as a whole has recovered nearly 50% of its pre-pandemic flight volume.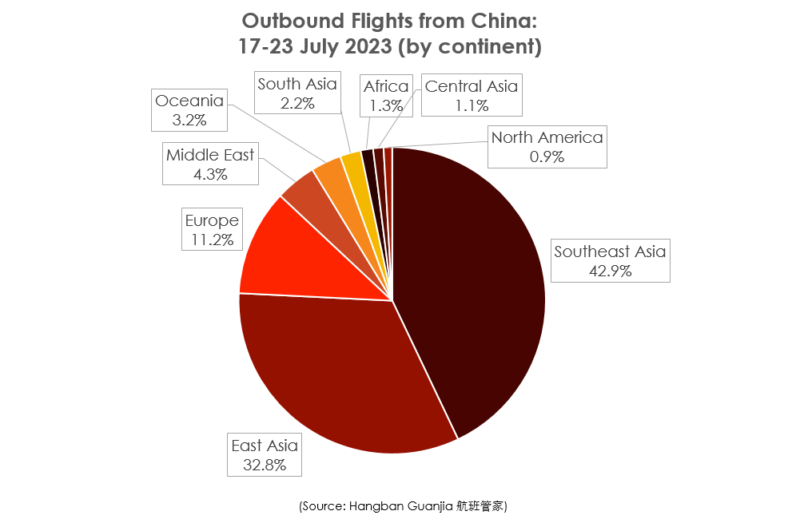 As for the proportion of outbound flights by continent, flights to Southeast Asia still account for the largest proportion, with market share increased from 41% during 5-11 June, to 42.9%. East Asia now accounts for 32.8% of flights, very slightly down from 33.5% at the start of June.
Europe is still the most popular long-haul destination, accounting for 11.2% of outbound flights from China, down from 11.8% in early June. Oceania and South Asia have increased market share slightly compared to early June.