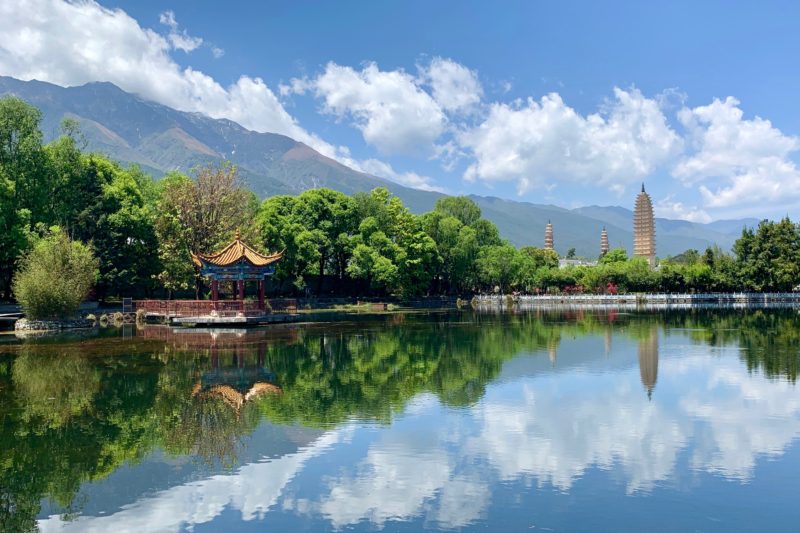 According to data released at July's China International Travel Mart, Yunnan Province's H1 2022 visitors reached 90% of 2019's numbers. Photo: Chongming Liu, Unsplash
2022 began as a disaster for Chinese travel, even domestically. The country saw a third Chinese New Year in a row in which citizens were asked not to travel and largely limited any adventures to day tours and local attractions. Beijing was especially isolated due to the Olympics and Paralympics. Then came Shanghai's lockdown – planned for four days for each half of the city, but in reality lasting for at least two months. Other cities throughout the country have also faced lockdowns. The mainland-Macau border was closed for six weeks this summer, shutting off the only outbound destination to which mainland travelers could visit and return from without quarantine requirements.
But despite all this, numerous reports show an uptick in trips and recovery of long-haul and group travel by June 2022. The Chinese travel market it seems, is always ready for a rebound. To present a full picture of what's happening this summer, we've compiled industry data on overall numbers, trends, and news for China's 2022 summer travel season.
Summer of Recovery
After a rough spring, Chinese domestic travel is again showing signs of a rebound. Fliggy reported that for the week of 19-25 July, hotel reservations in several cities exceeded 2021's levels. The OTA also expects group travel to meet or exceed 2021's level this summer. Travel agency CITS (China International Travel Service Co.) reported that while revenue for H1 2022 was down by 26.5%, things picked up significantly in June, with a month-on-month bump of 13%. In July, Beijing Capital International Airport's average daily passenger volume was 57,000, up dramatically from 38,000 in June.
The China Tourism Academy's H1 2022 report stated that domestic travel in China recovered to 60% of 2021's volume in June. Local area travel outperformed cross-provincial travel, recovering to 80%. The report said that recovery in eastern China was more pronounced, although most parts of China had recovered to at least 25-50% of 2021's levels. We can understand the faster recovery of eastern China as driven by the local-area travel in the country's most affluent regions and biggest tourism markets, who may be waiting to resume long-distance travel.
However, homesharing platform Xiaozhu's summer 2022 report said that cross-provincial travel currently accounts for 65% of their bookings, compared to 35% for local-area travel. They also reported that average spending was up by 20%.
OTA Tuniu reported that July travel bookings grew by 112%. Domestic long-distance travel accounted for 57% of bookings, and 44% of all bookings were for group travel. Family travel was one of the biggest trends for July, accounting for 36% of bookings.
Beating the Heat: Summer 2022's Chinese Travel Trends
Escaping the heat is a priority for Chinese domestic travelers this summer. On 21 July, OTA Qunar reported a major increase in the search term "cool destinations to escape summer". Searches for skiing, rafting, surfing, and water parks increased five times compared to June. Some of these search increases are related to China's school holidays, as well – ticket reservations for science and technology attractions were up by 440%, and ticket bookings for museums increased by 221%.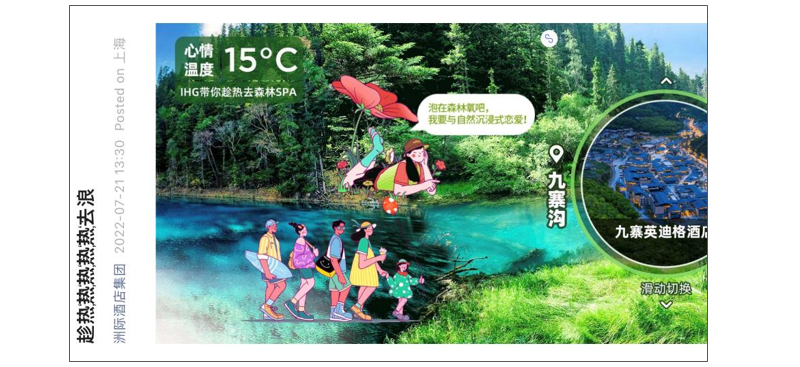 A hot weather WeChat post from InterContinental Hotels
Muniao, a hotel booking app, reported that July bookings for "beat the heat" destinations had surpassed 2019's numbers, with increased interest in beaches and mountains.
The province of Yunnan, which enjoys a relatively comfortable climate, has been particularly popular this year. According to data released at July's China International Travel Mart event (which was held in Kunming, Yunnan) the province's visitors in H1 2022 reached 90% of 2019's numbers, with tourism spending at 75.5%. Qunar said ticket sales to Yunnan had doubled in July, with Kunming ("the city of eternal spring") the second most popular destination on the site.
Promotion
In order to promote tourism recovery, the city of Hangzhou's tourism bureau is giving away RMB10 million in vouchers for local tourism attractions and businesses, including hotels. Meanwhile, Guizhou Province has partnered with travel website Mafengwo for destination promotion, with a focus on nature, mountains, and comfortable temperatures. The promotion includes travel vouchers and discounts through the end of August.


Fliggy now indicates which tour products include "worry-free testing" services for guests and operators
To help improve consumer confidence, OTA Fliggy is offering special "worry-free testing" services on selected travel packages. Traveler PCR testing fees are included in the trip, as well as testing for drivers, tour guides, and other service staff. Tour operators are also organizing free facemasks, hand sanitizer, and sanitizing towelettes to give guests a greater sense of security.
Zero COVID Challenges
Despite the rebound in traveler numbers, China's summer tourism season faces major challenges from COVID and the policies to contain it. The situation around the country is constantly in flux as outbreaks are detected and quashed. The following is just a snapshot of some of what is happening in early August 2022.
As of 9 August, nearly 178,000 tourists were stranded on the island province of Hainan after more than 1,000 cases of COVID were detected during the first week of the month. Some of these travelers can now start to return home, depending on where they've been in Hainan, but this requires a minimum of two negative PCR tests taken within 48 hours.
Yili Prefecture in Xinjiang is limiting entry at tourist attractions after hundreds of cases were detected in early August. Tourist spots in Tibet including several temples and a hotel were put on the "medium risk" list after four tourists tested positive, and Lhasa's Potala Palace closed to the public on 9 August. In Yiwu, Zhejiang Province, venues are closed, and anyone leaving the city must present a negative PCR test taken in the last 24 hours. Zhengzhou, in Henan Province, has suspended cross-provincial tours and package travel. Other outbreaks and local lockdowns have occurred over the past few weeks in Guangxi, Chengdu, and Wuhan.
In Beijing, hotels are banned from holding weddings, birthday parties, or other group banquets. Beijing residents wishing to travel outside the city will need to show multiple negative tests to be allowed to return home should they visit a destination that has detected one or more COVID cases in the last seven days. Even after testing negative, those same travelers would then be banned from public venues in Beijing such as restaurants for one week.
In Shanghai, anyone staying at a hotel needs proof of a negative PCR test, taken in the last 48 hours. Employees at hotels are tested daily.
Zero COVID vs. Tourism

With a continued adherence to the zero COVID strategy, major markets such as Beijing particularly suppressed, and worst-case scenarios for tourists like those currently stranded in Sanya, will would-be travelers lose their wanderlust and decide it's just not worth the potential hassle to leave home? This would be an understandable reaction, and is clearly behind the trend of local area travel. However, despite the on-again-off-again nature of Chinese domestic tourism over the past two and a half years, the market remains impressively resilient, still bouncing back quickly each time restrictions are eased. This is encouraging for the domestic industry, and also good news as we look forward to the future resumption of cross-border travel.