Released January 5, 2021, Douyin's 2020 Data Report shares information on the biggest trends on the Chinese short video platform during the last year, including information on travel-related content. Click here to read the full report (in Chinese).
As of December, the app sees 400 million searches per day, and had 600 million daily active users in August.
The most popular time for users to be active on Douyin is between 8-9pm. In terms of user behavior by province, users in Guizhou are most likely to hit the "like" button; Hubei users are most likely to share Douyin content; and those in Anhui are most likely to comment on videos.
How do different generations use the app? Based on the most-posted content types, it looks like the 1980s and 1970s generations may be most likely to use Douyin to post travel-related content.

Unsurprisingly, Douyin users posted increasingly more travel-related content throughout the year, as domestic travel in China recovered, with a surge during the October holiday. The October Golden Week saw 10 times the number of Douyin content from tourist attractions compared to Chinese New Year 2020, when the country was starting to go into lockdown.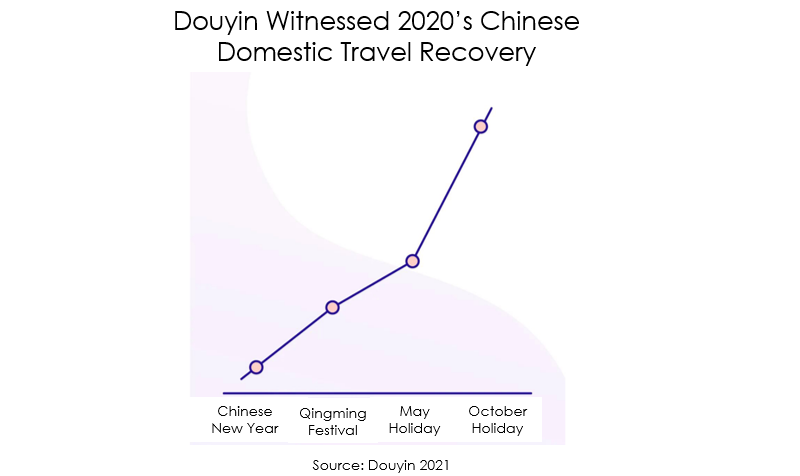 Despite the trend towards more remote destinations in western China, the top 10 fastest-growing attractions for Douyin content were generally all located in the eastern part of the country and included three zoos, a Shanghai war memorial, an adventure park, a theme park, a wetlands park, and three scenic mountain areas.