Dragon Trail Research's 2020 Tourism Marketing Insights Report surveyed 65 travel companies whose primary area of business before COVID-19 was Chinese outbound tourism, focusing especially on how the pandemic has changed digital consumer marketing in the tourism industry. Respondents include employees of national and regional destination marketing organizations, travel agencies, and other enterprises in tourism services, sales, marketing, and media.
The survey results reveal how tourism marketers have adjusted their strategies during the pandemic. This includes efforts to better understand Chinese consumers and try new approaches, with an eye on developing consumer confidence and long-term engagement, alongside new ways to communicate.
Understanding the New Normal
Outbound Chinese tourism has been frozen since the end of January 2020, but domestic tourism has made a strong comeback, with emerging trends like the growth of small group tours and self-driving travel. Outbound tourism marketers need to track these changes in consumer behavior carefully, and anticipate shifts in what Chinese tourists will be looking for when they do cross international borders once more. In light of these changes, 54% of survey respondents said they believed product and service repositioning was the priority for their digital tourism marketing as of Q3 2020.
Half of respondents cited lack of information about customer data and data usage as a key challenge for the development of their digital marketing strategies. Some travel companies dedicated time and resources in 2020 to getting to know their customers better, and then used these insights to help them successfully reposition and launch new products. One example is the Intercontinental Hotels Group in China. Through data analysis of F&B customer behavior during 2020, they learned that consumers in northern China preferred dining at home – the hotel group then developed semi-finished meal kits to cater to this group. In southern China, IHG learned that consumers were more likely to drink morning tea, prompting them to develop new morning tea products. Using digital channels and membership activities, IHG both maximized profitability and expanded brand awareness through their regionalized developments in 2020.
Adjusting, Exploring, and Launching New Tourism Marketing Strategies
The impact of COVID-19 on the travel industry is undeniably devastating, with 71% of travel marketers saying that as of Q3, their companies' booking volume was less than 10% of the expected amount. But tourism marketers hang on to their faith in continued demand and future opportunities – 38% either didn't stop their marketing activities at all or planned to relaunch them before the end of 2020, with another 26% planning to restart digital marketing activities in 2021.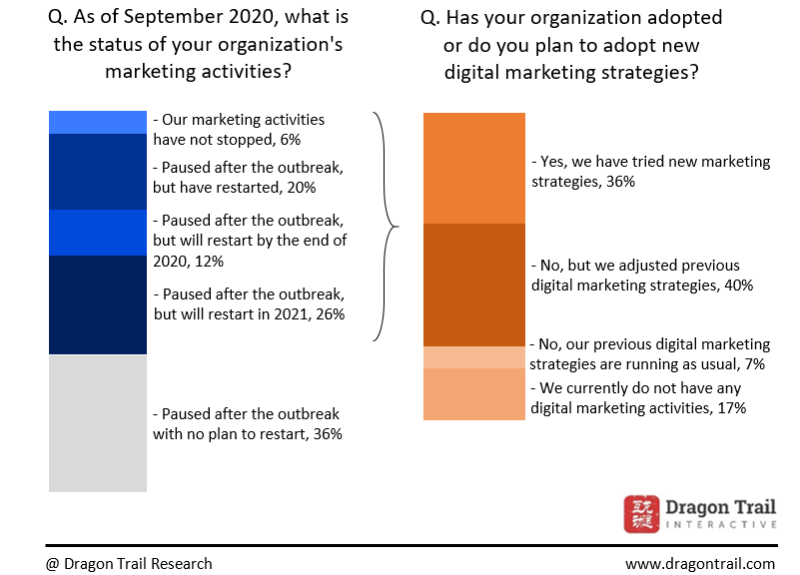 Whatever original tourism marketing strategies companies and organizations had in place for 2020 were unavoidably disrupted by the pandemic, forcing marketers to adjust their strategies and seek out new ones. As a result of the epidemic, 36% of respondents adopted new digital marketing strategies, while another 40% adjusted their existing strategies to better adapt to a post-epidemic market.
Marketing in the Downtime
At present, recovery from COVID-19 varies drastically around the world. But with the successful development of vaccines and the launch of mass vaccination programs from the end of 2020, the tourism industry must be ready for a new stage of recovery in 2021.
With the need to recover business as soon as possible, our respondents' number one goal for digital marketing in 2021 is to attract direct bookings. In order to achieve and go beyond this, marketers are also looking to accurately target customers and maintain interaction.
When it comes to using marketing now to capture the attention of future visitors and keep them engaged, we can see examples of vastly different strategies. One is a very practical, explicit response to the virus and safety concerns: As early as May, the Tourism Authority of Thailand established and began promoting the Thailand Safety and Health Administration (SHA) certification, to prepare Thailand for the restart of the tourism industry and also enhance the level of safety and hygiene for visitors post-pandemic. For the Greater Chinese market, the SHA was promoted both through social channels such as WeChat, as well as through OTA Klook.
The Vienna Tourism Board launched a very different kind of campaign to catch travelers' attention and keep them engaged in the long-term – in April 2020, they invited social media users to interact with giant cats while virtually traveling around the Austrian city. While waiting for tourism's recovery to arrive, marketers have been forced to get creative when it comes to creating memorable campaigns that will entice visitors in the future.
Channels for Chinese Tourism Marketing
How do tourism marketers connect with Chinese outbound travelers, and how have these communications been affected by COVID-19? Survey respondents showed a very strong preference for online channels, with 91% communicating through a WeChat Official Account, and more than half using official Chinese websites and Weibo. Newer platforms were present but less popular, with 26% and 11% using Douyin and Xiaohongshu, respectively.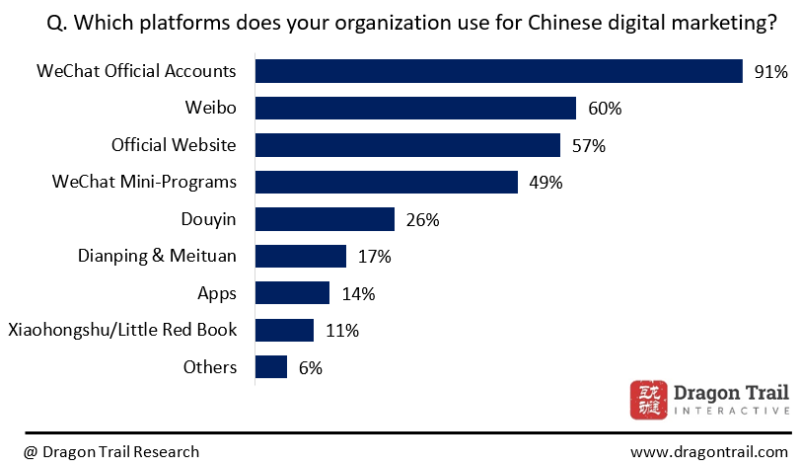 Making the most out of the downtime, 34% also said that internal training on digital marketing was one of their top priorities in 2020. We can also see a significant trend towards trying out new digital marketing strategies during this period.
Before COVID-19, more than 50% of survey respondents had already used short video and content creation as part of their digital marketing strategy for China. These remain popular, with another 31% starting to use short video content since the pandemic. The same percentage tried out live streaming since the start of the pandemic – arguably the biggest trend in Chinese tourism marketing in 2020. While live streaming is now used successfully in China to make direct sales, at the start of this trend, it was focused more on inspiration and sowing the seeds of travel intent. This is still its most useful function for outbound tourism at the start of 2021.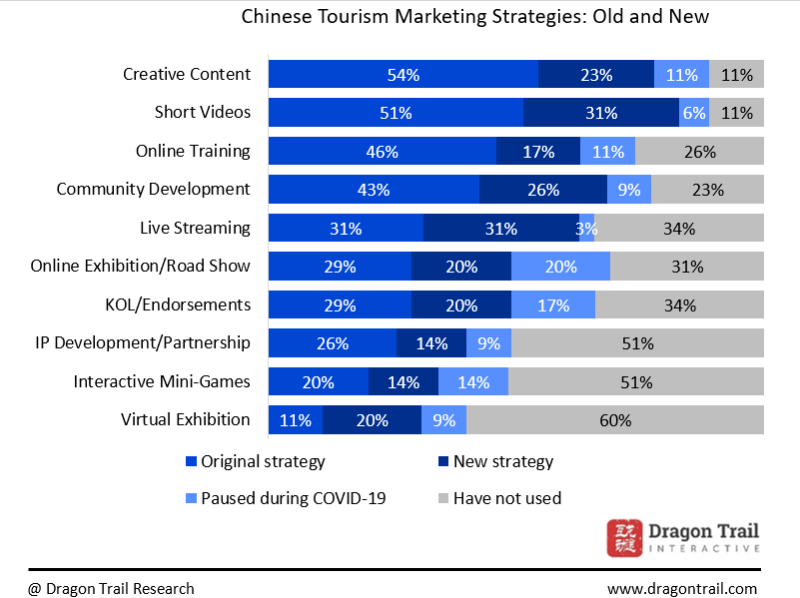 During 2020, tourism marketers sustained industry relations and knowledge sharing through online training, virtual events, and video conferencing, but they also used digital tools to cultivate brand image and lay the foundations for B2C sales. While travel has been paused, marketers have tried out new activities such as interactive games and community building, with digital innovation sure to remain a long-term marketing trend in the post-pandemic world, and a way to inform digital strategies to accelerate recovery.