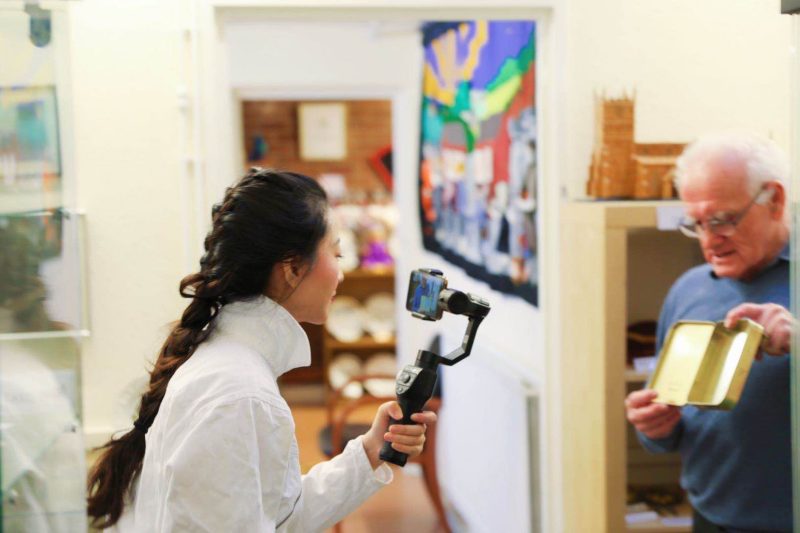 Live streaming from the Bilsthorpe Heritage Museum. All images courtesy of Feixue Huangdu.
Feixue Huangdu is a UK-based live streamer who specializes in introducing British museums and heritage sites to a Chinese audience. She was named a Nottingham Heritage Champion in 2020, and received the Judges' Special Prize in the 2019 East Midlands Regional Heritage Awards for her work, which has been featured in the BBC, The Times, Jing Travel, CCTV-4 and other media.
We spoke to Huangdu about the keys to successful live streaming for museums and heritage sites, and how live streaming can help tourism attractions and businesses to survive and recover from the COVID-19 crisis.
How did you begin to do live streaming for museums and heritage sites in the UK?
Before I came to the UK, I was at the Communication University of China studying for a Master's qualification in Museum and Heritage Development. It is a cooperation degree between the Chinese university and Nottingham Trent University, so I came to Nottingham for my second year of study. During the first year in China, I live streamed from museums in Gansu and Guangxi provinces and got a lot of positive feedback from the audience. Back then, two or three years ago, most live streaming was about entertainment, not about culture, so I was doing something different from most live streams.
After I came to the UK, I did a lot of live stream experiments in different large museums, like the British Museum, the V&A Museum and the National Gallery. But the results weren't as good as I hoped. In the big museums, there are a lot of people around, and the audience can't see the objects clearly because they are behind glass. Also, they couldn't hear my voice very clearly, because the environment was so noisy. They needed to get closer to the objects, so I tried different ways to improve this quality for the audience. I made live streaming part of my master's degree research project so that my tutor, Neville Stankley, could help to introduce me to local museums, like the Ruddington Village Museum, the Framework Knitter's Museum and Trent Bridge Cricket Ground, to design a new form of live stream to help the Chinese audience to know British culture better.
Before I hold the live stream, I will go to the museum at least two or three times if I can to discuss the program with the owners and curators. We plan the route and what content we will introduce and what we will say about the objects. Normally the live stream will last around one hour or one and a half hours, and introduce 10 to 20 objects. This way I began to create pleasant and fun digital cultural journeys, which began to get a lot of attention from the Chinese audience. Most of the museums I chose were small, so the curator or the volunteers can hold the objects their hands and I can film them very closely so that the audience can see the details. Thus, the Chinese audience gets a unique tour designed just for them.
I graduated last December, and now I do it professionally to help more museums reach a Chinese audience. I cooperate with Arts Council England and other strategic heritage bodies to get lots of invitations from attractions around the UK to hold live streams and shoot and edit short videos. I have cooperated with over 20 museums and heritage sites so far.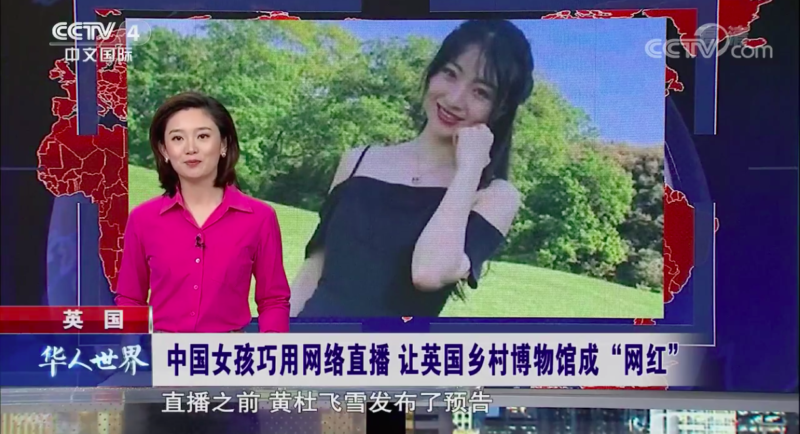 Huangdu has been featured on China's CCTV-4, as well as in numerous English-language media
How many people watch your live streams?
Normally it's about 100,000 to 500,000. It depends what content and what time. If it's a holiday and the audience has more time, it's better for them to join and interact with me. To date, my record audience figure is 1,002,000.
How do you deal with the time difference between China and the UK?
I think it's the perfect time difference. I can hold the live stream about noon in the UK, and at that time the Chinese audience has come home from work. It's the perfect time for them, about 8pm or 9pm Beijing time.
What are some of the challenges of live streaming from British attractions to China?
At first it was not easy. The normal way the experts introduce objects is designed for a British audience; for British visitors, not for Chinese people. Some museum objects they think are shocking or interesting, we can see in China everywhere. But sometimes they think an object is normal and you see it every day in the UK, but in China they think it's totally a new thing. Through my live streaming approach, we are both learning each other's culture to have a better mutual understanding. It's not just a one-way broadcasting.
When I go to the museums, at the beginning of my program I'll teach the curator or the volunteers to say hello to the Chinese audience in Chinese: "Nihao, Zhongguo pengyou (你好,中国朋友)".
Can you give an example of an object that English people might think is very normal, but Chinese people find very interesting?
In the Ruddington Village Museum, there's a 100-year-old, child's black doll. In the UK, a black doll is not uncommon, but Chinese children would have a doll with a European or Asian face, so the viewers thought it was interesting and we spent a lot of time talking about it.
Another example is the sport of cricket. I did a live stream from a very famous UK cricket ground called Trent Bridge. The sport is very famous and popular in the UK, but in China, not many people know it, so I introduced the background to the game, and during my research I also found a link between China and cricket. There is a bowling technique called the "Chinaman" because it was invented by a man of Chinese extraction many years ago. You use your left hand to bowl the ball, and when you let it go, you twist your wrist, and it is hard to hit by the batsman. It's related to China, and the viewers seemed to think, "even though we don't know the sport, we have played an important role in the history of cricket," and they feel very proud of it. This is the kind of story we need to find out before the live streams. I went to the cricket ground many times to interview the players, the curators, the experts and the volunteers about the back stories to find that link between cricket and China. This kind of live stream needs an interpreter, not just to translate the language, but to know how to design the live stream for a Chinese audience.
Which online platforms do you use for live streaming?
At first, I used Lanjing, and recently I have begun to use Douyu, but there are over 200 live stream platforms in China. These different platforms have different target audiences, so I now use Douyu as it is more focused on the younger generation, and this audience wants to see the world; they're more curious about other countries' culture and they have purchasing power. In the future I plan to do online sales for products in the museums, so I think it's a good target audience. This audience also has the money and time to travel to other countries.
Do you use other platforms to promote the live streams?
I will post a preview on Weibo with a QR code for Douyu and when they scan the QR code they can join my live stream platform. I also put it on my WeChat Moments. Douyin can also host live streaming, but overseas live streaming needs a special permission from the Douyin platform. Because of the crisis now, I'm self-isolating, so sometimes I edit former videos to post on Douyin to tell my audience what I was doing before the crisis and can continue to introduce a bit of British culture even though I am confined to my home.
Live streaming seems to be becoming more important for tourism sales and marketing in China since the COVID-19 crisis, with Ctrip holding live streaming sales and Mafengwo launching a live streaming platform. Why do you think this is?
There is an obvious feature of the live stream – I am the eyes and mouth of my audience. If the audience wants to go in a certain direction, I will go there. If they ask questions, I will ask the question for them. It's like an extension of the museum's normal audience, just like the customers that go there and ask questions. So, they can give the host instructions, ask questions and have interactions. It can be a new way for travel agencies and other business owners to show a product to their target audience. It may help them to sell more things, because if the target audience has more understanding of the product, they will have more confidence to buy it.
Is it challenging to interact with the respond to the audience's questions and comments, while still presenting what you prepared?
It's not easy to do. For example, when the owner of a castle introduced some objects, the Chinese audience didn't focus on them. Instead, they focused on the owner and said things like, "You're beautiful" and "Your hairstyle is fashionable," this kind of thing. The tricky part is if the things you have prepared may not be of interest to them and other things that appear may suddenly attract their attention. But I'm happy they like to do that; it makes the tour more personal and spontaneous and that means more people might begin to enjoy digital cultural travel through live streaming.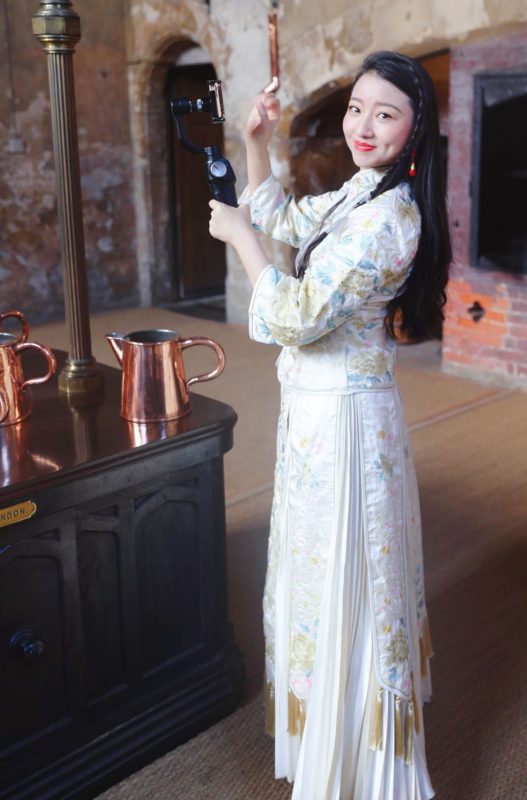 Feixue Huangdu at work at Burghley House
How can live streaming help UK tourism to recover after the crisis?
Tourism can't happen now because of the virus, so if museums can experiment holding live streams for their audience – not only a Chinese audience but a UK audience as well – they can showcase their treasures. If the audience thinks the program is interesting, it's a good advertisement for them when tourism returns.
Some organizations might get hurt by the coronavirus, so I think if they can focus more on digital things like video and online sales, it might help them get through this. It's also my vision for the future to design special products related to museums and heritage sites for the Chinese audience, to sell from the UK to China. But the first stage is for the audience to know who you are and what you're doing.
Products relating to museums are very popular in China. The Forbidden City's Palace Museum alone made 2 billion RMB in sales in a year. It's evidence that Chinese people don't just have the interest to learn about culture, but they also have the ability and interest to buy the things related to the culture – creative things and high-quality things. This demand can also help the UK's museum and heritage sites to improve their financial sustainability.
Find Feixue Huangdu on Weibo: @飞雪看文物
Find Feixue Huangdu on Douyin: @飞雪英国看文物