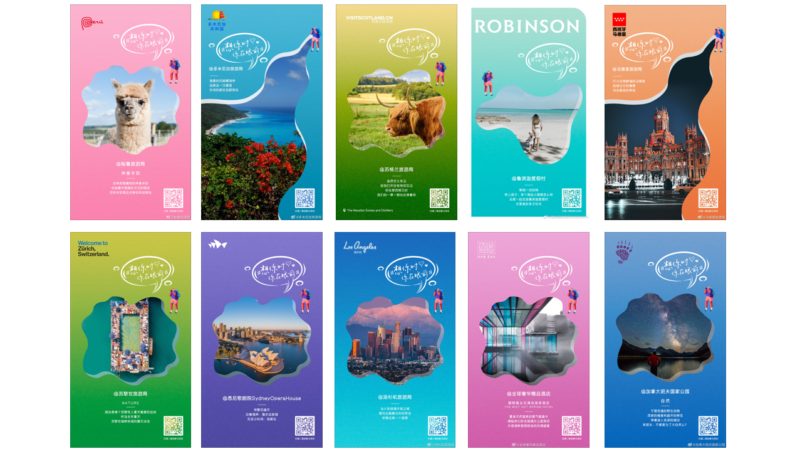 Launched on 15 May, Dragon Trail's "Thinking of you" tourism marketing campaign on Weibo is helping 18 international travel brands and destinations to stay connected to Chinese travelers. So far, the campaign has nearly 3 million views and has sparked more than 7,700 discussions on the Chinese microblogging platform.
While Chinese outbound tourism is temporarily on hold, consumer interest in travel is resilient. Dragon Trail's analysis of Chinese social media platforms in Q1 2020 shows that engagement has remained steady or even grown for international tourism brands' WeChat and leading Weibo accounts. What's crucial now is to maintain a connection with travelers dreaming of their next trip abroad.
The new campaign uses the hashtag #想你时你在眼前, which translates as "When I think of you, you're right there in front of me." Using this hashtag, the campaign's aim is to reconnect the travelers and destinations that miss each other during this period of separation.
The campaign has brought together destinations, attractions, and hotels on five continents, with Weibo posts that emphasize what's unique and distinct about each of these places, alongside a unified hashtag, which amplifies the message and brings greater exposure to all participants. As well as photos and short videos, participating accounts can also share posters created by Dragon Trail especially for the campaign.
The post content covers a range of themes, such as famous landmarks and people, history, gastronomy, and nature. Questions and giveaways are used to generate greater user interaction.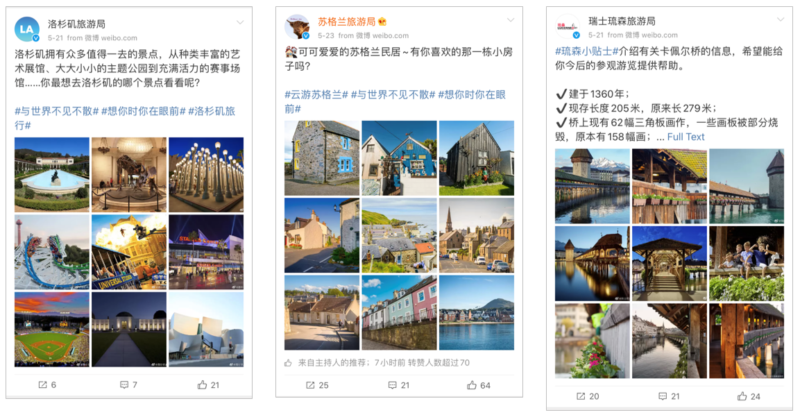 Top posts from the first week of the campaign, from Los Angeles, Scotland, and Lucerne
So far, some of the campaign's most popular posts include a video of sunset in Los Angeles, with 8,700 views; a giveaway by the Lucerne Tourism board, focused on the Chapel Bridge; photos of Scottish cottages; and information on Peruvian cuisine.
Using a unified hashtag and asking questions in posts not only amplifies the campaign's message across multiple brands – it also encourages user-generated content and increases the potential for the message to organically gain more traction.
As the campaign continues, we welcome additional tourism brands from around the world to join in. To find out more about how to become part of the campaign, please get in touch with us directly at communications@dragontrail.com
Click here to check out the full "Thinking of you" hashtag Weibo campaign.