Now in their second year, Dragon Trail's weekly WeChat rankings for the travel industry track official WeChat accounts for international destinations, cruise lines and airlines. From the end of Q1 2018, we have added two new categories – hotels and attractions & museums – and the first quarterly report to include these will be available in July.
Comparing Q1 2018 with Q1 2017, WeChat readership is showing some signs of decline this year in the NTO, DMO and cruise line categories. In all three of these categories, we saw the number of posts rise, but the average page views for articles have dropped. This follows an overall trend on WeChat of falling reading rates as the WeChat media environment becomes more crowded. Airlines, however, are a different story – they managed to post less but receive higher average page views in Q1 2018 comparing to the previous year. This may be linked to the fact that many airlines' service accounts allow followers to easily buy flights and access other services through WeChat, keeping them more actively engaged with the accounts.
Winning Themes
Food was the most popular theme for top WeChat posts this quarter and helped the Japanese National Tourism Board to get the no. 1 ranking among national tourism boards this quarter – up from an overall 4th place in last year's results. The NTO had top posts for four weeks about food, ranging from articles on sushi to recommendations for Western-style cuisine in Tokyo to a photo gallery of creative bento boxes. Hong Kong, the perennial favorite among DMO accounts, also had three top posts about food and cafés. Other leading accounts, Air Asia, New Zealand and Thailand, got high view rates for posts about local cuisine and restaurants as well.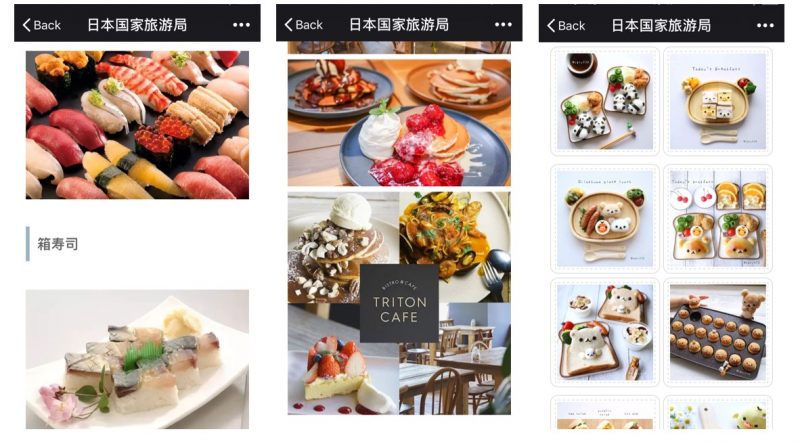 The Japanese National Tourism Board's many posts on food were a hit with WeChat users

Especially in the cruise line category, contests and calls for user-generated content have performed very well in Q1, driving WeChat users to be more active followers rather than passive readers. Viking Cruises especially have benefitted from this strategy (see more in the 'cruise line' section below), but the quarter also saw a selfie competition from Dream Cruises, a self-drive photo contest from Travel South and a Royal Caribbean Chinese New Year prize giveaway, as well as calls for WeChat Moments photos from LA, and for short videos of Thailand.
Other stand-out themes included:
Flowers – promoted by destinations throughout North America and Asia. See our article on flower tourism for more information.
Family travel – popular across all categories, and including posts on both traveling with young children and traveling with or purchasing travel for elderly parents. See our article on family tourism for more information on these market segments.
KOLs – as in 2017, the use of celebrities is common in DMO posts.
Travel Frog – the hit online game from Japan was used as a theme by Japan, Australia, New Zealand and AirAsia over a two-week period.
NTOs
From 4th place overall in 2017, Japan has dominated the rankings for NTOs in Q1 2018. It is the only NTO to make it to the top 3 for all 13 weeks of Q1, including seven times in 1st place. Strong in 2017, but ranked 5th place overall for the year, New Zealand came in 2nd place this quarter, and maintained its strong lead for average page views. In 3rd place in for total page views in Q1 was Tourism Australia.
There were some breakouts this quarter from NTOs who were not listed in 2017's top 5 accounts: Sweden got 26,882 views and 211 likes for its 29th January post commemorating the life of IKEA's founder. This was the 3rd most popular post of the entire quarter, and boosted Sweden to 2nd place that week. The most popular post by any NTO in Q1 was the Kenya Tourism Board, which got over 46,000 views for a video featuring an East Asian couple experiencing adventure and luxury travel in the African country. This post secured Kenya the top-ranking NTO spot for the week of 26th March, and was over 12,000 views ahead of the quarter's 2nd most popular article, "Hello, I'm New Zealand", by Tourism New Zealand.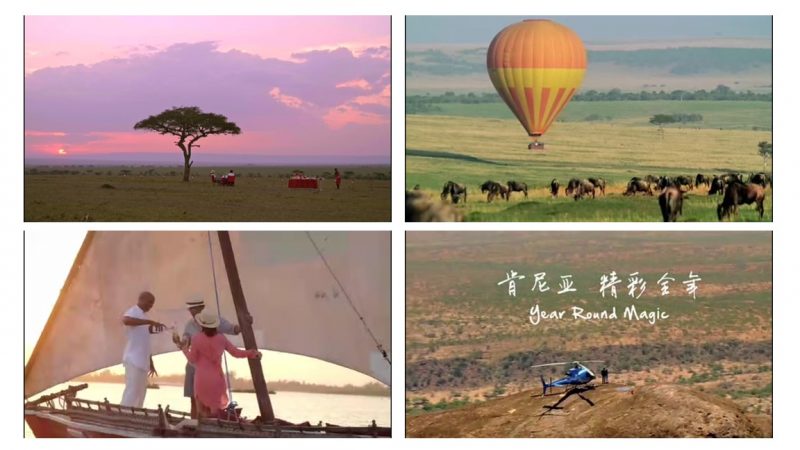 Images from the Kenya Tourism Board's video, which got over 46,000 views

DMOs
Q1's results are similar to what we're used to from the DMO rankings – dominated by Hong Kong, Dubai and Macao. But as we also saw last year, Canadian DMOs can often break into the top 3 – British Columbia did so once, Ontario once, and Vancouver twice in Q1 2018. US DMOs, including Los Angeles, also made a few appearances.
Edinburgh ranked in first place the week of 12 March with its announcement about new direct flights from Beijing with Hainan Airlines launching in June – at over 15,000 page views, this was the 3rd most popular article of the quarter. The two top articles for the quarter were both published the week after the Chinese New Year holiday – perhaps when readers had just returned to work and were yearning for their next travel destination. That week (26 February-4 March) Dubai got over 20,000 page views for a post promoting travel over the Tomb Sweeping Festival (at the start of April) and Hong Kong got over 37,700 page views for its post on the kick off of its Arts Month.
Cruises
The cruise rankings have had a bit of a shake-up in Q1. As in 2017, Royal Caribbean's two accounts are still dominant, but Costa Cruises has dropped down to 6th place, while Dream Cruises, Viking Cruises and Norwegian Cruise Lines are now all in fierce competition for the 3rd place slot.
Viking Cruises has done particularly well in Q1, rising from 8th place in 2017 to 4th this quarter. They started the year very strong with a competition to win a free European river cruise for the family, making it the no. 2 account during the first week of January. The competition ran for most of the quarter, helping Viking to keep this momentum going – they came in 2nd another two times, and got 3rd place three times. We had started to see their account pick up at the end of 2017, and they are now competing near the top. Overall, there seemed to be more top posts about European cruises, rather than the East and Southeast Asian cruises that generally dominate.
Airlines
Apart from airlines managing to buck the trend of declining average page views, there aren't any exciting changes to report in this category. Air Asia remains firmly entrenched in first place, far ahead of any of the other accounts. Cathay Pacific dropped from second to fourth place this quarter, and was replaced by Cebu Airlines. All Nippon Airways has hung on to the third-place spot it achieved in Q4 of 2017.
A note about account categories
There are two different ways that organizations and companies can run their WeChat accounts: One is a subscription account, which allows for daily posts. The other is a service account, which has more functions for users, but only allows a maximum of four content posts every month – companies with service accounts tend to publish a weekly newsletter with four or five different articles. Airlines and cruise lines are more likely to have service accounts, as they are more sales-driven, while National Tourism Organizations (NTOs) and Destination Marketing Organizations (DMOs) all focus on content through subscription accounts. Airlines receive the most traffic, on average, followed by cruise lines, NTOs and then DMOs.