Since the start of 2017, Dragon Trail Interactive has published weekly rankings for official WeChat accounts for travel brands, tracking national tourism offices (NTOs), destination marketing organizations (DMOs), airlines and cruise lines. From the start of Q2 2018, we have added two new categories to the rankings: museums & attractions, and hotels.
Our Q2 data reveals the top accounts, most popular articles and winning themes for both the quarter and the first half of 2018.
NTOs
Japan has led the WeChat rankings for all of 2018 so far, with a strong content strategy that's picked up on several of the most popular themes of the year: food and flowers. Some of their top-viewed articles include a post on the closing of Tokyo's Tsukiji fish market (23,281 views) and Hokkaido's best restaurants (17,655 views). Hokkaido also got attention for a post on the island's flowers (12,728 views), and another first-place article focused on Japan's purple hydrangeas (14,777 views).
New Zealand has also been firmly in second place for the first half of 2018. This account has stuck to the exact same WeChat strategy it employed in 2017: Posting twice a week (a lower number than any of the other leading accounts), with articles almost always packed with photos of stunning natural landscapes. New Zealand may have also performed well in Q2 because of Chinese travelers' interest in the Southern Hemisphere as a destination to escape China's summer heat – many of their posts include photos of snowy mountains or winter activities like skiing. New Zealand also picked up on the popularity of family travel, which is especially relevant for the summer season, with several articles about traveling with children.
Although in general, reading rates on WeChat are down as the platform becomes more crowded, and users look for more interactive experiences through mini-programs, Japan and New Zealand are two NTO accounts that have actually managed to increase their average article views in 2018 compared to the same period last year, with Japan increasing their average views per post by nearly 30% compared to Q2 2017, and New Zealand up 26%. This is positive news for official accounts and shows that engaging content can still stand out.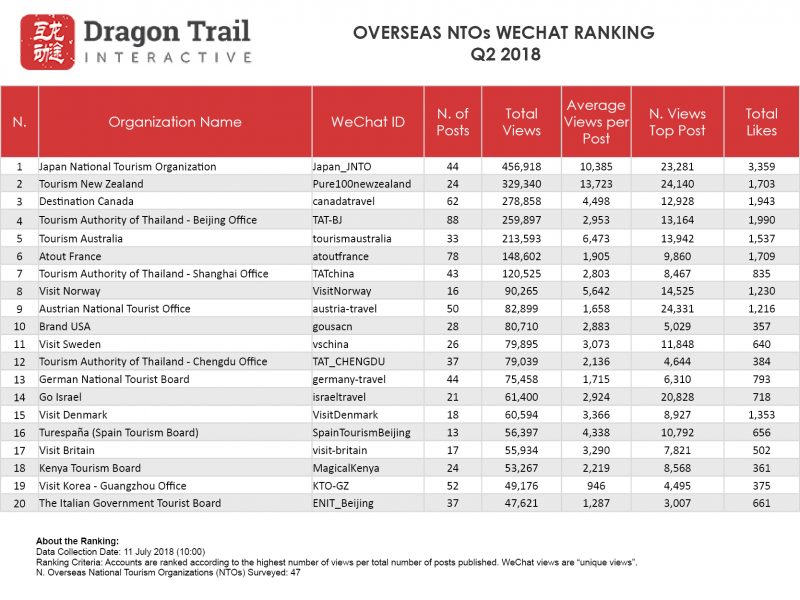 DMOs
In 5th place in Q1, Los Angeles climbed to the top of the WeChat rankings in Q2, with articles including cultural information ('Hollywood's old movie theatres in Los Angeles', 10,309 views), practical guides ('Your guide to dressing for Los Angeles weather', 8,344 views) and recommendations for activities and attractions ('Beautiful sunsets in Los Angeles', 12,996 views). The account ranked in 1st place for 8/12 weeks of the quarter.
In general, the competition among DMOs on WeChat in 2018 is very similar to 2017, with Hong Kong, Los Angeles, Dubai and Macao nearly always at the top of the rankings. However, some other accounts also had standout posts: Edinburgh had the most popular DMO article of Q2, with over 21,000 views for 'Edinburgh's secret movie-filming locations'. Canadian DMOs continue to be strong performers as well, and Vancouver's post on cherry blossoms received 16,442 views and was the second-most popular DMO article of the quarter.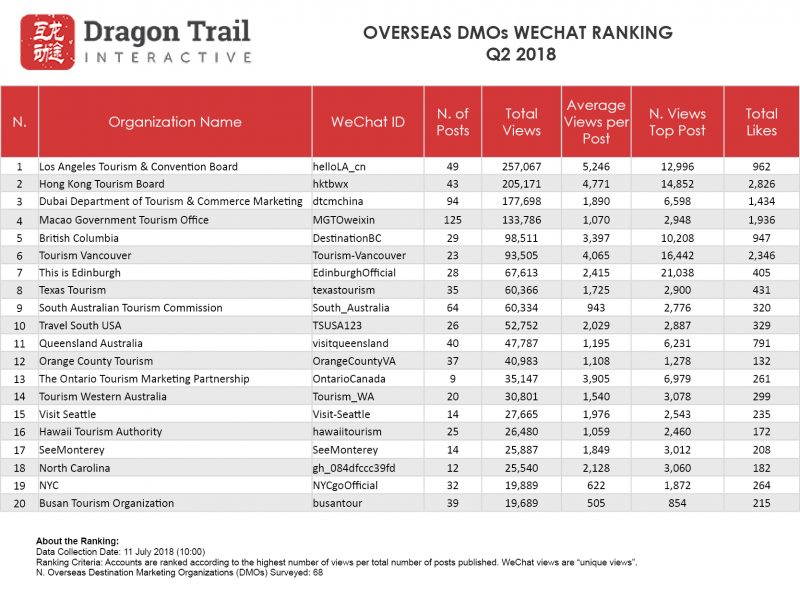 Airlines
Airline rankings have been the most stable of any category tracked by Dragon Trail since the start of 2017. Low-cost airline AirAsia remains dominant, with over seven times as many views as its second-place competitor, Cebu Pacific. Like last year, airlines post mostly about promotions and discounts, with occasional guides to attractions and cuisines in various destinations.
The only airline other than AirAsia to break the 100,000-view threshold for an article was Finnair, which celebrated the 30th anniversary of the first-ever direct flight between Europe and the PRC this June. Their winning post was an interactive campaign the week of 16-22 April that asked users to submit photos of their food, which Finnair would then pair with a piece of music – an engaging way of announcing Finnair's new WeChat mini-program.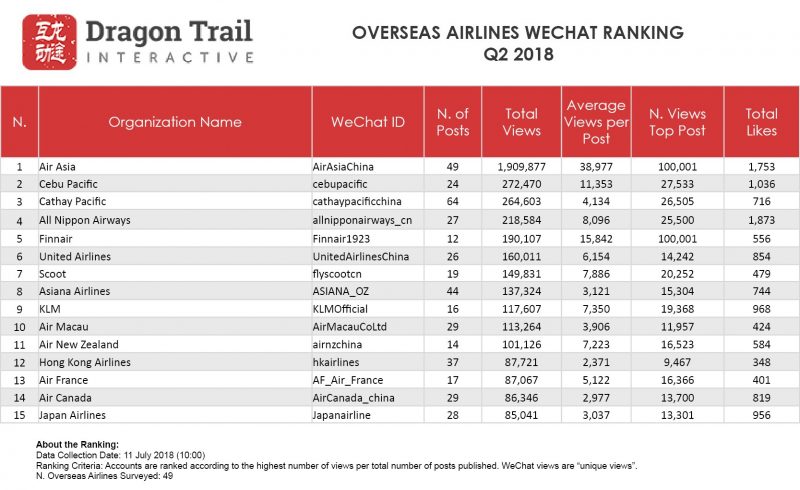 Cruise Lines
The cruise market in China has not only grown significantly in recent years, but cruise lines' accounts on WeChat have also become increasingly competitive. At this time last year, the rankings were dominated by Royal Caribbean International and Costa Cruises, two of the first cruise lines to enter the Chinese market and to establish presences on WeChat. But in the past year, we've seen that these companies can't just rest on their laurels – while Royal Caribbean remains at the top of the rankings, Costa Cruises has slipped to 8th place in Q2. Even factoring in that Costa Cruises posts less frequently than most of the other leading cruise accounts, they still only come in 4th place for average post views.
At the same time, two other cruise brands have surged ahead – Dream Cruises, which posted frequently about food and ran a successful 'summer paradise' campaign; and Viking Cruises, which is the real success story of 2018 for travel brands on WeChat. Viking Cruises has jumped from 9th place in Q2 2017 to 4th place this quarter, and regularly makes it into the top 3 accounts in the weekly rankings. There are a number of factors to explain this: First, Viking's competition to win a family cruise on the Rhine River, which we discussed in our Q1 2018 WeChat report has generated a lot of momentum for the account throughout the year so far. Secondly, European river cruises are gaining in popularity. And lastly, Viking's posts have been accompanied by WeChat advertising.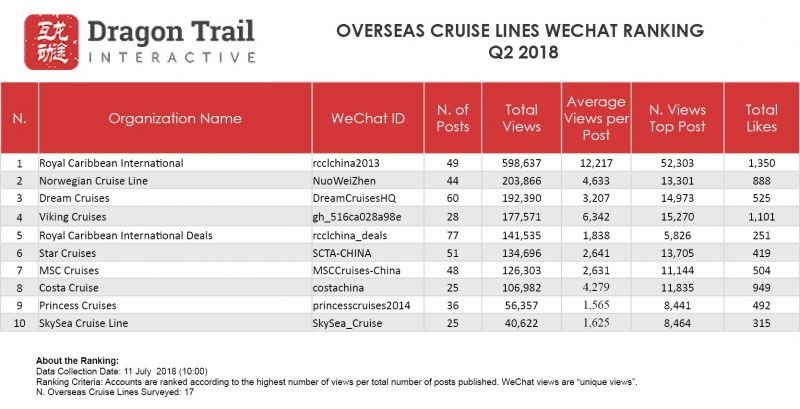 Museums & Attractions
The new museums & attractions category compares a fairly diverse assortment of venues, including theme parks, famous landmarks, historical sites and museums. Hong Kong theme parks are at the top of the rankings, specifically Hong Kong Disneyland, which benefits from its wide appeal and proximity to mainland China. With a total of nearly 19,000 views for the quarter, this account is over seven times more popular than Hong Kong's Ocean Park, in 2nd place, and over 10 times more popular than 3rd place's National Gallery of Victoria.
If we separate out the Hong Kong theme parks and look instead at the more cultural attractions in this category, we see museums around the world doing well with content about big name exhibitions, including both Chinese and European artists. Apart from the NGV in Melbourne, other leading museum accounts include the Louvre, MoMA in New York, and Chateau de Versailles. MoMA and NGV have also had some good partnered promotions for a traveling exhibit from MoMA at the Australian museum. This is the category with the lowest engagement on WeChat, with most museum posts struggling to break 1,000 views. Museums are certainly gaining in popularity with Chinese tourists, but it seems there's still a way to go – or perhaps better opportunities for museums to engage with visitors in-destination, through Chinese-language apps or mini-programs.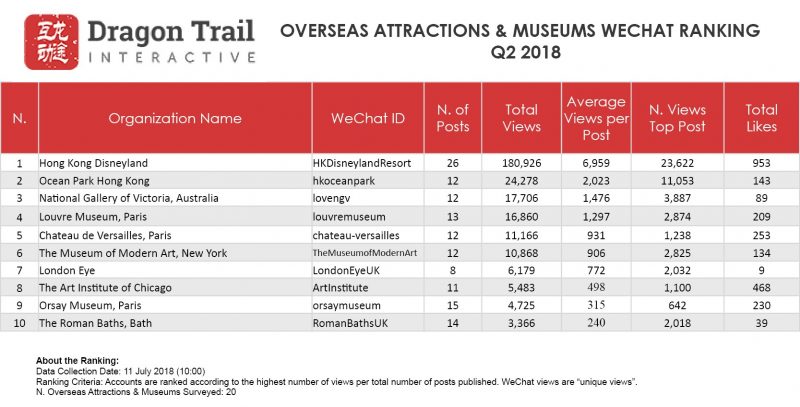 Hotels
Starwood and Marriott dominate the world of international hotels, and this is no less true on WeChat, though Hilton makes a strong showing as well, and accounts like Shangri-la, Hyatt and Pentahotels also regularly break into the top 3. Hotels often use their WeChat accounts to promote their loyalty programs, with posts about how to collect points, and member benefits such as free concert tickets – this not only drives followers to consider joining the hotels' loyalty programs, but also keeps members engaged with the WeChat account. Other popular topics include food (especially for Hilton's account), family, and hotel services – including promotion of WeChat mini-programs.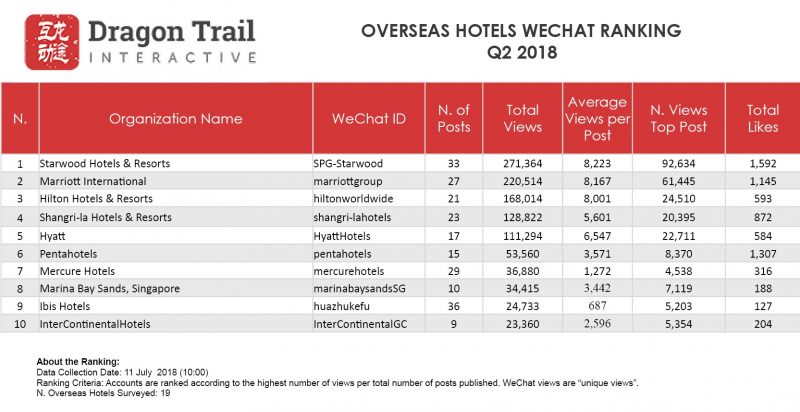 Winning Themes
Food
2017's top WeChat posts usually featured photos of beautiful natural landscapes. This year, the winning theme is definitely food – from markets in Los Angeles and local specialties in Hong Kong, to the Hyatt's dessert buffet and Chinese cuisine aboard Viking Cruise's European ships. There doesn't seem to be a strong preference for any one cuisine, so long as the photos are appetizing, and this theme has been used successfully by destinations, airlines, cruise lines, hotels, and even once by the National Gallery of Victoria. Read more about Chinese outbound travelers' dining preferences here.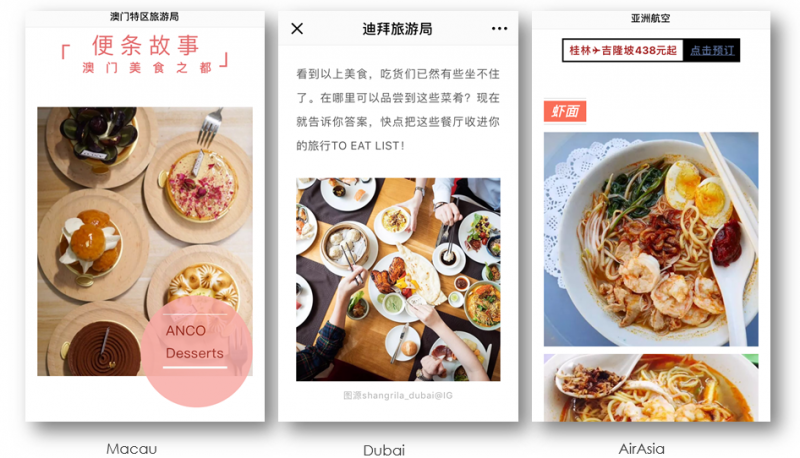 Family
After food, family travel is the other most popular topic for WeChat articles. Some of this is seasonal – Q2 leads up to the summer travel season, during which time 58% of outbound travel is with children, according to Ctrip's and CTA's July 2018 report. The quarter also covered Mother's Day, Father's Day, and Children's Day. But family travel is on the rise in China, and covers traveling with children, traveling with elderly parents, and traveling with multiple generations, offering many angles for travel promotion. With cruises a particularly popular way to travel with older relatives or different generations together, cruise lines have especially plugged their family friendliness – for example, Royal Caribbean, Costa Cruises and Viking Cruises have all had top posts in this last quarter about traveling with family. But the theme has also worked well for hotels, airlines and destinations. Read more about Chinese family travel here.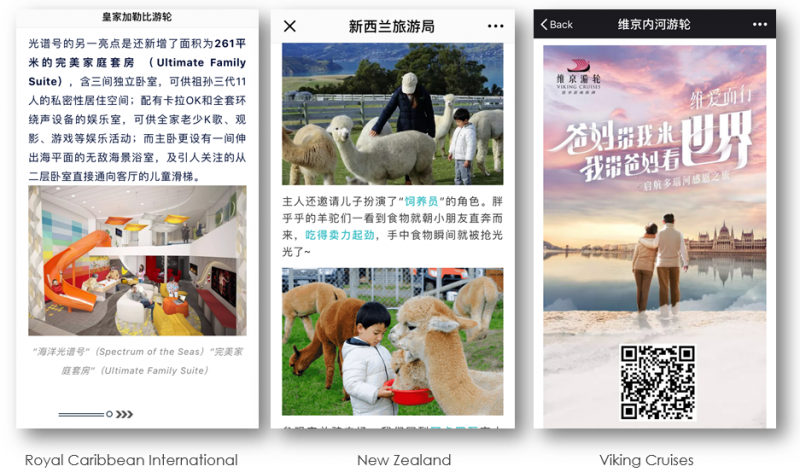 Flowers
Posts about flowers were not as prevalent in Q2 as they were in Q1, but do continue to earn high viewership, especially posts about flowers in Japan. Moving into Q3, as lavender season kicks off, we can already see that this theme is likely to continue through the rest of the year – possibly moving to the southern hemisphere towards the end of 2018. Read more about Chinese flower tourism here.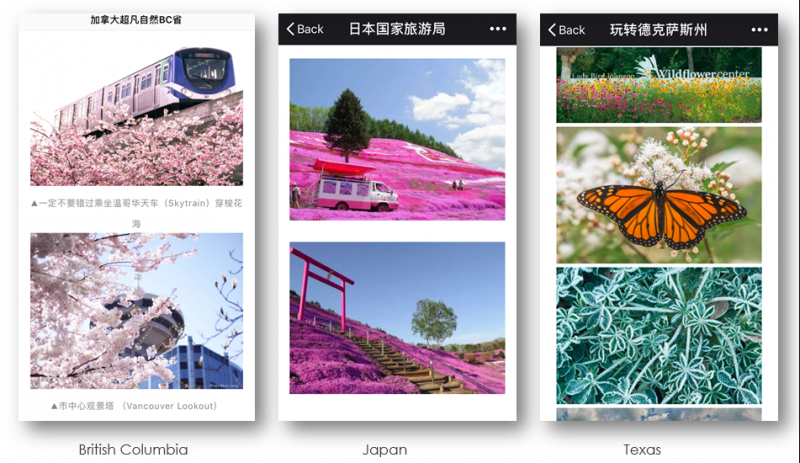 Celebrities
In 2017, celebrity content was most successfully used by DMOs, but in 2018, a number of industry verticals have partnered with stars from greater China (including Hong Kong and Taiwan), including hotels, cruise lines and attractions. Celebrity content often crosses over into other popular themes as well – for example, Hong Kong used their partnership with Jackson Wang to show where the singer ate in the city, and Hong Kong Disneyland documented actor Zhang Liang's visit to the theme park together with his son.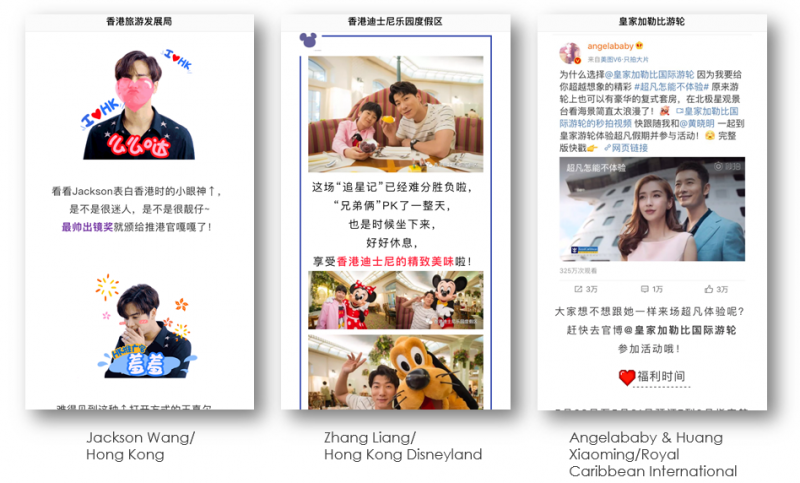 A Look Ahead

At the end of June, WeChat changed the way it displays article content published by official accounts, and this could have a positive impact on viewership for the rest of the year. Whereas previously, WeChat users had to first select the account and then see the content within that account, now the subscriptions folder displays articles in more of a 'newsfeed' style. This creates greater opportunities for content with engaging headlines and attention-grabbing thumbnail photos to stand out, and also means that accounts will need to give more thought to these factors when creating content.
Even without the new layout, the first half of 2018 has shown us how great content strategies can help to grow readership and followers on WeChat, even as competition for attention on the platform heats up. Taking note of the trending themes and working these into your WeChat content calendar is one piece of advice we would give travel brands, as well as thinking about ways to engage with WeChat users on a more active level, such as through contests, mini-programs, or fun campaigns such as Finnair's food-and-music pairing.