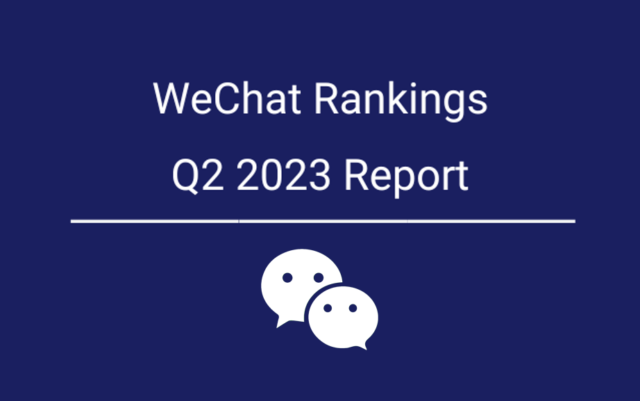 Dragon Trail's WeChat Rankings Report for Q2 2023 examines and analyzes the performance of six categories of travel brands on WeChat: national tourism organizations (NTOs), destination marketing organizations (DMOs, referring to regional and municipal tourism boards), airlines, cruise lines, museums and attractions, and hotels.
How is WeChat marketing for international tourism brands faring in the second quarter since China's reopening? Based on reading rates, we see the DMO, airline, and hotel categories settling down slightly after a surge of attention at the start of the year – but still attracting more readers than in 2022. National tourism organizations have struggled to attract more readers in 2023, but some posts and accounts offer insights into what kind of content is most interesting to WeChat users. Meanwhile, both attractions and cruise lines are enjoying particularly high reading rates, though for very different reasons and types of content.
Reading Rates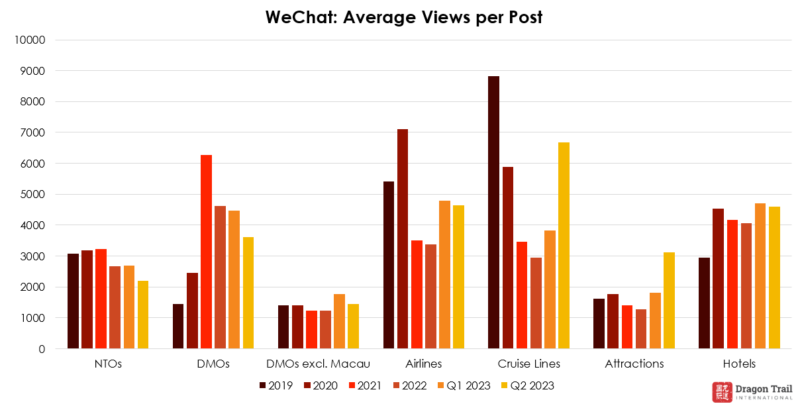 Comparing average views per post of WeChat content in Q2 2023 with the previous quarter, as well as with 2022, we get a very mixed picture. Some categories have seen a slight quarter-on-quarter decline, but are still up compared to last year. A few categories continue to grow readership, sometimes dramatically. And NTO reading rates continue to decline.
The biggest increase is in the cruise line category, where average views per post are up 74.5% quarter-on-quarter, and 126.5% above 2022's numbers. Although cruise line content hasn't yet reached 2019's reading rates, it seems to be on the way there. In addition to major product and route launches, we would also assume that such huge increases are linked to paid promotions, indicating that the cruise industry is investing in the return of the Chinese market.
With similar quarter-on-quarter growth of 73.3%, museums and attractions is the other standout category. In fact, the average views per post in this category is the highest we've ever recorded, since introducing the category to our rankings in 2018. Most of this growth is driven by the Hong Kong Disneyland account, but even if we remove this from the rankings, average views per post are still up by 14.4% compared to Q1, and 8.1% compared to 2022.
Airlines' and hotels' average views per post have seen slight decreases of 3.4% and 2.5% compared to the first quarter of the year, respectively. But both categories are still up on 2022, by 12.8% for the hotel category, and an impressive 36.8% for airlines.
Destination marketing is not easy on WeChat in 2022. NTO reading rates were down 18.4% in Q2 compared to the previous quarter, and below 2022 levels as well. For DMOs, the quarter-on-quarter decline was 19.1%, and this was also below the 2023 average. The DMO category is disproportionately influenced because of Macau's account, which is a major outlier in the category. Removing Macau from the picture, DMO reading rates in Q2 still fell by 17.5% compared to the previous quarter, but were also 15.1% higher compared to 2022. What are the reasons behind these declining reading rates? While we can't say definitively, there are some possibilities: 1) Performance in the NTO and DMO categories may be influenced by paid campaigns – or lack thereof; 2) Travelers could be looking elsewhere for destination information, such as OTAs or other social media platforms; 3) WeChat accounts are potentially not providing travelers the information they're looking for in 2023. To address this last possibility, our report identifies the kind of content that was most popular during the quarter, which could provide guidance for content planning going forward.
NTOs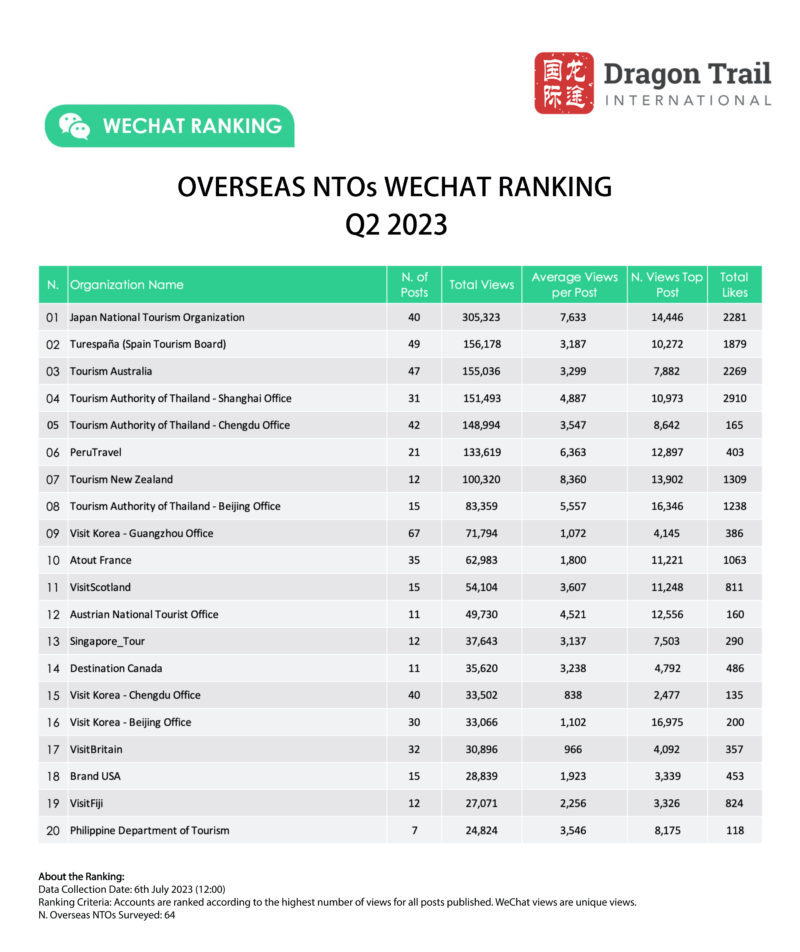 At the top of the rankings table for total views and in second place for average views per post is the Japan National Tourism Organization. Compared to Q1 2023, Japan's average views per WeChat article actually grew by 13%. The tourism board's top article (14,446 views) was about travel in Kamakura, related to the anime Slam Dunk. Other top posts connected to current trends in Chinese tourism – natural places to re-energize, including forests, waterfalls, hot springs, and beaches; and night tourism-related articles about seeing cherry blossoms at night and Japan's best fireworks.
While New Zealand's average views per post were down 7.6% in Q2, this NTO still had the highest average reading rate. This was especially influenced by one article with 13,902 views, which was a practical guide to self-driving tourism in New Zealand.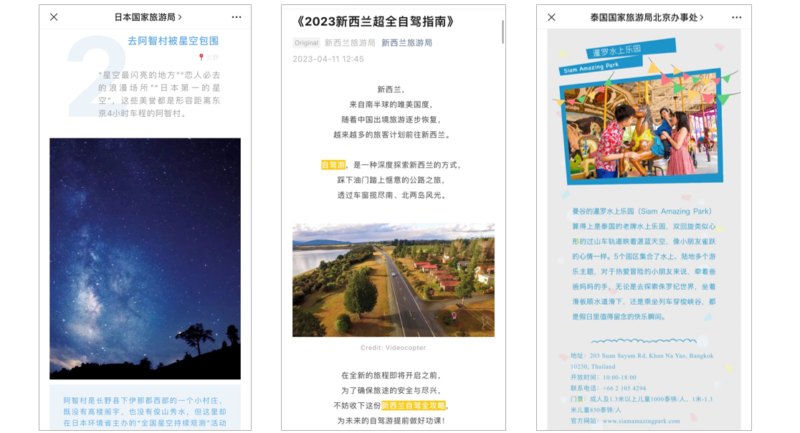 (Left to right) Restorative nature destinations in Japan, self-driving guide to New Zealand, and family travel recommendations for Thailand
Turespaña climbed the rankings to second place for total views in Q2. This is because the account posted 22.5% more content in Q2 compared to Q1, putting it in second place as well for number of posts. Average views declined a modest 3.3%. Top articles focused on tapas and must-visit small towns.
Another significant jump in the rankings is Atout France, in 10th place in Q2, up from 21st in Q1. This is largely driven by one very popular post (11,221 views) about the resumption of daily Air France flights between China and Paris.
Other top articles were a giveaway featuring pop group Boy Story by the Korean Tourism Organization's Beijing office (16,975 views), and articles by the Tourism Authority of Thailand's Beijing office about family travel, published for Children's Day (16,346 views) and KOLs traveling in Thailand (13,125 views).
DMOs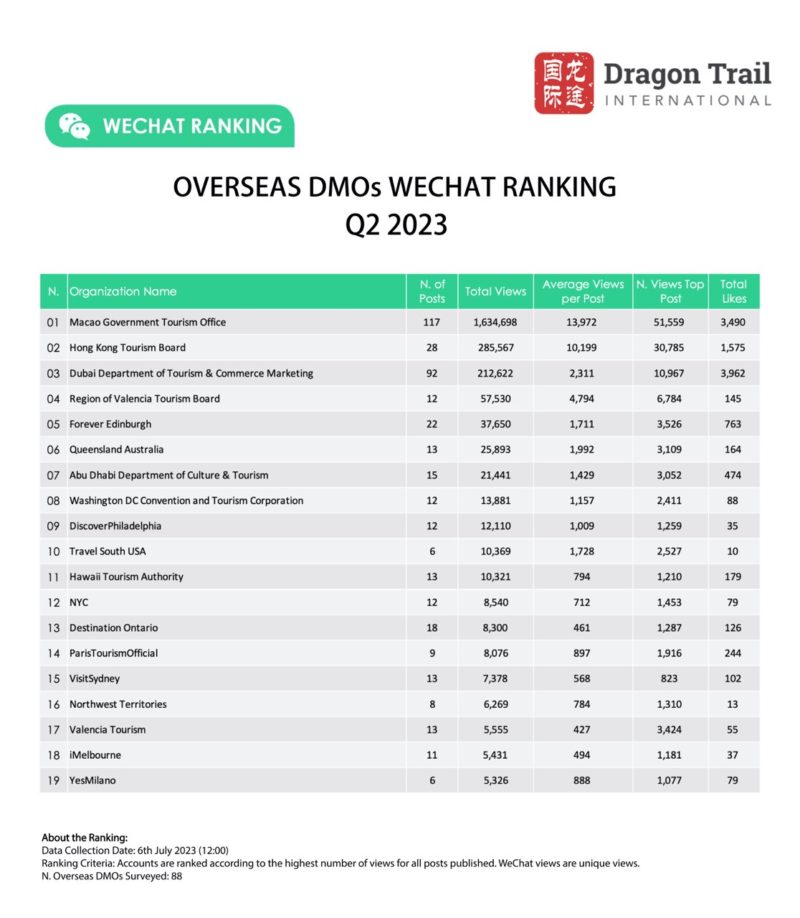 The Greater China destinations of Macau and Hong Kong led the DMO category in Q2, despite reading rates that were down 21.5% and 12% compared to Q1, respectively. Macau's top articles highlighted live shows and concerts each month, as well as weekend activities, and free things to do in April. Hong Kong's top content was a guide to May holiday travel, and free activities and dining vouchers to celebrate the 26th anniversary of the city's return to China.
Further afield, the top DMO articles highlighted special events, practical information, and new developments. Dubai posted about Eid celebrations and a visit by actress Zhang Yuqi; the Region of Valencia showcased local alcoholic drinks and the city of Calpe; Edinburgh announced the resumption of Beijing flights at the end of June; Queensland published a guide to top restaurants; and Abu Dhabi shared news about the opening of SeaWorld.
Airlines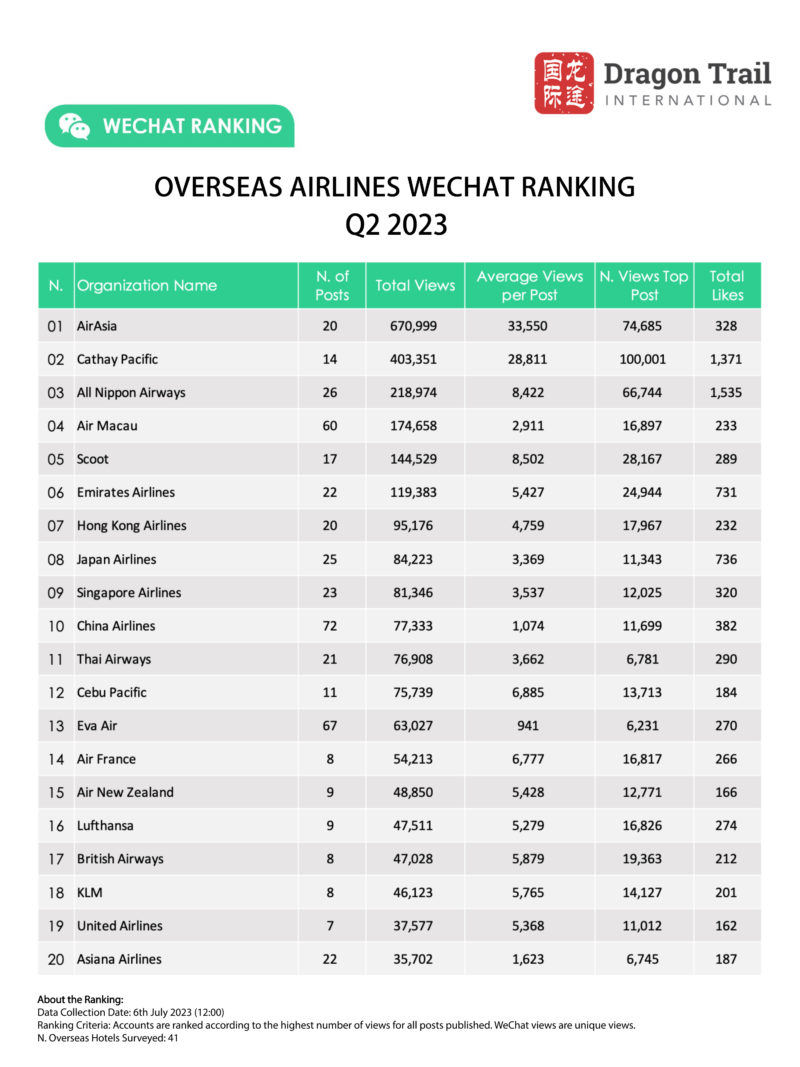 While at times during the pandemic years, long-haul airlines featured more prominently in the WeChat Rankings, the leaderboard is now once again dominated mostly by East Asian carriers. This should be expected given that short-haul travel is more common, and a sign of normalcy.
Cathay Pacific's brand image suffered in Q2 because of a viral incident where flight attendants were recorded making fun of a mainland Chinese passenger for making a mistake in English when asking for a blanket. We can see the results of this on Weibo, where netizens complained and criticized the airline. But on WeChat, Cathay Pacific stood out for three articles of +100k views each, published before the scandal, and each about the enormous ticket giveaway the airline ran together with the Hong Kong Tourism Board.
Comfortably leading the rankings is low cost carrier AirAsia, which promoted cheap deals, mostly focusing on travel to Thailand. All Nippon Airways' top post was a deal for the 6/18 shopping holiday, but their other most-read content focused more on capacity development, including announcements about added flights, and the recovery of Shanghai-Osaka and Shenzhen-Tokyo Haneda routes.
Cruise Lines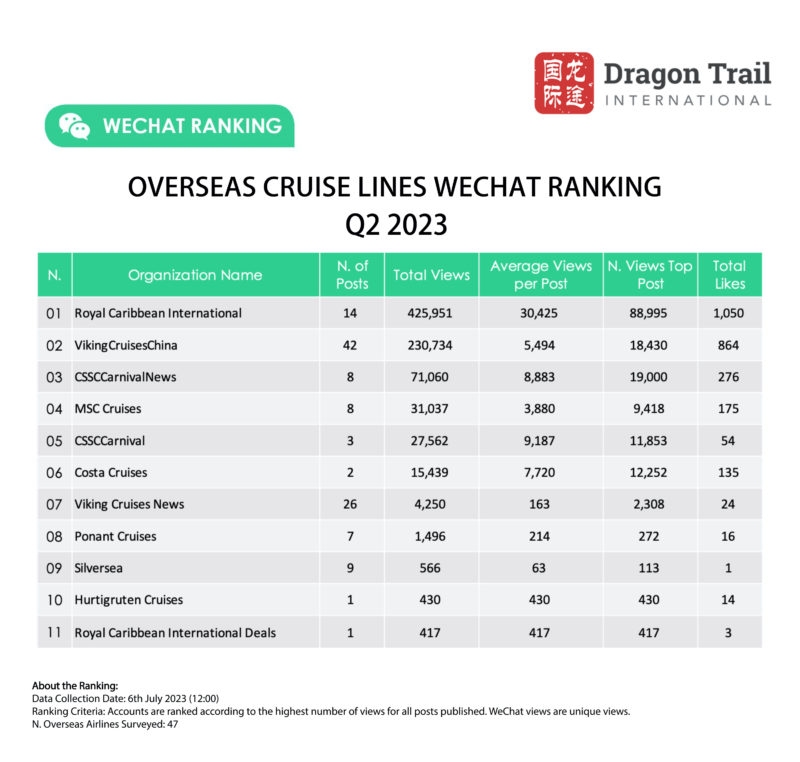 The huge increase in readership for cruise line content was driven by Royal Caribbean International, which nearly doubled their average views per post since last quarter. Some of this could certainly be organic, with major announcements about the cruise line's return, but it's likely that paid promotion has also contributed to such a big boost. Royal Caribbean's top articles generally focused on sailings from Shanghai from 2024, and international fly cruises this summer.

Cruise lines Royal Caribbean International, Viking Cruises, and Adora Cruises are all getting ready to set sail from Shanghai
CSSC Carnival – which changed its name to Adora Cruises just before the end of the quarter – attracted around 19k views for an article about Adora Magic City, the Adora brand's first made-in-China ship. Viking Cruises' top posts promoted sales for a nine-city, 15-day cruise to Japan, and the return of European river cruises.
Museums and Attractions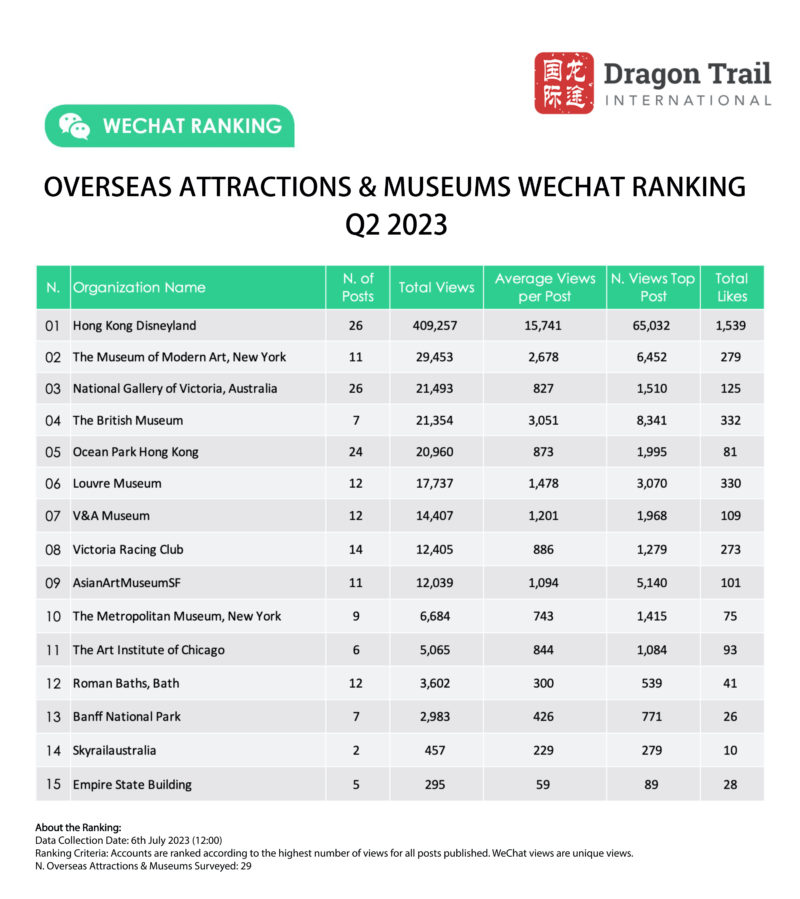 As usual, the top content in the Museums and Attractions category all came from Hong Kong Disneyland. This included articles on new activities for summer, CookieAnn's five-year anniversary at the park, and Donald Duck's birthday.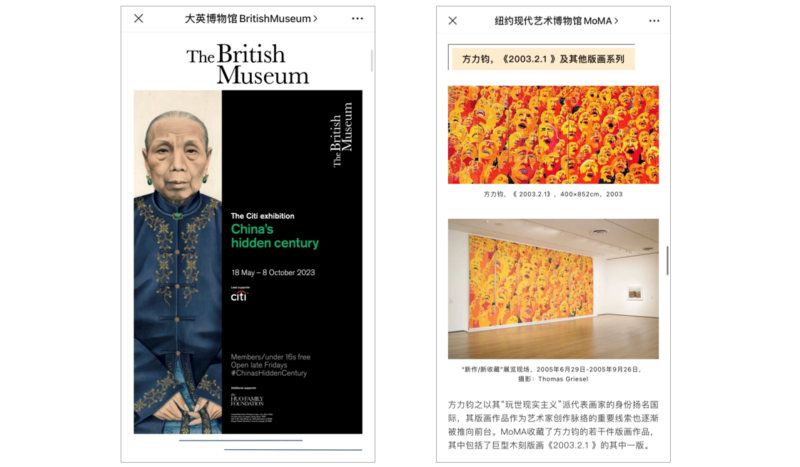 China-focused posts by the British Museum and MoMA got the highest readership in Q2 2023 for museum content
Looking at the museum rankings, we see a significant boost for content relating to Chinese arts and cultures. The British Museum received 8,341 views for its post about the exhibition "China's Hidden Century," and MoMA's most popular article – with 6,452 views – was about Chinese modern art. The British Museum's second most-popular article was about a collaboration with the Suzhou Museum. Aside from China-related posts, the articles with the highest reading rates were about the upcoming "Art of Zen" exhibition of Japanese art at the Asian Art Museum in San Francisco, MoMA's exploration of the painting Christina's World, and the Louvre's Mother's Day post.
Hotels
It shouldn't be surprising that the top content from international hotel brands focused primarily on domestic travel in China – this was the case long before the pandemic. But what does stand out this quarter is that Bulgari Hotels' top two posts were about overseas properties, with announcements about the opening of the new Bulgari Hotel Tokyo and Bulgari Hotel Roma.
The hotel articles of the quarter with the highest readership were a feature about local cultures in China, by Hilton (82,494 views); InterContinental's announcement of actor Bai Jingting as brand ambassador for Hualuxe (65,711 views); and a promotion from Marriott for 5/20's "I Love You Day" (53,321 views).